Acne is a common and predominant skin condition, which does not only affect teenagers but affects adults as well. It is one such problem that causes quite a lot of pain, discomfort, and distress among individuals, both physically and otherwise. But in order to treat the problem, it is really important to know what causes acne to find the best treatment to heal acne breakouts. In particular, we need to look at carrier oils for acne that are non-comedogenic (meaning that they do not block pores). Don't miss: Witch Hazel & Essential Oils for Acne
What Causes Acne?
Acne is an embarrassing skin condition and there are a number of factors that contribute to acne production. Some of the factors include:
excess oil production in the skin
clogged pores
hormonal imbalance
food allergies
poor diet
genetics
nutrient deficiencies
and many others.
Though there are various methods that can help you treat the problem, using carrier oils for acne is undoubtedly the best way to cure the problem topically.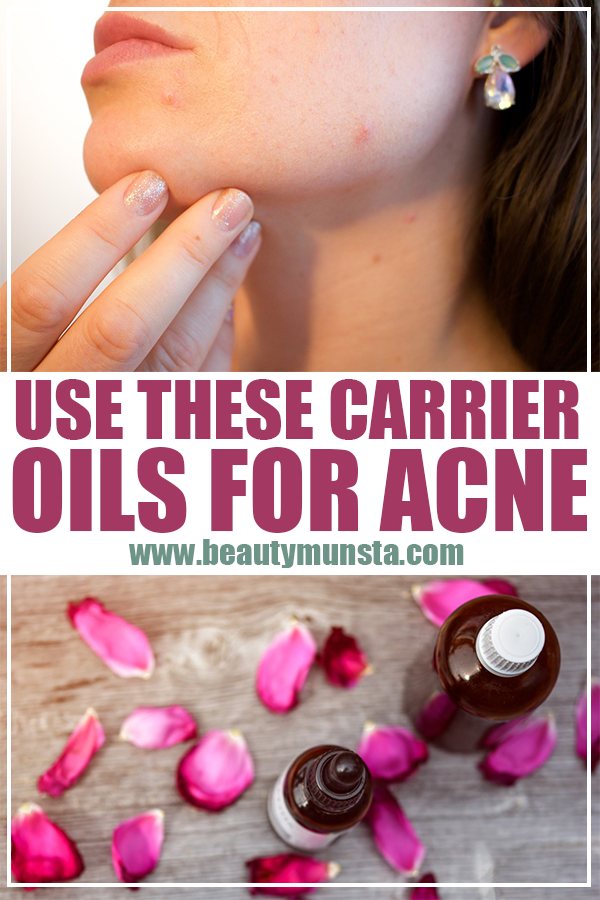 What is A Carrier Oil?
Carrier oils are normally plant-based oils extracted from seeds and nuts. These natural oils do wonders for your skin and benefit it in many ways. From moisturizing your skin to healing it, carrier oils are the healthiest way to keep your skin healthy and glowing naturally. The reason they are called carrier oils is because they serve as excellent "carriers" for essential oils. Essential oils are wonderfully therapeutic for acne. But they are extremely potent and must be diluted with carrier oils.
Using carrier oils actually works the opposite way that you might think. Oils actually help in controlling and balancing the skin's natural oil production. Carrier oils moisture your skin, keeping it healthy and hydrated.
Don't miss: Antibacterial Acne essential Oil Recipe
Top 7 Carrier Oils for Acne
Below we are listing the top 7 carrier oils to treat acne breakouts naturally:
1. Rosehip Seed Oil
 The best oil for dry and aging skin, Rosehip Seed carrier oil revitalizes your skin and makes it acne and scars free. It is the most preferred carrier oil among individuals with acne problem as it comes packed with linolenic acid, essential fatty acid, linoleic acid as well as skin nourishing vitamins that help you treat several skin disorders.
How to use: Damp cotton in 2-3 drops of Rosehip seed oil and apply it on to the acne breakouts. Make your own DIY Rosehip Facial Serum
2. Sunflower Oil
Being non-comedogenic in nature, sunflower carrier oil is absolutely safe to use for oily and acne-prone skin. Rich in vitamins and other beneficial nutrients, sunflower oil is a great moisturizer for sensitive skin due to its smooth silky texture.
How to use: Take a few drops of Sunflower oil and apply it on the affected area as antioxidant-rich facial oil. Don't miss: List of Non-Comedogenic Oils for Oily Skin
3. Argan Oil
Argan oil is a great carrier oil to use for acne-prone and sensitive skin. As it contains linoleic acid, it is highly effective in treating acne as it balances the sebum and makes your skin supple and smooth. It is also a great remedy for anti-aging due to its rich Vitamin E content, antioxidants, saponins that reduces fine lines and wrinkles.
How to use: Cleanse the area and apply a drop or two of Argan oil on the face or the affected area. You can also combine it with your favorite essential oil before using. Related: How to Use Argan Oil for Acne Prone Skin
4. Evening Primrose Oil
One of the best carrier oils for acne is the great hormone balancer, evening primrose oil. It is a perfect remedy for all those people who get acne due to hormonal imbalance. Using this oil helps you unclog pores as it dissolves the sebum and removes the impurities in the pores. Its anti-inflammatory properties make it highly beneficial in treating skin irritation and redness.
How to use: Take a few drops of Evening Primrose oil and apply it on the skin. You can also apply it to the acne directly. Related: 10 Beauty Benefits of Evening Primrose Oil for Skin & Hair
5. Tamanu Oil
It is another vital oil to use for acne-prone skin. Rich in antibacterial, fatty acids, and antioxidants, this oil work wonders in healing acne breakouts as well as treating them from roots. It can also help you get rid of acne scars, skin irritation, and stretch marks.
How to use: For acne-prone skin, you can use a combination of Tamanu oil & Jojoba oil for the best results. Related: 12 Beauty Benefits of Tamanu Oil
6. Jojoba Oil
Jojoba oil is wonderful carrier oil for oily skin. The anti-inflammatory properties of Jojoba oil make it highly effective in dissolving sebum and clearing dirt from pores. It also contains essential vitamins and other beneficial nutrients that make your skin flawless and acne-free.
How to use: Gently rub your face with a drop or two of Jojoba Oil. You can also combine it with any essential oil to get more benefits. Related: 12 Amazing Beauty Benefits of Jojoba Oil
7. Safflower Oil
The nice smooth texture and non-comedogenic property of safflower oil make it one of the best carrier oil for acne. It is a rich source of Vitamin E, linoleic and oleic acid that clears clogged pores and also works best in treating acne-breakouts.
How to use: Apply a small amount of safflower oil on the affected area gently using your fingertips. Related: Spotless Skin with 7 Essential Oils for Acne Scars
Read More On Natural Acne Relief
Use These Helpful Face Masks for Acne: