Get spotless skin with any of these 7 essential oils for acne scars!
As I type this, I have some acne scars on my cheeks and I'm trying to heal and fade them faster using natural remedies. And one of the best natural remedies you can use is essential oils for acne scars! With the 7 essential oils I've listed below, you can heal your acne scars in no time.
Essential oils are very potent, contain no additives and work so effectively in healing and fading away old and new acne scars. You can start using these essential oils on your acne as well to heal the acne scars before they even show up on your skin!
Alright, here are the 7 best essential oil for acne scars that I want to share with you:
7 Best Essential Oils for Acne Scars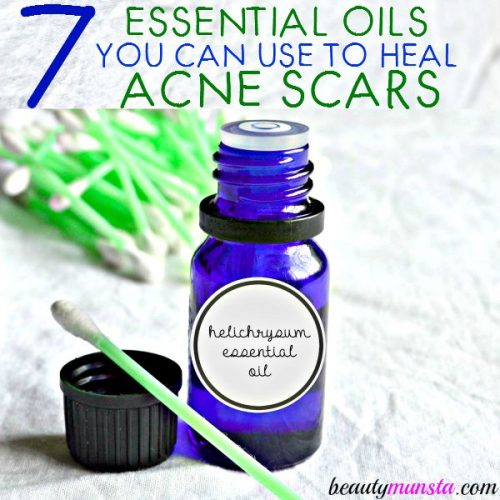 1. Helichrysum Essential Oil
Helichrysum essential oil is the best essential oil for acne scars and scars in general. Helichrysum, obtained from its vibrant sunset colored flowers, is also known as the 'Everlasting' and 'Immortelle' because of its unique ability to retain its original color even when the petals are dried. What exactly makes helichrysum essential oil good for scars, be it acne scars, facial scars or any scar found on the body, is its high content of diketones which help accelerate healing of scar tissue and promote growth of new tissue.
► Healing Helichrysum Scar Treatment: Use any carrier oil of choice to make this scar treatment but safflower oil works best. Add 12 drops of helichrysum essential oil in 2 oz amber glass dropper bottle containing 1 oz safflower oil and stir well. Apply twice a day on the acne scars with a q-tip.
2. Neroli Essential Oil
One of the best essential oils for acne scars, neroli essential oil stimulates cell growth and cellular activity and it also has skin regenerating properties that make it a great essential oil for treating and preventing scarring & stretch marks. It's also great for acne because of its astringent and antibacterial properties.
►Nourishing Neroli Vitamin E Cream: My best way of vanishing those deep cystic acne scars that never go away (mine used to last months!) is using Vitmain E oil. It works miracles guys! Combined with a powerful scar fading oil like neroli, you can be sure your acne scars are going to heal super fast! Here's how to make it: Into a Magic Bullet, add 2 oz of softened  shea butter, 1/2 tsp vitamin E oil and 7 drops of pure neroli essential oil. For more skin nourishing effects, add 1/2 tsp of raw honey. Blend for a few seconds till creamy. Transfer into a 4 oz amber glass jar. Apply a pea-sized amount of this cream all over your face, or only on the acne scars every night before bed. You can also apply this under makeup in the morning. Good luck!
3. Lavender Essential Oil
Lavender essential oil has a fresh aroma that no one can resist. It's also got powerful anti-scarring properties that make it an ideal essential oil for acne scars. In addition to preventing acne scars, you can also use it to get rid of them! Its cicatrisant properties speed up scar healing while its cytophylactic properties help prevent scarring after acne.
► Lavender Shea Balm: The lavender and shea butter combination smells SO good and it has powerful scar fading properties since shea butter is potent against scars and stretch marks. Melt 2 oz of shea butter in a double boiler. Let it cool down then pour it into a 2 oz amber glass jar. Stir in 10 drops of lavender essential oil. Let it set into a balm in the refrigerator before use. It can be used on the acne scars alone (I tend to get big ones on my cheeks) or your whole face without worrying about clogged pores since both ingredients are well-tolerated by acne prone skin.
4. Bergamot Essential Oil
With its clean, fresh and citrus fragrance, bergamot is from the citrus fruits family and it's about the size of an orange, has the color of a lemon and tastes like a lemon but not as sour. Bergamot essential oil is a natural astringent and antiseptic, which makes it a good essential oil for acne and black heads. It is well-known for its scar healing & skin regenerating properties that can help fade away new scars as well as old ones! Bergamot essential oil also helps regulate the skin's natural pigment melanin, thereby evening out discoloration and dark spots.
► Bergamot Scar Fader: Only use bergamot at night time because it is a citrus oil and citrus essential oils are photosensitive. This means you shouldn't expose your skin to sunlight when you've applied bergamot. You can use it by adding a few drops to your night cream/serum.
5. Vetiver Essential Oil
Vetiver root, also known as vetivert and khus khus, is extracted from the Vetiveria zizanoides plant and is native to India, where it has been used for its many skin & hair healing properties. Its roots have a most beautiful refreshing fragrance that's a bit like incense. The scent makes me feel energized and refreshed! The essential oil is got through steam distillation of the sweet scented roots and rootlets. Vetiver essential oil has tissue regenerating properties that make it an excellent essential oil for acne scars. It's also very good for dehydrated, dry and withered looking skin due to its nourishing and moisturizing properties.
► Add Vetiver to your Face Wash: Vetiver is cooling when applied on skin so I find it refreshing when added to face wash. If you use a face wash in a pump bottle, then yay! Open the pump top then add 5 drops of vetiver essential oil. Vetiver oil is thick so you can even carefully remove the orifice reducer then transfer the drops using a glass pipette. Replace the pump top and shake your face wash very well before use.
6. Carrot Seed Essential Oil
Being the best essential oil for sun damaged &mature skin, carrot seed oil is rich in beta carotene, that has skin healing and rejuvenating properties. When mixed with helichyrsum essential oil in a base oil, you can make a potent anti-acne scar serum which will heal your acne scars fast!
► Rosehip & Carrot Seed Oil Serum: Please see my recipe for Rosehip & Carrot Seed Oil Serum! Rosehip oil is another fantastic plant oil good for acne scars. It's a carrier oil not essential oil so it acts as a good base ingredient for a scar fading serum.
7. Sandalwood Essential Oil
Sandalwood essential oil is very effective against acne due to its powerful antibacterial properties, but it doesn't stop there – sandalwood essential oil also helps heal and fade acne scars fast. In India, people have been using sandalwood powder to make a paste that is applied on dull & spotty skin to lighten it so using imagine how potent the essential oil of sandalwood is for acne scars! Sandalwood is a great essential oil for sensitive skin, dry skin, mature skin and acne scar-filled skin so make the serum below because it's very versatile!
►Spotty Skin Sandalwood Serum: Fill a 2 oz amber glass dropper bottle almost to the top with skin lightening argan oil, then add 12 drops of sandalwood essential oil. Cap the bottle tightly and roll the bottle between your palms to gently blend up the oils without creating air bubbles. Use as a facial oil, makeup primer or night serum.
A Natural Acne Scar Fading Serum I Like

Together with the essential oils above or if you want a ready-to-use product that's natural and doesn't contain icky chemicals, go ahead and try this natural acne scar fading serum from Amara Organics. I'm just sharing it because it really gives positive results quickly so I hope it works for your skin too! <3
Take Care
First check with your doctor to see if essential oils are okay to be used by you if you suffer from hypertension, skin allergies and other medical conditions.
Always use 100% pure and high quality essential oils. I like essential oils from Plant Therapy, Majestic Pure, Rocky Mountain Oils and Radha Beauty.
Never use essential oils 'neat' onto your skin. Always dilute first with a carrier oil. The rule of thumb is to dilute just 2 drops of essential oil in 1 tsp of carrier oil. For more info read: How to Dilute Essential Oils
If you are pregnant or lactating and would like to use essential oils for nail growth, please first consult your doctor as most essential oils are not safe to use for pregnancy/lactating women.
New to essential oils? Then please take some time to read this amazing quick guide Caution and Safety when Using Essential Oils
Others are Reading