Looking for the top essential oils for rosacea? Here is a list of 10 of the best oils you can use to cool, soothe and heal your skin!
Rosacea is an inflammatory skin condition which causes facial skin especially skin on the cheeks and nose to appear flushed and red. Other symptoms of rosacea include stinging, burning and painful skin, thickened skin, dry/oily skin and pus-filled bumps.
If you're looking for ways to manage and heal rosacea naturally, then using essential oils is one of them! Essential oils have healing and therapeutic properties that help relieve symptoms of rosacea.
Most of the essential oils for rosacea listed below have anti-inflammatory, antimicrobial and skin soothing properties that naturally treat, calm down and cool inflamed and painful skin associated with rosacea.
10 Best Essential Oils for Rosacea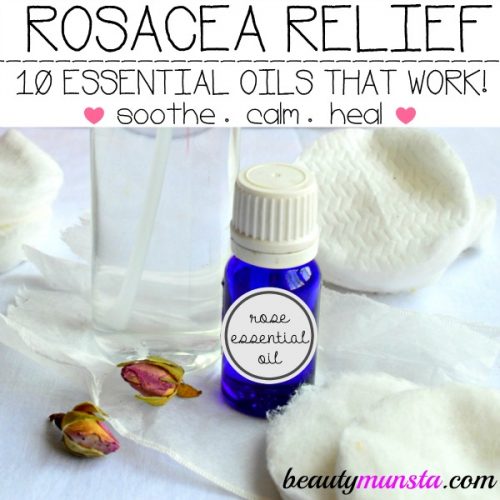 1. Lavender Essential Oil
Lavender essential oil is one of the gentlest essential oils which can be applied 'neat' onto the skin without dilution. It soothes and calms painful, inflamed and red rosacea as well as hydrates dry and dehydrated skin which plagues some rosacea sufferers.
2. Chamomile Essential Oil
Being a great skin soother, chamomile essential is one of the best essential oils for rosacea. It has powerful anti-inflammatory properties that help reduce the inflammation and redness and its antibacterial properties protect the skin and pores from microbes that aggravate rosacea. In addition to using chamomile essential oil, chamomile tea bags and toners can also be applied to the inflamed and burning rosacea to help cool down the skin.
3. Tea Tree Essential Oil
Known for its disinfectant properties, tea tree essential oil helps gently & deeply cleanse rosacea affected skin, ridding it of germs and microbes that aggravate rosacea, as well as stale sebum that demodex mites (one of the causes of rosacea) thrive on.
4. Geranium Essential Oil
Geranium is a great essential oil for rosacea because of its powerful anti-inflammatory, antiseptic, antibacterial, antimicrobial, anti-fungal and astringent properties. It reduces inflammation and redness as well as balances sebum production thereby regulating overly dry/oily skin which are two different skin types associated with rosacea.
5. Sandalwood Essential Oil
Great for skin and hair care, sandalwood essential oil has valuable moisturizing properties that help soften and hydrate dry thickened rosacea skin. Sandalwood essential oil also has powerful anti-aging properties that work in preventing premature fine lines and wrinkles – that's an added bonus for mature skin types affected with rosacea!
6. Rose Essential Oil
Rose essential oil has strong anti-bacterial, anti-inflammatory, anti-aging and astringent properties. It balances sebum production in skin affected by rosacea and also calms redness. Rose essential oil smells absolutely sensational so it's a great way of smelling gorgeous while naturally healing your rosacea!
7. Helichrysum Essential Oil
Although widely known for its effective wound-healing and scar-fading properties, helichrysum essential oil is also one of the best essential oils for rosacea and other inflammatory skin conditions due to its powerful anti-inflammatory properties. It's very soothing and calming even for sensitive skin types like those affected by rosacea.
8. Neroli Essential Oil
Neroli essential oil has a sweet floral and mysterious aroma and it's popularly used in skin care for its rejuvenating effect on mature and dry skin types. This essential oil has cicatrisant, cytophylactic, antibacterial, anti-inflammatory, disinfectant and antiseptic properties. It helps naturally heal broken capillaries which is one of the symptoms of rosacea.
9. Oregano Essential Oil
A powerful antifungal and antibacterial, oregano oil capsules have been shown to be effective against rosacea by killing off microbes that exacerbate the condition. It can also be used topically to disinfect and purify the skin. Since oregano essential oil is very potent and can burn the skin, please ensure to dilute it in a base cream/carrier oil before application. (1 to 3 drops in 1 tbsp of carrier oil).
10. Sea Buckthorn Berry Essential Oil
Well known for its healing properties, sea buckthorn berry essential oil is a powerful anti-inflammatory. I've talked about it before in this post showing how useful it is in rapidly soothing and healing terrible sun burns and sun damaged skin. It also helps cellular regeneration, acts as an antimicrobial, reduces redness and swelling, strengthens cell and blood vessel walls as well as softens thick skin.
Take Care
Ensure to check with your doctor/ health care professional to see if essential oils are safe for you if you suffer from hypertension, skin allergies and other medical conditions.
Use only 100% pure and high quality essential oils
Never use essential oils 'neat' (directly without dilution) onto your skin. Always dilute first with a carrier oil (1 to 2 drops of essential oil in 1 tsp of carrier oil).
If you are pregnant or lactating and would like to use essential oils for rosacea, please first consult your doctor as most essential oils are not safe to use for pregnancy/lactation.