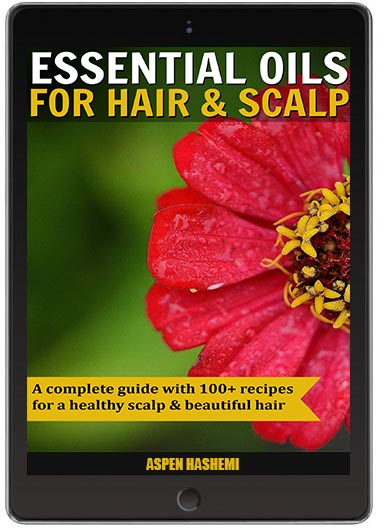 If you've been a regular reader of this blog, then you know the post where I briefly talk about how my hair was shedding so bad in high school that my mom finally took me to the doctor and he couldn't tell what was wrong with me even after all those checkups and bloody blood tests. (-_-)' I shared some really valuable hair reviving rosemary recipes in that post that are TRULY effective in getting your hair to grow back thicker longer and more luscious!
The potent hair growth boosting ingredient was of course rosemary essential oil. I can never say enough of how amazingly powerful this essential oil is in helping re-grow lost hair, promoting hair growth and checking hair fall – that's why you should definitely try it out yourself and be a witness to it's miraculous properties!
Anyway, rosemary essential oil isn't the only essential oil that's incredible for hair and that's the point of this brand new page! Ahem. *drum roll* I'm excited to announce this great ebook I took a few months putting together for all of you interested in essential oils and hair care! It's a very friendly and simple guide that is helpful for both essential oil beginners and advanced users as well. Check out what you'll find inside:
Juicy Info On Using Essential Oils for Healthy Hair
The Essential Oils for Hair & Scalp Ebook is information-packed and FILLED with recipes that'll get you so excited that even those hair follicles of yours that are stuck in the telogen (or dormant) hair phase will awaken and start working again with all that blood rush to your head. I'm serious XD. You'll find all the hair care recipes you'll ever need in this handy eBook and keep in mind these all the recipes are carefully formulated with right proportions of ingredients and clear instructions to create an effective final product.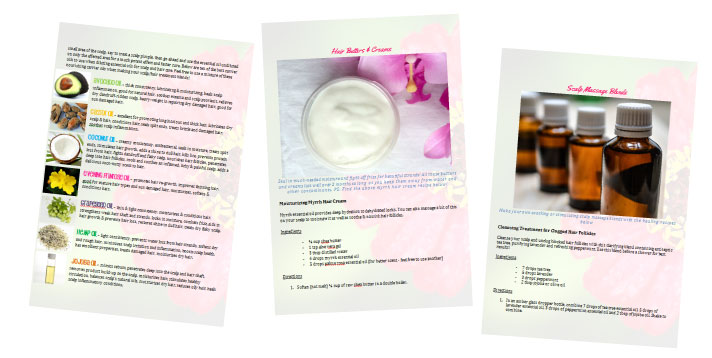 Here's some of the important information you'll find in this book before all the recipes:
A Brief History of the Healing Power of Essential Oils
Essential Oil Safety & Caution
How to Care for Your Hair the Natural Way
Why Use Essential Oils for the Scalp & Hair?
How to Use Essential Oils for the Scalp & Hair
The Best Carrier Oils for Essential Oils in Hair Care & Their Benefits
40 Most Effective Essential Oils, Scent Profile & Scalp and Hair Benefits
A-Z List of Scalp and Hair Conditions, Types & Ailments and Best Essential Oils to Use
100+ Essential Oil Hair Care Recipes

From anti-dandruff shampoo to hair growth serums to moisturizing hair creams, you'll find over 100 hair care recipes for your scalp and hair! Discover exciting recipes for: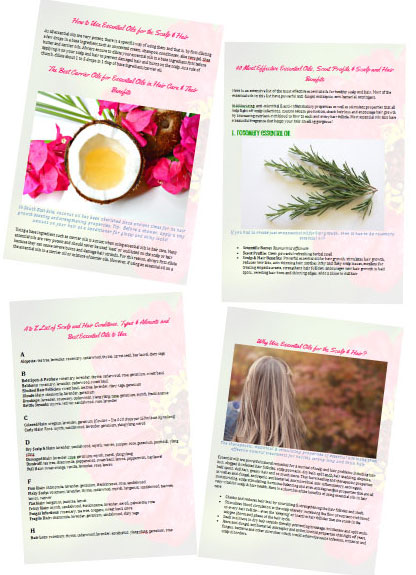 ✓ Scalp Scrubs
✓ Scalp Mists & Sprays
✓ Stimulating Hot Oil Treatments
✓ Scalp Massage Blends
✓ Hair Masks & Treatments
✓ Shampoos
✓ No 'Poo Natural Scalp & Hair Cleansers
✓ Hair Rinses
✓ Conditioners
✓ Hair Butters & Creams
✓ Hair oils for Hydration, Growth & Shine
✓ Hair Sprays & Mists
✓ Hair Pomade, Mousse & Styling Whip
✓ Hair Perfumes & Scent Blends

My Favorite Recipes
Below are some of my favorite hair care products included in the book! You must try them out!
♥ Hair Growth Rosemary & Basil Shampoo
♥ De-Gunk Scrub for Clogged Hair Follicles
♥ Banana and Lavender Conditioner for Silky Hair
♥ Exotic Mango Apricot Neroli Moisturizing Butter
♥ Moisturizing Myrrh Hair Cream
♥ Cooling Eucalyptus Mask
♥ Basic No 'Poo with a Zing
♥ Almond Geranium Hair Oil
♥ 'Floral Whisper' Hair Perfume
♥ Beach Waves Hair Spray
♥ Thyme & Cedarwood Overnight Follicle Nourishing Treatment
Note
This is a digital e-book, currently available as a PDF. It's not a physical print book. As soon as you purchase it, you'll get an email containing a download link. Once you download the ebook, you'll have immediate access to this amazing guide to essential oils for scalp and hair! Enjoy creating your own hair care products!
If you have any questions regarding anything about the ebook, please feel free to contact us.