The best essential oil for hair growth? It has to be rosemary! Learn how to use rosemary essential oil for hair growth!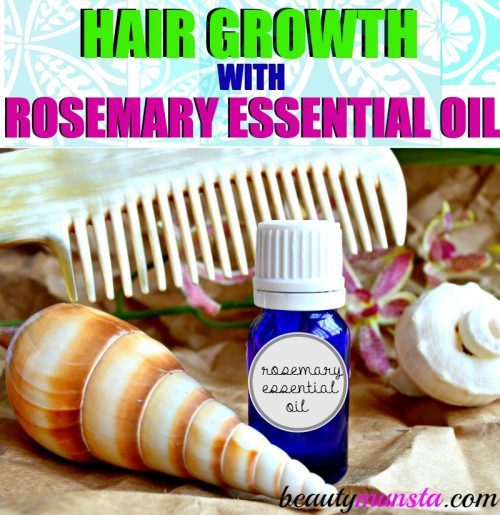 Want your Hair to Grow Longer and Faster?
Almost everyone is facing hair loss/hair growth problems these days, be it teenagers, adults or elderly. When I was in high school, I found myself losing handfuls and handfuls of hair for no apparent reason. I would be scared to shower and wash my hair because I was simply horrified by the amount of hair that would be left behind clogging the drains! I even limited combing my hair to once every 2 days because each time I combed my hair, I would lose clumps and clumps of hair at a time. It got so bad that my mom finally took me to a doctor to check out what was wrong with me. After taking a blood test and a thyroid test (ouch! I hate needles!), the doctor was unable to tell me what was wrong! He offered no explanation as to why I was losing my hair! Needless to say, I was very disappointed – but this sparked my passion in all natural hair growth.
One hair growth secret I cannot do without is rosemary essential oil! Thanks to rosemary and a few other natural hair growth remedies that I use regularly, I'm proud and happy to say I'm on a journey to recover my hair back to its strong, thick and luscious glory – and things are looking great so far!
Where to Get Rosemary Essential Oil
Ensure to buy 100% pure rosemary essential oil and avoid diluted and synthetic versions! I like and recommend essential oils from Plant Therapy, Majestic Pure, Radha Beauty and Eden's Garden.
Edens Garden Rosemary Spanish Essential Oil, 100% Pure Therapeutic Grade (Cold Flu & Inflammation) 10 ml
How Rosemary Essential Oil Helps Hair Grow:
You may be wondering – what makes rosemary essential oil so special for hair growth? Well, rosemary essential oil has a number of valuable properties that make it perfect for hair care. Here are just a few;
Antioxidants: A recent study published in the International Journal of Biotechnology shows that rosemary had superior antibacterial and anti-inflammatory values compared to other herbs like oregano, spearmint, thyme, peppermint and basil. The antioxidants in rosemary essential oil help combat free radical damage that people today face at increased levels due to pollution and the usage of harsh chemical products. The rich levels of antioxidants in rosemary oil help prevent hair loss and contribute to faster hair growth.
Antibacterial: Rosemary is a powerful antimicrobial essential oil with anti-fungal, antibacterial and antiseptic properties that help prevent and treat dandruff, flaky scalp, acne on scalp and other infections on the scalp that contribute to hair fall.
Anti-inflammatory: Inflammation is the root cause of many problems including unhealthy skin and hair. Many people face inflammation today due to the high amount of refined foods they eat, but this inflammation is not plainly obvious, and may only be detected under a microscope. Even then, unknown inflammation can unexpected hair loss, and rosemary oil is rich in anti-inflammatory properties that can reduce inflammation in scalp and can help reduce related hair loss and foster hair growth.
Stimulant: One of the most important qualities of rosemary that make it great for hair growth is that it is a powerful stimulant, which when applied to the scalp induces blood circulation to the hair follicles. When the hair follicles are supplied with a greater amount of nutrient-rich blood, faster and healthier hair growth occurs.
Fights Oiliness: An oily scalp is one of the conditions that could lead to hair loss. An excessively oily scalp can catch not only attract dirt and dust particles but can also grease up and clog hair follicles, thus preventing hair growth. Rosemary essential oil can prevent excess oiliness in the scalp, promoting a clean and healthy scalp that fosters the formation of new hairs.
Note: Please consult your health care practitioner before using any essential oils. Pregnant and lactating women and babies should not use essential oils.
Hair Growth Recipes with Rosemary Essential Oil: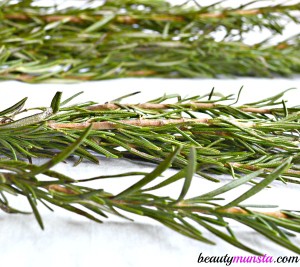 Now that we have explored the wonderful hair growth-inducing properties of rosemary essential oil, let's have a look at exactly how to use rosemary essential oil for hair growth. Rosemary essential oil can be used on a daily basis on your hair, but remember to start out in small doses, especially if you are a first-timer.
1. Rosemary Hot Oil Treatment: Treat yourself to a hot oil hair treatment, which enables the nutrients from the oils to penetrate deep into your scalp and stimulates hair growth. In a small pan, pour in 1 tbsp of coconut oil and 1 tsp of castor oil. Carefully heat the pan on a low flame for 1 – 2 minutes. Make sure you don't overheat the oils to smoking point! You only need a gentle heat. Take the pan off flame and add  4 drops of rosemary essential oil and give it a quick stir with a spoon. Now using the tips of your fingers, massage this oil into your scalp while it is still hot enough to handle. Enjoy this hot oil massage and think positive thoughts about your hair as you do so. Allow the oil to rest on your hair for at least 15 mins before you wash off. Try this once a week or once every 3 days.
2. Rosemary Hair Growth Serum:
In 1/2 cup of sweet almond oil mix 8 drops of rosemary essential oil, 10 drops of lavender essential oil and 8 drops of clary sage essential oil. Store in a 4 oz amber glass dropper bottle. Apply this serum to your scalp and along your hair shafts. Brush through your hair to distribute the serum evenly. You can use this serum every 1 – 2 days, after showering. Not only will this help with hair growth, but will also leave you smelling like a garden from paradise!
3. Rosemary Hair Mask for Super Growth: This is a weekly treatment recipe that I adore! Simply get a mixing bowl and break one whole egg into it. Add 1 tsp of organic honey, 1 tsp of coconut oil and 6 drops of rosemary essential oil. Whisk this until it reaches a smooth consistency and apply onto your hair for 30 – 60 minutes. Wash off with lukewarm water and dry your hair without using heat.
4. Rosemary Hair Massage Oil: Massage your scalp one hour before showering, with a combination of 1 tbsp of jojoba oil and 8 drops of rosemary essential oil. Use your finger tips and systematically work through all areas of the scalp starting from the front, to the sides and finally to the back. Use circular motions and a firm pressure to stimulate blood circulation.
5. Rosemary Essential Oil Overnight Treatment: Mix 2 tbsp of organic coconut oil with 1 tsp of organic honey and 3 drops of rosemary essential oil. Make sure everything is mixed thoroughly and apply this onto your scalp, hair shafts and tips of your hair. Tie your hair into a bun and wrap securely with a shower cap. Place an old towel onto your pillow for extra protection and let this hair growth-inducing oil work its magic overnight. Wash off in the morning and behold your glossy, nourished hair!
6. Hair Growth Oil with Rosemary: An extremely simple hair growth oil that you can use every day – mix 1 cup of pure organic coconut oil with 25 drops of rosemary essential oil for faster hair growth, less breakage and stronger hair, thanks to the amazing properties of coconut oil!
Where to Get a Natural Shampoo & Conditioner 
Moroccan Argan Oil Sulfate Free Shampoo and Conditioner Set – Best for Damaged, Dry, Curly or Frizzy Hair – Thickening for Fine/Thin Hair, Safe for Color-Treated, Keratin Treated Hair

Will you use rosemary oil for hair growth? Which of the above rosemary oil hair growth recipes are you interested in trying out? Share below!
You'll Also Love these Hair Growth Goodies: