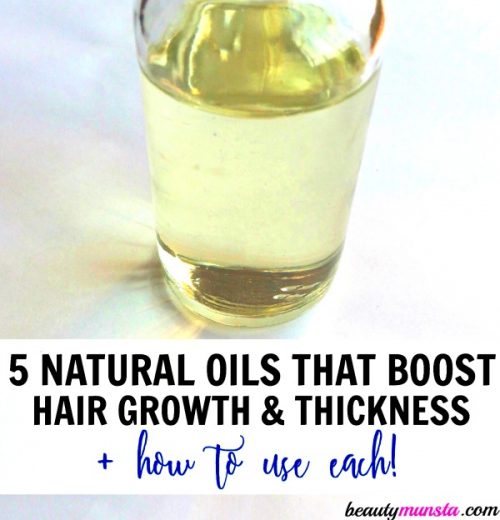 There's nothing more heart-wrenching than seeing several strands of your hair blocking the shower drain or noticing your edges growing thinner and thinner with each passing day.
If you feel any kind of emotional strain or mental anguish due to hair fall/shedding, then my advice is to:
Stop. Close your eyes. Take a deep breath.
Stress and mental strain are two major wreckers of hair health.
No matter how hard it is, keep calm and don't stress. Instead, try to focus on preventing further hair loss, strengthening your hair follicles and re-growing lost hair.
You can work on this by improving your diet, using good quality shower water and other natural remedies. I talk about how to strengthen your hair follicles naturally to get back your strong and healthy hair here.
In this article, I'll be discussing 5 natural oils for hair growth & thickness.
When most people hear about using oils for hair, they immediately think of moisturization.
But did you know that there are certain oils that are powerful remedies for hair loss in particular and aid in hair growth as well as increase hair thickness?! Take a look below!
5 Oils for Hair Growth & Thickness + How to Use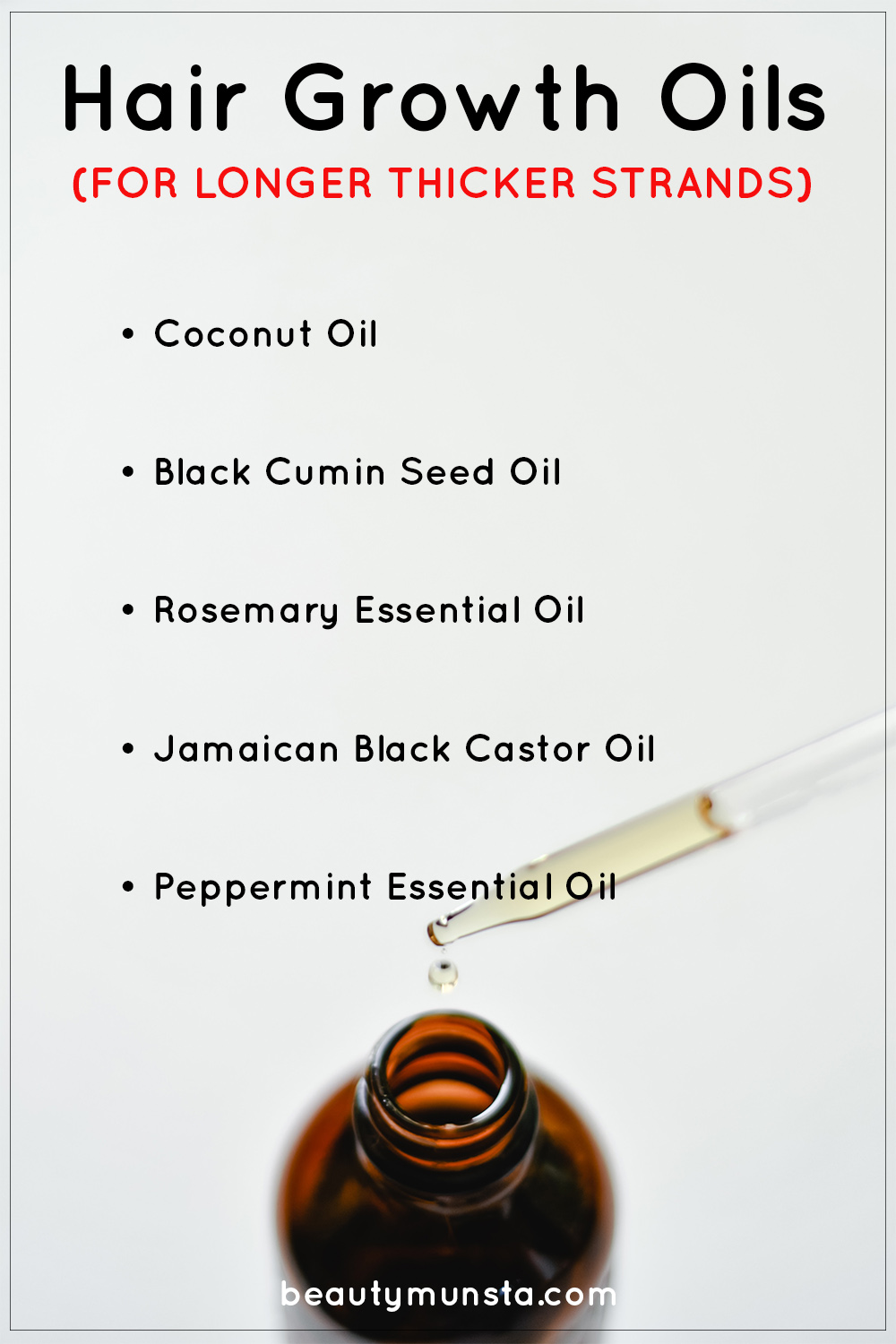 1. Coconut Oil
I'm not just putting coconut oil (where to get it) first because it's a champion when it comes to literally everything: weight loss, good heart health, moisturized skin, glossy hair, etc.
It really is the best oil for hair growth, at least as per Ayurveda, a holistic science that originated 5000 years ago in Asia. In Ayurveda, coconut oil is the go-to oil for hair growth and thickness.
Have you ever noticed how South East Asian women usually have gorgeous LONG and thick silly tresses? It's because the base oil in many of their homemade hair growth oil recipes is coconut oil!
Coconut oil is rich in medium chain triglycerides such as lauric acid, capric acid, caprylic acid, mystiric acid, etc that have a small molecular structure which gives them the ability to easily penetrate deep into the hair follicles and nourish.
How these women use coconut oil is by applying coconut oil to their hair before washing it.
This prevents protein-loss in the hair strands, which is a major cause of hair fall.
❀ Coconut Hot Oil Treatment:
To give yourself a coconut oil hair treatment, simply place about 2 tbsp of coconut oil in a pan and heat over a low flame until warm to the touch. Do not boil, please – we only need a gentle heat.
Remove from heat and using a spoon, gently pour the oil all over your scalp.
Remember to section your hair beforehand, so it's easily to cover all areas of your scalp.
Now cover your hair with a shower cap and let the treatment sink in for about an hour.
Rinse thoroughly and wash off very well with a natural shampoo.
2. Black Seed Oil
This oil is a MIRACLE worker!
I've been using it as an eyebrow grower and it's really working!
Black seed oil (where to get it) is native to the Middle East where it's used as a treatment for almost every ailment on the planet. That's why it's said to be a cure for every ailment except death!
For hair growth, there are many many testimonials of how this oil helped re-grow bald patches and receding hair lines. It contains high amounts of fatty acids, amino acids, calcium, zinc as well as essential vitamins that are necessary for strong long hair.
Black seed oil is also contains thymoquinone, a strong anti-oxidant and anti-inflammatory agent that protects the hair follicles and strands from hair loss-contributing free radicals and inflammatory conditions.
❀ Detox Hair Growth Tonic:
Drink black seed oil and see miracles with stronger, longer and healthier hair!
To take black seed oil internally, simply stir in ½ tsp of pure black seed oil in a tall glass of orange juice and drink up!
Be careful as black seed oil can burn the back of your throat and make it feel irritated. That's why ½ tsp is enough but if you can handle it, go for 1 full tsp.
3. Rosemary Essential Oil
Not just for improving memory and strengthening mental clarity, rosemary essential oil (where to get it) is also a key ingredient for boosting hair growth and reversing hair loss! It stimulates the scalp and increases blood flow hence ensuring all hair follicles are nourished with nutrient-rich blood. This fosters formation of new hairs as well as strengthens existing hairs.
❀ Rosemary Hair Resuscitation Serum:
Make a potent hair growth serum by combining ½ cup of liquid coconut oil and 7-10 drops of rosemary essential oil in an applicator bottle.
To apply, section your hair and carefully squeeze out enough oil from the applicator bottle onto all areas of your scalp till saturated.
Now using clean fingertips, start massaging your scalp for about 3-5 minutes.
You can leave it to penetrate for about an hour then wash off thoroughly.
4. Jamaican Black Castor Oil (JBCO)
Jamaican black castor oil (where to get it), also known as JBCO, is a special type of castor oil that is made by roasting castor beans far longer than for the regular castor oil, which produces more ash content, giving the oil a darker color.
It helps restore thinning hair, strengthen weak hair, stimulate hair growth in bald patches as well as reverse alopecia! It's a very thick oil so a little goes a long way.
One of the best ways to use it is by combining it with coconut oil for a deep penetrating hot oil treatment. Check out how to do this below:
❀ Jamaican Scalp Stimulator:
Place 2 tbsp of coconut oil and 1 tsp of JBCO in a stainless steel pan over a low flame and heat only till warm.
Once again, don't let it heat till smoking point! We only want it to be warm and penetrate easier and faster into your scalp.
Now carefully remove from heat (optional: add 3 drops lavender essential oil for a better scent) and use a spoon to drop the oil mixture all over your scalp.
Cover your hair with a shower cap/plastic baggie and sit under a hooded dryer for about 7 minutes.
When the time is up, rinse and wash very thoroughly so all the oil is off.
5. Peppermint Essential Oil
Peppermint essential oil (where to get it), just like rosemary essential oil, is very potent. It's extracted from peppermint leaves through steam distillation. What makes it one of the most effective oils for hair growth & thickness? Well, if you've used it on your scalp before, you must have noticed a pleasant tingling sensation. Now this sensation is said to stimulate the hair follicles and awaken dormant ones thereby strengthening weak hair as well as encouraging hair growth. An amazing and fulfilling way to use peppermint essential oil for hair growth is through a vigorous scalp massage. Here's how to do it:
❀ Vigorous Scalp Massage Blend:
In an amber glass dropper bottle, combine 2 oz of liquid coconut oil and 5-7 drops of peppermint essential oil.
Swirl the bottle gentle to mix the contents.
Now when you want to give your hair the vigorous massage (do this preferably at night), place about 5 drops on your fingertips and start massaging it on your scalp vigorously – but not so hard to make your head ache!
You can even get someone else to do it for you!
The scent of peppermint will relax you and the massage will not only make you feel great but your hair follicles as well!
Aah…I feel so refreshed just thinking of this peppermint scalp massage! 😉
Take Care
Please ensure you aren't allergic to any of the oils mentioned above before using them on your scalp and hair.
Do a test patch behind your ear or on your inner elbow before using any of them.
Hair Growth Hacks You'll Love