Try this coconut oil honey hair mask! It's a deep conditioning treatment for silky hair!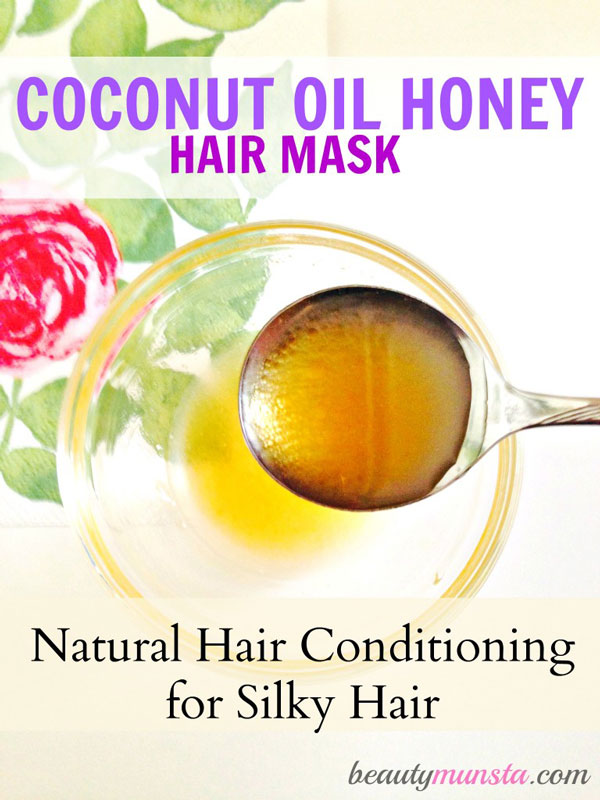 Hair masks containing healthy penetrative oils and honey work wonders in repairing damaged locks & rejuvenating sleeping hair follicles. In this scalp nourishing hair mask, we're going to be using coconut oil and honey! Check out their benefits below:
Coconut oil is my best hair oil so far. I love massaging it into my locks before a shower to act as a de-frizzer and conditioner. I also normally massage warm coconut oil onto my scalp to moisturize and for that extra hair growth boost! Though this amazing oil is just now getting all the hype, it has been used in for thousands of years in Ancient Indian Ayurveda for hair massages, growth, moisturizing and much more! It has small molecules that can penetrate deep into the hair follicles, thereby stimulating growth. Coconut oil also helps get rid of bacteria and stale oils that block the follicles, thereby alleviating dandruff and itchy scalp issues.
Honey has been hailed since ancient times for its powerful medicinal and healing power. Ancient people even used it to lighten their locks! It contains a multitude of active enzymes, vitamins, minerals and undiscovered nutrients. When it comes to hair, honey works wonders in restoring damaged hair back to its original luster. It is a natural humectant, which means it absorbs moisture from the surroundings. Honey is also a natural hair conditioner that will soften hair locks and make them silky!
Ingredients
Note: These are the measurements I used for my hair and scalp. They may seem small but it's perfect for waist long hair. Any more than this will make your hair appear greasy which we don't want!
How to make your coconut oil honey hair mask:
1. Gather your ingredients. Always remember to use pure honey and organic pure virgin coconut oil as the processed ones usually contains additives that may adversely affect your hair for example: dry out your strands or make them look greasy.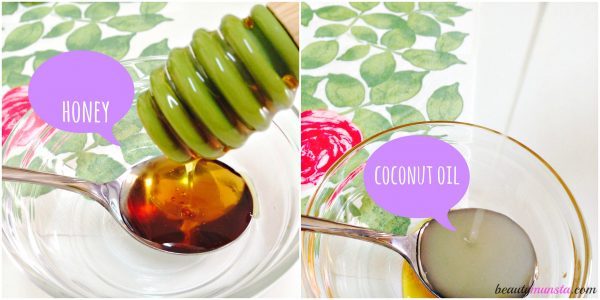 2. Pour 1 tablespoon of your honey and 1 tablespoon of coconut oil into a small bowl. For this you need to make sure your coconut oil is melted. Slightly warm your bottle of coconut oil by running it under hot water.

3. Mix thoroughly and your hair mask is ready for application!
How to apply the coconut oil honey hair mask:
1. Wet your hair and scalp and part your hair into two sections.
2. You can apply the hair mask by massaging it onto your scalp for 2-3 minutes first before slathering it onto your locks.
3. Leave the hair mask on for about 15 minutes. When the time is up, rinse off thoroughly using warm water. In the final rinse, use tepid to cold water to close up the hair follicles.
4. Wrap your hair in a fluffy towel. Keep your hair away from heat if you want to prevent damage by avoiding using a hair dryer if possible.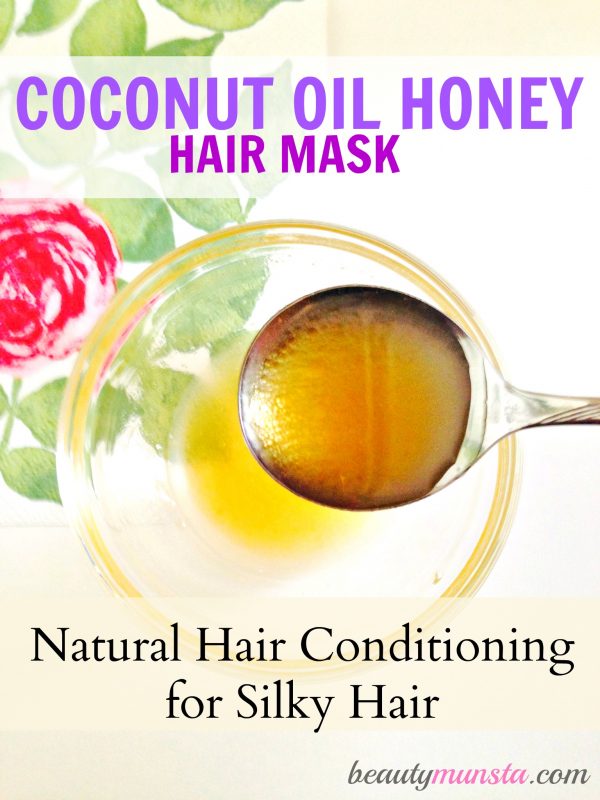 My Tips
Make sure your scalp and locks are wet before you apply this coconut oil honey hair mask. Be careful when applying though, wet hair is easily prone to breakage much more than dry hair.
Before applying, test to see if the hair mask is warm to touch but cool enough to apply onto your scalp.
Tie your hair into a low bun and cover with a shower cap to retain the warmth and enable the hair mask to penetrate deep.
All Natural Hair Care Guide with Essential Oils!
Want to know more about essential oils for hair and how to make scalp & hair care recipes with essential oils? Check out our Complete Guide to Using Essential Oils for Scalp & Hair Care that talks about the magical properties, benefits & uses of essential oils for your scalp and hair with over 100 recipes to make your own chemical-free hair products for a healthy scalp and beautiful hair.
DIY Herbal Hair Oil Infusions Guide with Recipes
Want to make your own herbal hair oils? Check out our DIY Herbal Hair Oil Infusions eBook that contains an A-Z list of healing herbs and spices to infuse for hair, what base oil to choose for your hair type, methods of infusing your hair oils plus 20 exciting hair oil recipes for dry hair, heat damaged hair, hair growth, even gray hairs, scented hair and more!
Where to Get a Natural Shampoo
If you are going chemical-free on your hair, but want to save the time of making a homemade shampoo, this Maple Holistics Sage Shampoo is a game-changer. It contains powerful herbs such as sage: for dandruff & itchy scalp treatment, rosemary: for hair growth and prevention of hair loss and spikenard for dandruff treatment. It also has argan, jojoba and tea tree oils that all protect the scalp from germs, keep hair clean as well as hydrated and moisturized. This shampoo does not contain sulfates, so it will not lather the way you are used to, but you will quickly get used to it and notice the difference!