Take a look at the top 5 coconut oil hair mask recipes for luscious hair!
Coconut oil is no new craze! It has been used in tropical south Asia for so long; in fact ancient texts talking about the virtues of coconut oil date back as far as the 1st century AD! Ancient people used this nutritious product of Nature not only for cooking but also to moisturize their skin and condition their hair.
Below, find out how to make your own coconut oil hair mask suited to your hair type and watch your hair become stronger, thicker and lustrous!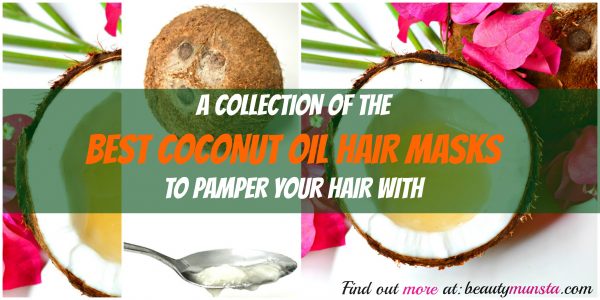 Nutrients in Coconut Oil that are Beneficial for Hair
For hair, coconut oil is extremely moisturizing and can leave your locks looking glossy and lustrous. Whip up any one of these easy 5 coconut oil hair masks for luscious hair! The ingredient measurement for all these hair masks is for shoulder length hair. Feel free to adjust the measurements to suit your hair length and thickness.
1. Coconut Oil Banana Hair Mask for Dry Hair
This coconut oil banana hair mask is a deep conditioning mask for those with frizzy or dry hair. Coconut oil contains healthy fatty acids that lubricate dry hair strands and lock moisture into them. Bananas also contain high amounts of moisture, that is needed in pumping water into dry hair cells. Rich in anti-oxidants and minerals, bananas nourish the scalp and stimulate hair growth.
How to make the Coconut Oil – Banana Hair Mask:
Blend the above ingredients into smooth mixture. Make sure there aren't any bits and lumps of banana. Massage this coconut oil banana smoothie onto your scalp and strands. Leave it on for 10 minutes. When the time is up, rinse off the mask thoroughly. Wring and wrap your hair in a fluffy towel.
My Tip
With this mask, you need to absolutely make sure your banana is blended into a lump-free smoothie. Of, better yet, try using banana baby food which is already mashed up and lump-free! Also, when you're rinsing this mask off, you have to rinse thoroughly. Take the time to run water through your hair as many times as necessary to remove any traces of banana from your hair.
2. Coconut Oil Honey Hair Mask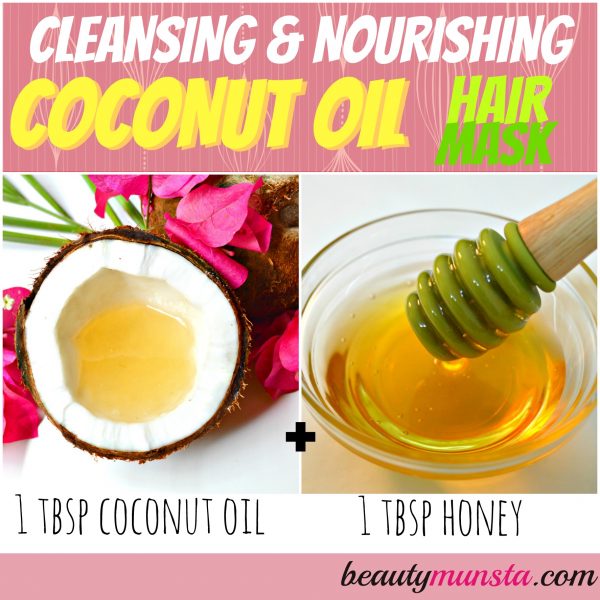 Coconut oil and honey is an excellent combination for a scalp-nourishing hair mask. Coconut oil contains 100% healthy fatty acids that stimulates hair growth and strengthen the hair shaft and follicles. Honey, the raw kind, is rich in powerful antioxidants, nutrients, natural enzymes and other compounds that nourish, repair and rejuvenate the hair follicles & strands. It's also a natural humectant and emollient which traps moisture got from the surrounding atmosphere and sealing it into dry, frizzy and damaged hair.
Ingredients
How to make the coconut oil – honey hair mask:
Combine your ingredients thoroughly in a clean bowl. Using clean finger tips, apply this hair mask onto wet hair strands. Take at least 2 minutes to massage the mixture onto your scalp to promote blood circulation. Wait for 15 minutes. When the time is up, rinse out the hair mask very well. Wring out the water from your hair, wrap it in a non-fluffy towel or even old T-shirt (to prevent hair breakage) and leave it to dry naturally.
My Tip:
There's no need to condition with a store-bought hair conditioner as coconut oil and honey are both excellent natural hair conditioners!
3. Coconut Oil Lemon Juice Hair Mask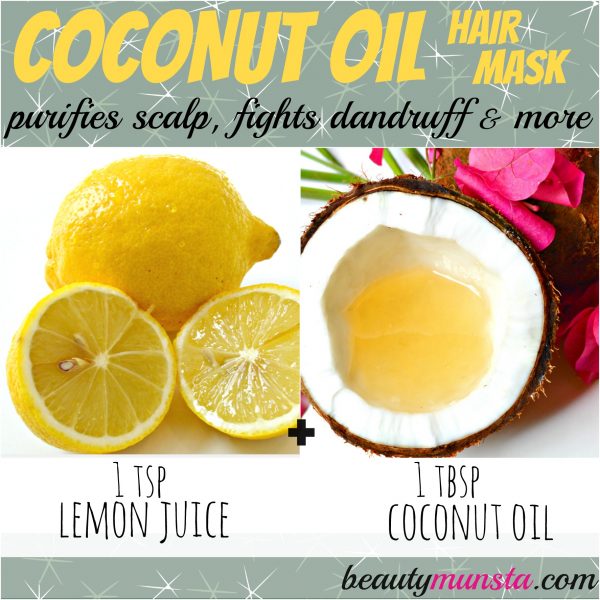 Lemon juice and coconut oil are powerful ingredients for combination hair type and texture. Coconut oil hydrates dry hair strands, feeding them with moisture. Lemon juice has oil control action and can reduce extra greasiness in the scalp and locks as well as fight off germs and dirt that clog up hair follicles. Together, this coconut oil hair mask with lemon fights greasiness, while leaving your hair looking conditioned and healthy.
Ingredients
How to make the coconut oil – lemon hair mask:
Mix the above ingredients thoroughly. Using clean fingers, apply this onto dry scalp and hair. Wait for 15 minutes. Wash off thoroughly using enough tepid water. Let your hair dry naturally, instead of blow-drying, for best results.
My Tip:
Use juice from a freshly squeezed lemon. Use only 1 teaspoon of lemon juice as too much of it may irritate the scalp.
4. Coconut Oil Egg Hair Mask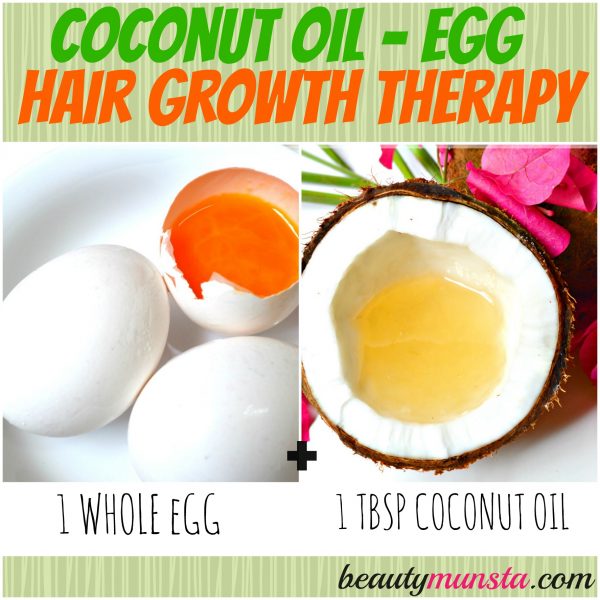 Eggs are incredibly nourishing to the scalp and hair roots. They are rich in multi-vitamins,protein, healthy fats and sulfur, which is a really important mineral for healthy hair. One thing though, is that eggs really stink especially when you put them on your hair – so feel free to add a few drops of lavender essential oil or rinse off with a scented all natural shampoo when washing this hair mask out!
Ingredients
Directions
Whisk the egg until it turns frothy. Now add in the coconut oil and lavender essential oil and mix thoroughly. Apply this mixture onto wet hair. Rinse off after 15 minutes. Use an all natural/sulfate-free shampoo to get rid of the egg-y smell. After rinsing thoroughly, squeeze out the excess water from your hair and wrap it in a non-fluffy clean towel.
My Tip
For at least 2 minutes, massage the coconut oil egg hair mask mixture your scalp to stimulate blood circulation and hair growth.
5. Coconut Oil Avocado Hair Mask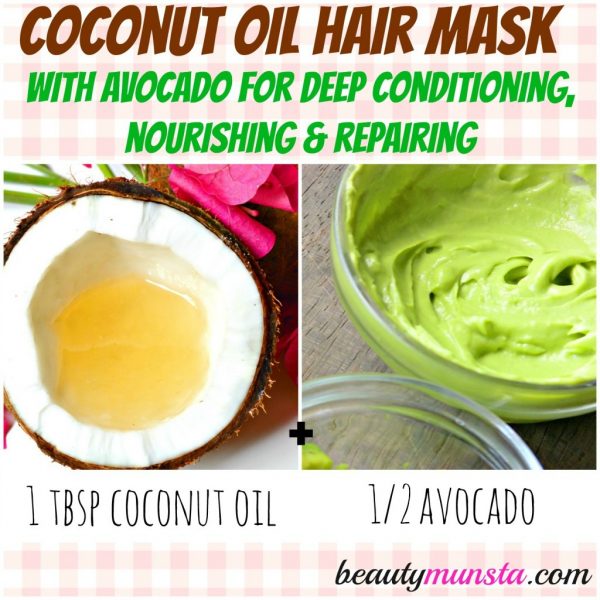 Avocado is good for both oily and dry hair. It contains healthy fatty acids that are important for hair lubrication as well as essential vitamins and anti-oxidants that can control excess oiliness. Together with nourishing coconut oil, this coconut oil avocado hair mask will help balance your scalp's natural pH and promote healthy locks. We're using only 1/2 an avocado in this mask for shorter hair, but please feel free to use the whole avocado if you have longer/thicker hair!
Ingredients:
How to make the coconut oil – avocado hair mask:
Halve and peel the skin off 1/2 avocado then blend together with the coconut oil until you get very smooth puree with absolutely NO lumps at all! Slather this hair mask mixture onto your scalp and locks. Leave it on for at least 15 minutes. Rinse very very well to wash off every bit of the mask.
My Tip:
Slather a thick amount of mixture onto your hair ends
Where to Get a Natural Shampoo
If you are going chemical-free on your hair, but want to save the time of making a homemade shampoo, this Maple Holistics Sage Shampoo is a game-changer. It contains powerful herbs such as sage: for dandruff & itchy scalp treatment, rosemary: for hair growth and prevention of hair loss and spikenard for dandruff treatment. It also has argan, jojoba and tea tree oils that all protect the scalp from germs, keep hair clean as well as hydrated and moisturized. This shampoo does not contain sulfates, so it will not lather the way you are used to, but you will quickly get used to it and notice the difference!
Other Hair Care Resources:
DIY Egg Shampoo for Hair Growth
Homemade Herbal Hair Oil Infusions eBook
Complete Guide to Using Essential Oils for Scalp & Hair Care
9 Best Supplements for Hair Growth you Must Try