Here are 10 amazing beauty benefits of coconut oil for hair and scalp!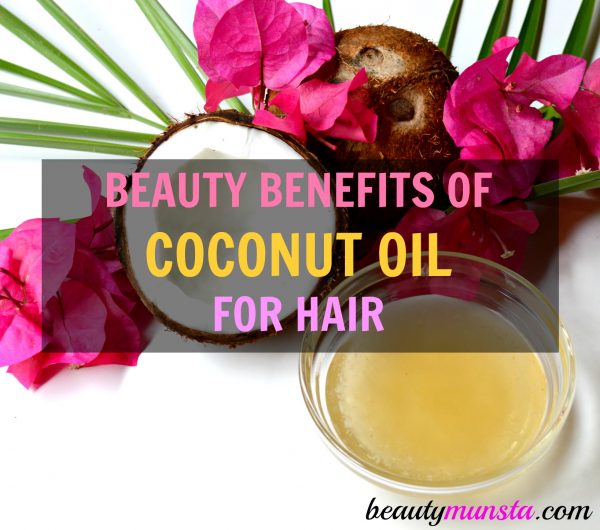 Coconut oil has a zillion beauty benefits and almost every one obsessed with natural beauty is raving about it. But did you know that in tropical regions as the Philippines and India, coconut oil has been used for centuries for its beauty benefits as well as nutritive and healing benefits? Women from south east Asia have luscious long locks of hair. Their secret? Coconut oil! They use coconut oil as a hair serum for growth, conditioning, repair and more.
Take a look at some of the beauty benefits of coconut oil for hair & scalp.
10 Beauty Benefits of Coconut Oil for Hair and Scalp
1. Hair Growth Treatment
Coconut oil is filled with nourishing nutrients such as multivitamins and healthy fatty acids that promote hair growth. The fatty acids in coconut oil such as lauric, caprylic and mystiric acid penetrate into the scalp, strengthening the hair follicles and shaft. Massage your scalp with warm coconut oil every week to thick luscious hair.
2. Eliminates Dandruff
Did you know that dandruff is actually caused by a fungus? Coconut oil is effective in getting rid of dandruff as it contains anti-pathogenic and anti-fungal properties that kill off microbes that cause scalp irritation and dandruff. To give yourself a dandruff-eliminating hot oil treatment, warm up 1 to 3 tablespoons of coconut oil. Gently apply this onto your scalp. Cover your scalp with a warm towel to open up your hair follicles. Sit for 15 minutes for the coconut oil to sink in. Rinse off with tepid water and a mild shampoo. Do this every week for maximum results!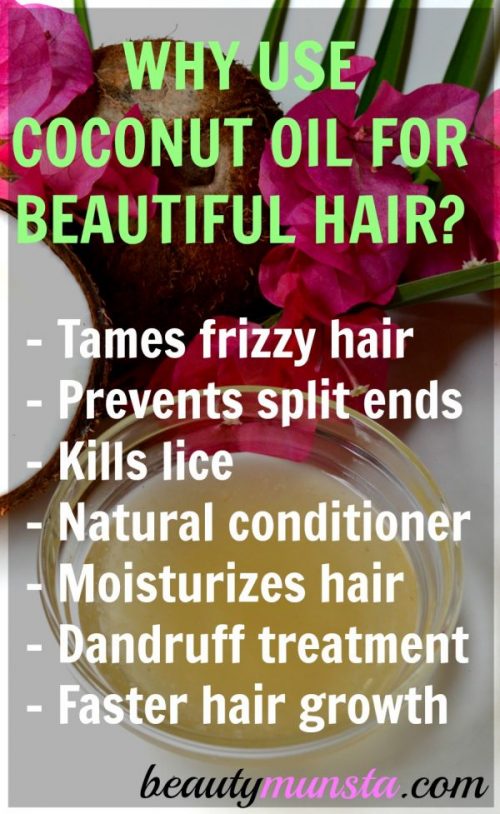 3. Soothes Dry Itchy Scalp
When applied on the scalp, coconut oil provides a soothing relief and cooling sensation which stops itchiness. It contains 100 per cent healthy fatty acids that lubricates a dehydrated scalp. Get 1 tablespoon of coconut oil and massage it on your dry scalp for instant relief.
4. Kills Off Lice
Coconut oil is effective when it comes to killing off head lice. Since it is an oil, it can swiftly suffocate nits and lice on the scalp. For an ultimate lice removal treatment, all you need is raw apple cider vinegar with the 'mother' and cold pressed extra virgin coconut oil. Before you begin, first untangle and remove all the knots in your hair. Rinse out your hair with 1/4 cup of apple cider vinegar and 1 cup of filtered water. This helps pluck off the nits tightly clinging to the hair strands. Next, fully saturate your scalp completely with coconut oil and cover your hair with a shower cap. Leave this on for 12 hours as the lice and nits are suffocated. When the time is up, comb your hair using a lice comb to remove the dead lice. Wash off with a mild shampoo. This treatment is enough to rid your hair of lice but you may repeat it after 2 days.
5. Luxurious Hair Conditioner
One of the amazing beauty benefits of coconut oil for hair is that it acts as a wonderful hair conditioner all on its own. Mix up 1 tablespoon of manuka honey with the same amount of coconut oil and use it like your regular conditioner. You can even use it as a leave in conditioner and rinse off the next day! What makes it so special? Coconut oil contains medium chain fatty acids and medium chain triglycerides that have small molecules, allowing them to penetrate deep into hair cells and hydrate them.
6. Seals Off Split Ends
Long hair can become a pain if it's filled with pesky split ends. For those of you who totally dread bringing a pair of scissors near your hair, don't worry! Coconut oil might yet be the working solution for split-end free hair. It takes a lot of consistency and dedication so be prepared to be patient till the end. All you have to do is to slather a generous amount of coconut oil onto your hair locks and ends every night before going to bed. Go ahead and slather some coconut oil onto your scalp too, for incredibly luscious locks.
7. Tames Frizzy Curly Hair
Wild frizzes and stubborn fly-aways can all be tamed using coconut oil. Tuck in your fly-aways by smoothing them out with coconut oil. For frizzy hair, apply a dime sized amount of this silky goodness onto your frizzes and you're good to go! The medium chain fatty acids in coconut oil locks in moisture into your hair cells, bouncing your curls back to life!
8. Softens Dry Damaged Hair
Damaged hair, in most cases, looks extremely dehydrated and lifeless. To feed and water your hair, pour some coconut oil onto your palms and run your fingers through your dry hair strands. In a matter of minutes, your hair will not only feel softer but also gain a glossy sheen.
9. Adds a Natural Shine
Bring the life back into dull lifeless locks with coconut oil. Simply slather a little bit of coconut oil onto your hair before styling and voila! You've got natural glossy locks.
10. Cools Down Inflamed Irritated Scalp
Coconut oil maintains the scalp's normal pH, thereby staving off scalp irritants and germs that cause scalp inflammation, irritation and itchiness. Apply silky coconut oil onto your scalp, if you experience any irritation, itching or inflammation for instant relief.
Where to Get the Best Coconut Oil
My favorite coconut oil has to be Hamilton Healthcare Coconut Oil which is 100% pure & unrefined organic cold pressed extra virgin coconut oil. I like the 16 oz jar which lasts for a good time. It can be used for cooking, as a supplement and of course for skin and hair care!