Let's discover 20 amazing beauty benefits of coconut oil for skin, hair & more!
Only recently has coconut oil shot to popularity in the Western world but this amazing versatile oil has been a staple in Southern India, Philippines and Indonesia for over thousands of years.
Ancient Indian Ayurvedic texts of over 4000 years old describe in detail the numerous health benefits of coconut oil. In the beauty world today, coconut oil is the craze! Fetched from Ayurveda, there are a number of beauty uses and beauty benefits of coconut oil!
Before we look at the top 20 beauty benefits of coconut oil, first check out its ingredient profile!
Ingredient Profile of Coconut Oil

♥ Scientific Name:
Cocos nucifera

♥ Origin:
Coconut oil was first extracted and used by South Indians centuries ago.
♥ Color and Smell:
In cool climates, it has a pure white color. In hot climates, it is a clear/pale yellow/slightly cloudy oil. Coconut oil smells just like coconuts!
♥ Texture:
It has a creamy white consistency in cooler climates. In hot climates, it is a pure liquid oil.
♥ Shelf Life:
2 years
♥ Potential for Irritation:
Low
♥ Precautions & Tips
Please first do a patch test with coconut oil before use. To do a patch test, apply 1/2 tsp of coconut oil on your inner wrist. If there's no negative reaction within 60 minutes, then go ahead and use this oil!
Please do not use coconut oil on your body if you are allergic to it.
When it comes to applying coconut oil on your skin and hair, apply a suitable amount. A little goes a long way! Using a lot can make your skin and hair greasy. If you do get your hair greasy, then you can shampoo twice and it'll all wash out in no time!
Always buy organic cold pressed coconut oil for your beauty uses for best results.
You may refrigerate coconut oil to lengthen its shelf life.
Top 20 Beauty Benefits of Coconut Oil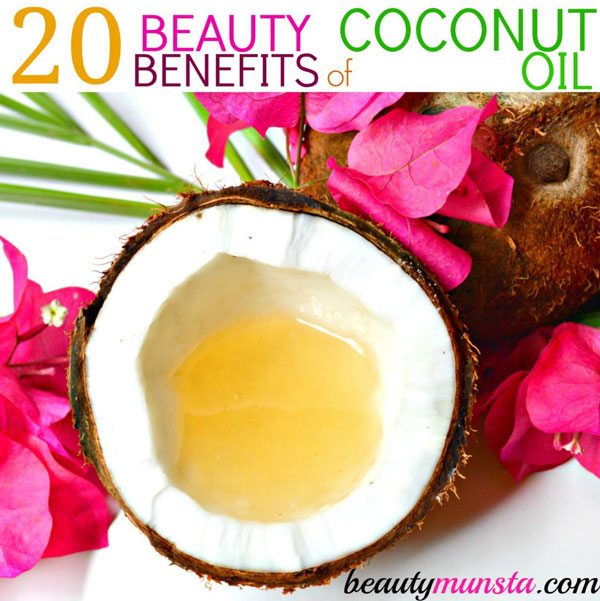 1. Skin moisturizer
Coconut oil contains plant-based fats that will lubricate and deeply moisturize skin cells. It's also rich in anti-oxidants and contains vitamin E that is known as the skin vitamin and the 'Protector'. Vitamin E bolsters the skin's UV defense mechanism and keeps skin connective tissues strong, thereby checking sagging skin especially cheeks. After washing your face, massage a dollop of coconut oil while your face is still wet and pat dry with a soft towel. Allow the coconut oil to sink into your skin pores and keep your skin smooth and supple.
2. Chemical-free shaving cream
Almost everyone is replacing their shaving cream with coconut oil and with good reasons too! Slathering coconut oil on your hands and legs before shaving will ensure a smooth shave free of any accidental cuts. It's got antimicrobial properties that will stave off any contaminants and germs from skin. Coconut oil also works as a wonderful moisturizer after shaving for silky glossy skin.
3. Eye makeup remover
Neatly slide off mascara or eyeliner with just a pea sized amount of coconut oil. Apply a little coconut oil onto a clean cotton ball and gently dab over your eye makeup to remove it swiftly. Rinse your eyes with tepid water and pat dry. Open your eyes to luscious moisturized lashes and soft under eye skin!
4. Ear wax remedy for instant relief
Instantly unplug blocked ears with coconut oil! We hear so many folk remedies which use warm olive oil to loosen ear wax and provide instant relief for blocked ears. I hear you asking can coconut oil really be used? If anything, coconut oil is even better than olive oil as it contains anti-pathogenic properties, which can fight off any infection and bacteria that may be growing inside your ear. To use coconut oil as an instant ear wax remedy, warm up 2 tablespoons of fractionated coconut oil and store immediately in a glass dropper bottle. Lie down on your side and put two drops of warm coconut oil into your blocked ear. Wait for 20 minutes and move your jaw around to work the coconut oil down your ear canal. For me, two ear drops cured me instantly but to be practical, use this remedy every night till your blocked ear is cured.
5. Coconut oil eye cream
To keep fine lines and wrinkles away from the thin sensitive skin around your eyes, use coconut oil as your only eye cream. Coconut oil has medium chain fatty acids that enable it to swiftly penetrate through your skin, lubricating skin cells. After facial cleansing, pat a small amount of coconut oil under and around your eyes for an amazing wrinkle-busting eye cream.
6. Nourishing scalp treatment
How many of you have ever treated your scalp to a nourishing treatment?! Let's all start showing our scalp some TLC, people. All you need is to warm up 2 tablespoons of coconut oil and start massaging that onto your scalp. This will improve blood circulation to the hair roots and follicles and promote hair growth. Do this once a week for best results.
7. Dandruff removal
Dandruff normally comes with an itchy dry scalp. Coconut oil contains antimicrobial and anti-pathogenic properties which will fight microbial and fungal activity in the scalp. Dandruff is caused by a fungus and coconut oil will help eliminate dandruff from your scalp.
You can try a super easy overnight coconut oil hair treatment by warming up coconut oil and applying it onto your scalp in gentle circular motions. Next, loosely wrap your hair into a bun and wash off the next morning. Remember to place a towel over your pillow to absorb excess oils and keep your pillow clean!
8. Tame wild frizzes
I've used coconut oil so many times to smooth out fly aways and frizzy hair during summer. And let me tell you, its so effective, you don't need to use hairspray at all. Coconut oil will get the job done perfectly. Simply get a dime sized amount of coconut oil in your hand and run it through your frizzes. Voila! Your frizzes are tamed and you're good to go!
9. Leave in conditioner
For those of you with frizzy, dry or uncontrollable hair, you must try out the one of the most natural hair conditioners on this planet ; coconut oil. Coconut oil contains so many healthy fatty acids including lauric, caprylic and capric acids that will lock moisture into your hair stands. Replace your normal hair conditioner with extra virgin cold pressed coconut oil. Your wild frizzy hair will be easy to untangle and become silky smooth.
10. Coconut oil facial cleansing
So many people out there spend extra bucks buying the 'perfect' night cream. I'm sticking with my everyday coconut oil night routine which is just the perfect one for me!
To adopt this skin rejuvenating routine, start with cleansing your face with honey or just pure water. Next, place a pea sized blob of coconut oil on your palm and start massaging it on your face in circular motions. Place a warm wet washcloth over your face to open your pores and let the goodness sink it. You can keep wringing the washcloth in warm water and placing it over your face as this has soothing therapeutic benefits. Finally, pat dry with a clean towel and enjoy silky skin!
11. Plump up your lips
If you want to heal dry cracked lips, or even just plump up your lips and add an extra shine, smear coconut oil. Keep  lip balm containers of coconut oil and use it as your lip balm. Many lip balms out there actually contain irritant that can actually dry out your lips. The medium chain fatty acids will penetrate deep and lock moisture into your skin. In case of dry cracked lips, continue using silky coconut oil on your lips and when your lips are smoother, get a clean toothbrush and brush off the flaky skin.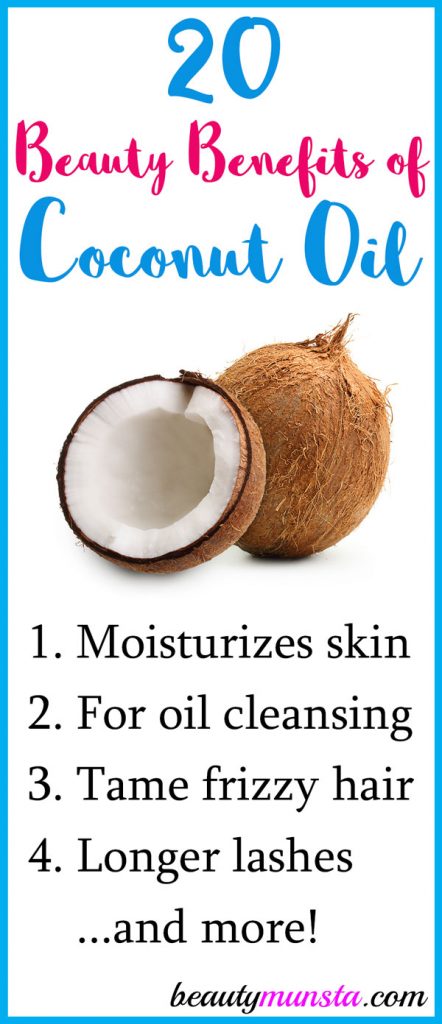 12. Grow luscious long lashes!
Coconut oil, rich in fatty acids such as caprylic and lauric acids, promotes growth of thick luscious hair. That includes eyelashes! Store fractionated coconut oil in a clear mascara tube and and brush once on your eyelashes every night before going to bed. Be consistent and you will see your lashes growing thicker and longer!
13. Oil pulling with coconut oil
You must have heard of the Ancient Ayurvedic practice of swishing organic oil in your mouth to detoxify your body. Oil pulling stimulates elimination of harmful from the body, staving off acne and also keeping your mouth clean and bacteria-free. Oil pulling is a good practice for acne-sufferers! Start with swishing a tablespoon of extra virgin cold pressed coconut oil first thing in the morning. If practiced consistently, you will begin to notice improvements in your general health including healthy vibrant skin.
14. Eliminate lice
Coconut oil is perfect for soothing itchy inflamed scalp caused by lice. Most head lice treatments contain toxic substances such as carbaryl and pyrethroids that are dangerous for the scalp and hair strands. Simply saturating your scalp with coconut oil will soothe your itch and suffocate lice and nits.
15. Seal off split ends
I used to go crazy snipping off any split ends I find at the bottom of my long hair. That was way before I found out that using coconut oil is the best natural remedy for sealing off split ends. All you have to do is slather some silky coconut oil onto your hair ends and strands every night. This will not only close off split ends but also moisturize and add a shine to your locks. Be consistent and extra patient till you see brilliant results!
16. May help reduce acne

Although coconut oil has a high comedogenic rating of 4, which means it has a high chance of clogging your pores, some people find that it reduces their acne. So tread with caution as this is something you just have to test for yourself! How does it help acne? Well, coconut oil contains lauric acid that boats strong antibacterial properties that fight acne-causing bacteria called Propionibacterium acnes! I wouldn't recommend using coconut oil as a moisturizer. For acne, use coconut oil for oil cleansing or as a face mask. This ensures the oil will not sit on your skin for long and clog up your pores. See DIY Coconut Face Mask for Acne Prone Skin
17. Flaky skin remover
Coconut oil contains 100 per cent fats – this being healthy fatty acids. These medium chain fatty acids and medium chain triglycerides dissolve excess dead cells and flaky skin and soften them so that they can easily be scrubbed off. Pair coconut oil with baking soda for the most effective exfoliating face treatment ever: Face Mask with Coconut Oil & Baking Soda
18. Soften rough skin – on elbows, knees, heels etc

Smooth out rough patches of skin on your body using coconut oil. Coconut oil is lubricating and moisturizing. It contains hydrating properties that will lock moisture into rough skin areas. Use a dollop of coconut oil and smear it on your elbows and knees while your skin is still wet after a bath.
19. For shiny locks
To get a an all-natural luscious sheen on your hair strands, ditch those expensive hair serums and turn to coconut oil. Just apply a little coconut oil and brush back your fly away hairs. For shiny locks, drop a dime sized amount of coconut oil onto your palms and run them through your locks.
20. Heal cracked heels
So many people suffer from rough cracked heels, even with regular pedicures. Natural coconut oil provides the best luxury treatment for maximum hydration. Scrub your heels gently with soap and a Pumice stone in your daily shower and apply a generous amount of coconut oil to your dehydrated skin. Give full attention to your heels if they look incredibly dry and cracked. Before going to bed, slather on some coconut oil onto your heels. Put on a pair of socks to allow the oil to sink deep and go off to bed!
Where to Get the Best Coconut Oil
My favorite coconut oil has to be Hamilton Healthcare Coconut Oil which is 100% pure & unrefined organic cold pressed extra virgin coconut oil. I like the 16 oz jar which lasts for a good time. It can be used for cooking, as a supplement and of course for skin and hair care!