Take a look at the many beauty benefits of sweet almond oil for a prettier you, naturally!
Sweet almond oil is one of the most popular oils in skin and hair care! It's derived from the dried kernels called almonds, of the almond tree. In India, the Middle East and the Mediterranean, sweet almond oil has extensively been used for its health and beauty benefits!
Before we look at the beauty benefits of sweet almond oil, let's see its ingredient profile to get to know more about it!
Sweet Almond Oil Profile
♥ Scientific Name:
Prunus amygdalus var. dulcus
♥ Other Names:
Sweet almond oil is also called almond oil
♥ Origin:
Almonds are native to India, the Middle East and North Africa. Sweet almond oil was used for centuries in India for its skin and hair benefits.
♥ Color and Smell:
Sweet almond oil has a clear color with a yellow tinge. It has a sweet nutty scent.
♥ Texture:
Sweet almond oil is a medium-light oil, which easily semi-quickly into skin. It leaves a hint of oil on skin.
♥ Comedogenic Rating: 2
♥ Shelf Life:
1 year
♥ Potential for Irritation:
Low
♥ Precaution & Tips
Before use, do a patch test on your inner elbow/wrist to see that sweet almond oil does not irritate your skin.
Refrigerate sweet almond oil to make it last longer.
Composition of Sweet Almond Oil
Sweet almond oil has a rich concentration of linoleic and oleic fatty acids. It is also very rich in Vitamin E, the beauty vitamin. Here are some of the nutrients found in almond oil:
Palmitic acid
Palmitoleic acid
Arachidic acid
Alpha Linoelic Acid
Stearic acid
Vitamin A
B-vitamins
Okay, now let's explore 15 remarkable beauty benefits of sweet almond oil below!
15 Beauty Benefits of Sweet Almond Oil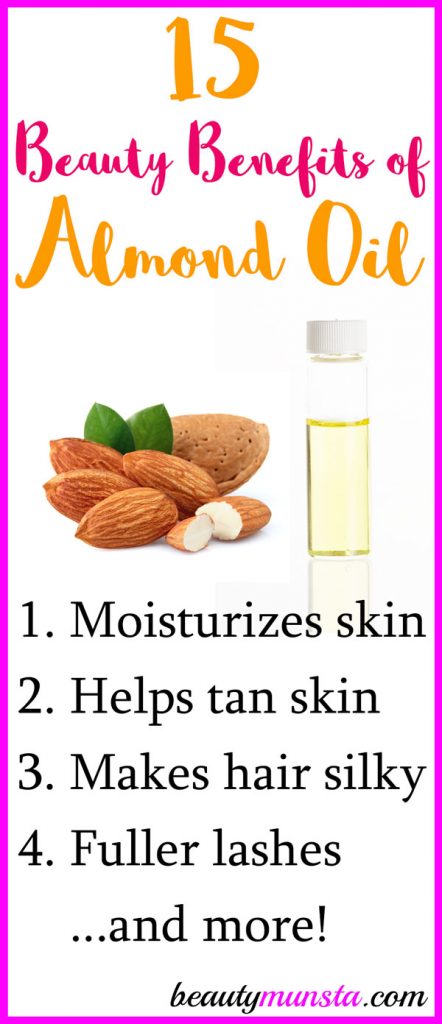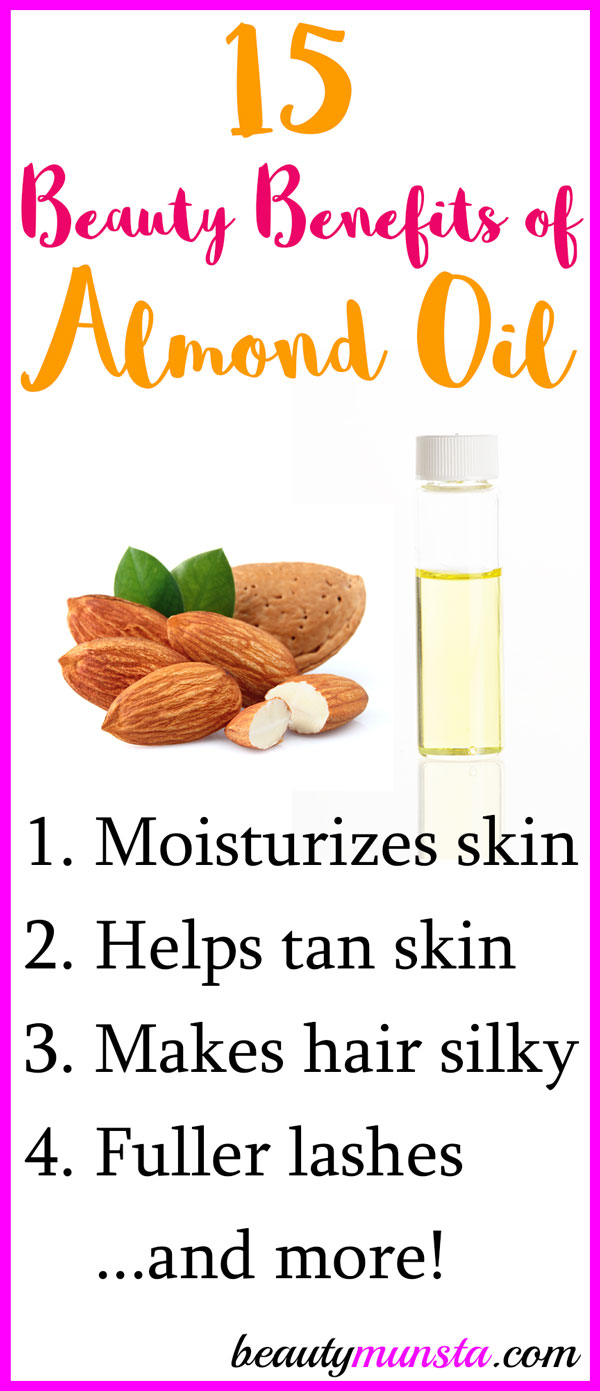 1. Moisturizes Skin
Sweet almond oil can be used as an all-natural moisturizer for your face and body! If you have normal skin or dry skin, sweet almond oil is a perfect moisturizer. It penetrates into skin fairly easily and keeps skin cells moisturized, healthy and supply.
2. For Inflammatory Skin Conditions
Soften and moisturize eczema or psoriasis patches using sweet almond oil. It also helps reduce inflammation. Use it directly onto damp skin after a shower. Alternatively, you can make also DIY Eczema Cream by mixing up shea butter and almond oil. Here's a simple recipe to use:
Eczema Cream: In a double boiler, melt 1 cup of shea butter together with ¼ cup of sweet almond oil. Once melted, let it cool off for 20 minutes in the refrigerator. Then get it out and add 5 drops of lavender essential oil and 1 tsp manuka honey. Whip up the ingredients into a white fluffy cream using a hand mixer. Apply the cream onto eczema or psoriasis to keep it moisturized and help speed up healing.
3. Makes Skin Soft & Smooth
Applying sweet almond oil makes your skin soft and smooth! Use it as your facial oil by applying 3 drops on your face and neck every day after washing your face and patting it dry. You'll notice your skin is softer and smoother.
4. Decreases Wrinkles
Dry skin promotes wrinkles and fine lines! Using sweet almond oil moisturizes your skin which decreases wrinkles and fine lines! It also makes your skin supple and youthful!
5. Seals Split Ends
One of the most remarkable beauty benefits of sweet almond oil is that it helps seal split ends! If your hair ends are frayed and damaged, do a hot oil treatment with sweet almond oil to help strengthen, nourish and seal them up!
Hot Oil Treatment: In a small pan, place 1 tbsp of sweet almond oil and 1 tsp raw honey. Warm the two ingredients over medium-low heat. Apply this to your hair length and let it penetrate for about 30-60 minutes. Wash your hair as usual, preferably using a natural sulfate-free shampoo!
6. Longer Fuller Eyelashes
Transfer sweet almond oil using s syringe into these clear mascara tubes. Apply just one coat on your lashes morning and night to help growth fuller eyelashes!
7. Great Massage Oil
Sweet almond oil is a perfect massage oil! It is a good medium for diluting essential oils to use in aromatherapy massages. What's more is that it also helps relieve muscle fatigue and pain! Here's a soothing as well as skin loving massage oil
8. Retains Moisture in Hair
If you have dry hair, you can use sweet almond oil on it right after a shower. This acts as a leave-in conditioner to retain moisture in your hair!
9. Stimulates Hair Growth
You can also use sweet almond oil as a hair growth oil! It helps thicken up hair and heal damaged locks! What makes it good for hair growth is it's high Vitamin E content! You can make a hair growth treatment as follows:
Hair Growth Treatment: Pour 2 tbsp of sweet almond oil in a small glass bowl. Now add 3 drops rosemary essential oil and 3 drops lavender essential oil. Mix well and place the glass bowl into a pan containing a few inches of hot water to gently heat up the oil blend. Do not let water into the glass bowl. After the oil warms up, massage it all over your scalp. Leave it to penetrate for 30-60 minutes then wash your hair as usual. Use a natural sulfate-free shampoo.
10. Makes Hair Shiny & Silky
I love using sweet almond oil to make my hair shiny and silky! The sweet scent also lingers in your hair forlong! Here's a nice hair oil recipe starring sweet almond oil and geranium essential oil:
Silky Hair Oil: Pour ¼ cup of almond oil in a clean container or jar. Now add 7 drops of geranium essential oil. Seal the jar tightly and swirl it to mix up the oils. Use a tiny amount on your hair length to moisturize before brushing it.
11. Eye Makeup Remover
Did you know that sweet almond oil can be used straight up as a natural eye makeup remover? Just add a little sweet almond oil onto a clean cotton ball. Gently wipe your eyes twice. Now you can go ahead and cleanse your face as usual.
12. For Oil Cleansing
Sweet almond is a great choice to use for the oil cleansing method. It works perfect for people with normal skin and dry skin too. You can choose to use it alone, blend it up with other oils or even add a few essential oils. Here's a blend for combination skin using sweet almond oil:
Oil Cleansing Blend: In a clean jar, add 1 tbsp rosehip oil, 1 tbsp apricot kernel oil, 4 tbsp jojoba oil and 4 tbsp sweet almond oil. Seal the jar tightly and gently swirl it to create a blend. Use for oil cleansing every night.
13. Moisturizes Nails & Cuticles
Keep your nails and cuticles moisturized and healthy by applying sweet almond oil onto them! You can even transfer sweet almond oil into a 10ml roll-on bottle for easy application!
14. Bath Oil
You can add a little almond oil into a warm bath to make your skin soft, smooth and silky. You can also make a more skin beautifying bath oil by adding essential oils! Check it out:
Skin Beautifying Bath Oil: Into a clean jar/applicator bottle, add ½ cup of sweet almond oil. Now add 5 drops of lavender essential oil, 5 drops of cedarwood essential oil, 5 drops of patchouli essential oil, 5 drops of vetiver essential oil. Seal the jar tightly and roll it between your palms to mix up the oils without creating air bubbles. Add about 1-2 tsp of this bath oil to a warm bath.
15. Helps Tan Skin Naturally
Many sources online falsely attribute almond oil with skin lightening properties. But this is not the case! If you put almond oil on your face or skin and go out in the sun, your skin will get tan or darken naturally! I've talked about it more here: Can Almond Oil Darken Skin?
Where to Buy Sweet Almond Oil
Always look for 100% pure quality sweet almond oil without additives. Avoid synthetic sweet almond oil and flavored almond oil!
I love Now Foods 100% Pure Sweet Almond Oil. Now Foods is a reputable brand to buy all your carrier oils from! Whether it's sweet almond oil, jojoba oil, avocado oil or castor oil!


I'm so excited for you to start enjoying the beauty benefits of almond oil in your daily beauty regimen!