Oil pulling is an ancient Ayurvedic technique that is purported to have detoxing effects on the body. But what are the beauty benefits of oil pulling for skin, hair, teeth and more? Let's find out!
What is Oil Pulling?
Oil pulling seems like a weird thing to do. I mean swishing around oil in your mouth for 20 minutes every day? What's the point, right?
Well, oil pulling is actually a time-proven healing technique that stems from the 5000 year old science of Ayurveda, or Indian Medicine.
When oil is swished around the teeth, tongue and mouth it actually massages different points on the tongue, which according to reflexology, are connected to different body organs. The pressure of oil pulling on the tongue indirectly stimulates and massages the different organs mapped out on the tongue.
Detoxification is a big part of why oil pulling seems to have an array of health benefits. The accumulation of toxins causes many problems in the body including creating fatigue, insomnia, joint pain, premature aging, hair loss, autoimmune disorders and hormonal imbalances.
What Oil is Used for Oil Pulling?

Here are the most common oils used and recommended in Ayurveda for oil pulling:
Beauty Benefits of Oil Pulling
Aside from the numerous health benefits of oil pulling, you might find it motivational that oil pulling can help you keep your hair, skin and body beautiful from the inside out!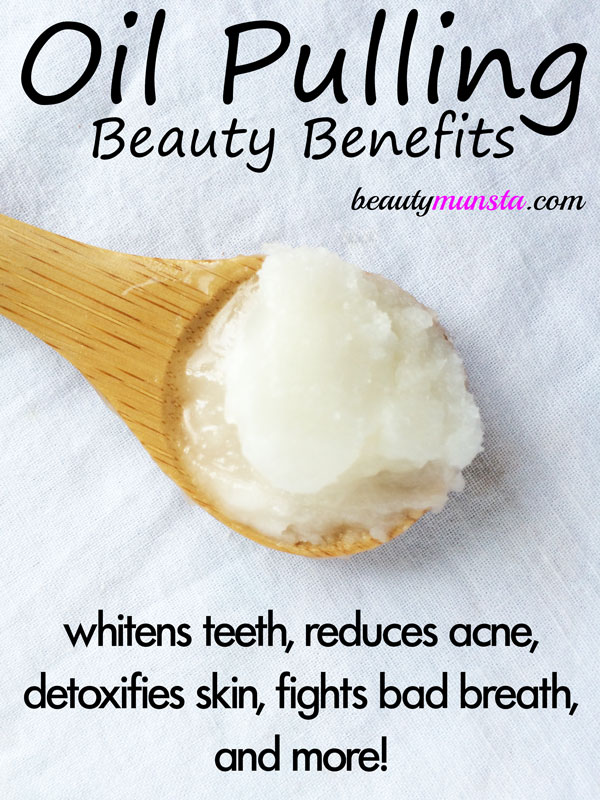 Here are just a few of the beauty benefits of oil pulling:
1. Teeth Whitening
Teeth whitening is one of the most obvious signs that people notice when they begin oil pulling. After all, when oil is swished around the teeth, it sticks and binds to food particles, stains and impurities that make the teeth appear yellow.
2. Reduces Acne
Many people doing oil pulling notice a significant reduction in acne. This is not surprising because one of the leading causes of acne is the accumulation of toxins.
These toxins, without having any place to go, tend to erupt from the skin on the face, back and chest in the form of acne.
3. Gets Rid of Bad Breath
Among the many oral benefits of oil pulling is the eradication of bad breath. Also known as 'halitosis', bad breath can be a turn-off and even affects your self-esteem.
Oil pulling is a more holistic solution for getting rid of bad breath permanently without having to use harsh mouth washes.
4. Promotes Healthy Skin
Everyone desires glowing, youthful skin! Dull, dry and lifeless skin can add to your years and make you appear sickly and tired.
Thanks to its detoxification effects, one of the best side effects of oil pulling is the improvement in the state of the skin. It also helps reduce skin conditions such as rosacea, eczema and psoriasis.
5. Balances Hormones
A disruption in hormones can affect the state of your hair and skin in unlikely ways. Hormone imbalances tend to cause conditions such as hyperpigmentation, uneven skin tone, hair loss and balding and others.
Oil pulling is known for improving the proper function of the endocrine system and supporting hormonal function.
6. Detoxes the Body
Toxins are everywhere today. When toxins accumulate in the body, they are responsible for causing a wide variety of problems. Some of the symtpoms caused by toxins include wreaking havoc on the immune system.
This causes autoimmune ailments such as psoriasis, fibromyalgia and others. Detoxification helps to eliminate toxins and promotes beautiful skin and thick, luscious hair.
7. Reduces Inflammation
Natural medicine believes inflammation to be at the root of every disease, including cancer. Inflammation can also be evident on your hair and skin. Inflammation on the skin is found in skin conditions such as psoriasis, rosacea, acne and others.
Inflammation of the hair follicles causes hair loss, balding and bald spots in certain areas of the scalp. Reducing inflammation through oil pulling can help promote smooth, youthful skin and thick, strong hair.