The beauty benefits of cinnamon are amazing, so never underestimate this popular spice! Find DIY Cinnamon Oil and other recipes to learn how to use cinnamon for your beauty care!
Cinnamon is an aromatic spice with medicinal and therapeutic benefits. It is native to Sri Lanka, an island in South Asia.
In ancient times, cinnamon was hailed for its amazing properties. Ancient Ayurvedic and Chinese medicine used cinnamon to cure a myriad of illnesses including internal disorders such as stomach upset, diarrhoea, respiratory ailments, menstrual problems among others. It was also topically used to heal wounds and beautify skin as it has antiseptic, anti-aging, anti-fungal and antibacterial properties.
Read on for the more of the wonderful beauty benefits of cinnamon for hair, skin, lips and choose your favorite DIY uses of cinnamon!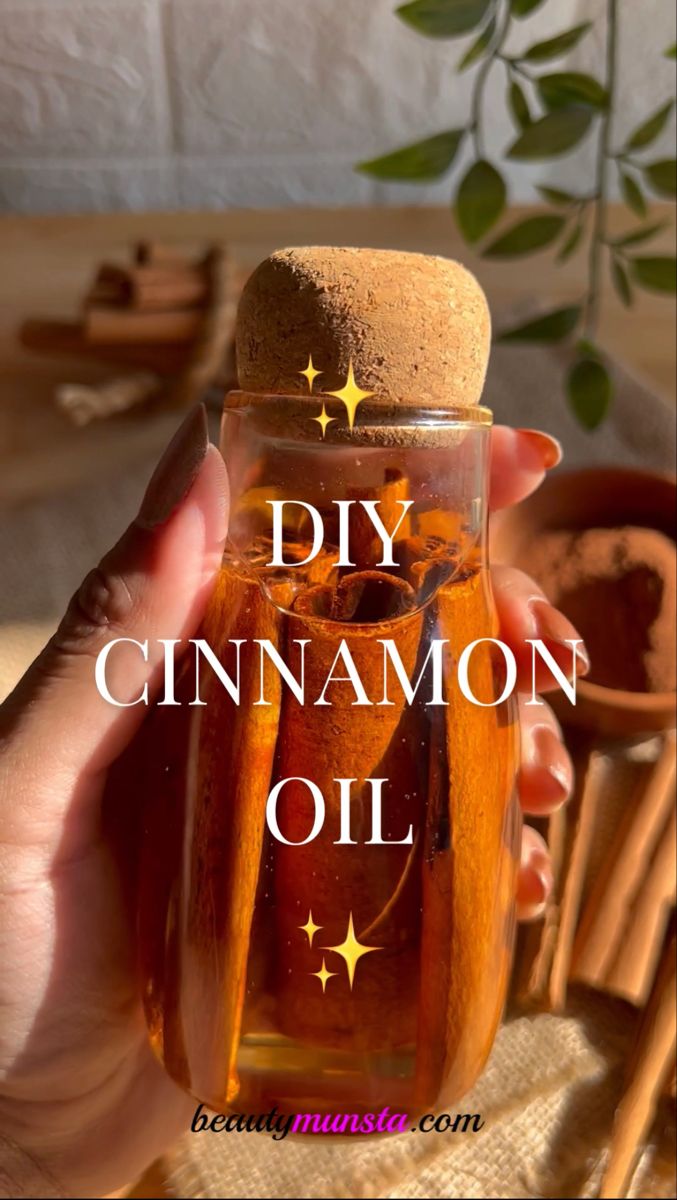 You can benefit from the uses of cinnamon by making:
Cinnamon Tea: Steep 1 cinnamon stick in 2 cups of hot water. You can drink this cinnamon tea to enjoy the health benefits internally, or use it as a hair rinse for hair growth
Cinnamon Powder: Grind 10 – 12 sticks of cinnamon to make a fine powder. Store this powder in a dry air tight container. Cinnamon powder can be used to make cinnamon face mask for acne, cinnamon sugar scrub for cellulite and more!
DIY Cinnamon Oil: Infuse cinnamon sticks into your carrier oil of choice (I used grape seed oil). Fill a 16 oz mason jar with grape seed oil, and pack in 12-15 cinnamon sticks. Gently place the jar into a sauce pan of boiling water for 1 hour on medium heat. Allow the cinnamon oil to infuse for a further 2 weeks for an even stronger concentration. Cinnamon oil can be massaged into your legs to treat cellulite, can be used as a hair oil to stimulate hair growth & applied on your lips as a plumping lip gloss!
Check out the wonderful beauty benefits of cinnamon for beauty and even more DIY uses!
1. Heals Acne
For acne-sufferers, cinnamon is hailed as a trusted ingredient to fight off acne and pimples! It contains anti-inflammatory properties, antibacterial, antiseptic and antioxidant properties that make it effective against acne. It's antibacterial and antibacterial properties will kill of acne causing germs and bacteria while the anti-inflammatory properties reduce acne inflammation. Sprinkle your morning oatmeal or cereal with cinnamon powder to purify your skin by removing acne causing toxins and fighting acne inflammation.
2. Exfoliates Skin
The mild gritty texture of cinnamon powder can serve as a natural exfoliator. Mix a pinch of cinnamon with other ingredients such as honey/yogurt to de-gunk your pores from deep within. While your scrubbing, cinnamon exfoliates by pulling out grime, excess dead cells, flaky skin, excess sebum, dirt and germs lodged in skin pores. To make an exfoliating cinnamon face mask, combine thoroughly a pinch (or 1/4 teaspoon) of cinnamon powder with 2 teaspoons plain yogurt. Scrub your face gently. Rinse off with cool water as soon as the face mask starts tingling.
3. Diminishes Blemishes
Cinnamon stimulates cell regeneration and promotes blood circulation, thereby feeding the skin with nutrient-rich blood. This quickens the healing process of blemishes and ace scars. Mix a pinch of cinnamon powder with 1 teaspoon of honey. Apply this onto your whole face and keep it o for 15 minutes. When the time is up, use a warm wash cloth to remove the mask. Rinse with cold water and pat dry.
4. Get Rid of Cellulite
About 80 per cent or more women suffer from the dreaded cellulite – whether it's on the arms, legs, thighs and butt, it looks very unsightly. Dermatologists from the University of Grenoble acknowledge cinnamon as an effective anti-cellulite natural ingredient. Add cinnamon to your daily diet to purify your skin and get rid of cellulite. Mix a drop or two of cinnamon essential oil in 2 tbsp of coconut oil and massage over cellulite-infected areas daily to see results. Alternatively, use my Cinnamon Coffee Body Scrub for Cellulite!
5. Anti Aging Skin Benefits
The anti aging beauty benefits of cinnamon are very potent. Cinnamon is bursting with powerful antioxidants, vitamins and minerals including calcium, magnesium and iron that are all essential for youthful skin. Cinnamon promotes blood circulation and bringing blood close beneath the surface of the skin, allowing each and every skin cell to be nourished with nutrient-rich blood. This keeps skin cells healthy and promote new cell turn over. The antioxidant properties of cinnamon will ward off pro aging free radicals. Enjoy your cinnamon in form of a soothing tea or simply sprinkle a little on your apple sauce.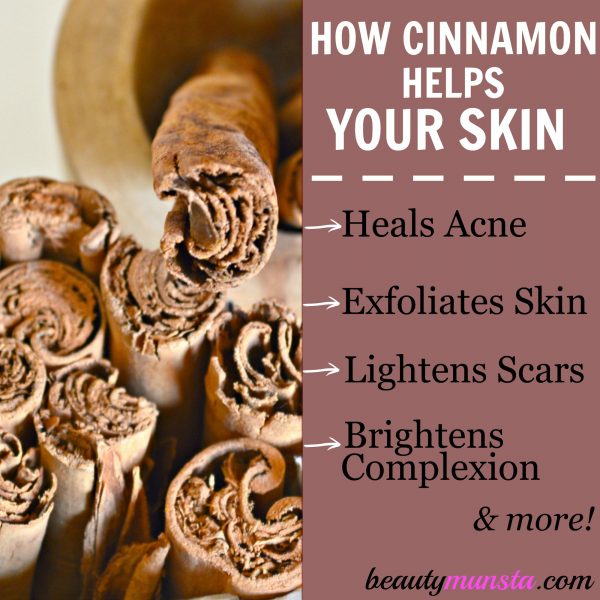 6. Heals Cracked Heels
Cinnamon naturally exfoliates and locks moisture into cracked heels. Combine a drop of cinnamon essential oil in 1 teaspoon of olive oil. Massage this onto your heels every night and cover your feet with socks. Do this consistently to soften cracked heels, seal moisture and smooth out rough patches. Cinnamon oil also helps prevent corns and softens callouses!
7. Lip Plumper
Cinammon exfoliates, moisturizes and plumps up lips! It brings blood close beneath the surface of the skin, making your lips look naturally red. Mix a pinch of cinnamon with 1/2 teaspoon liquid organic honey. Massage this onto your pout for at least 1 minute. You will experience a tingling sensation which is normal. Leave the mixture on for 3 minutes, then rinse off, pat dry and apply coconut oil to moisturize.
8. Cleanses Scalp and Promotes Hair Growth
The amazing fragrance of cinnamon provides a refreshing scent to neutralize unpleasant scalp odor. Mix 1/2 teaspoon of cinnamon powder with 1 tablespoon of raw honey and the required amount of water to make a watery solution. Apply this gently and evenly onto your scalp using an applicator bottle. You will experience a tingling sensation but this is to show that it's working to cleanse your scalp! Rinse off thoroughly with cool water after 15 minutes. Cinnamon is an invigorating spice that promotes proper blood circulation to the scalp, providing nutrients and oxygen to every single hair follicle. This strengthens hair follicles and promotes luscious long hair.
9. Lightens Hair
Add natural highlights to your hair by applying cinnamon and honey! Using cinnamon to lighten hair is not a myth – it really works! Cinnamon naturally contains an amount of hydrogen peroxide which is known to lighten hair. Caution: Do not use store-bought hydrogen peroxide without proper instructions on how to use it on your hair. To make a hair lightening cinnamon mask, mix well 1/4 cup of lemon juice, 1 tablespoon cinnamon powder and 1 tbsp organic liquid honey. Slather this onto your hair strands and leave it on for 15-20 minutes. When the time is up, rinse off thoroughly (or wash with a natural sulfate-free shampoo) and wrap your hair in a towel.
10. Mouth Freshener
Another one of the awesome beauty benefits of cinnamon is its instant mouth freshening properties! The warm and refreshing aroma of this spice will freshen your breath instantly by masking bad odor. Nibble on a little piece of a cinnamon stick or regularly drink cinnamon tea to eliminate bad breath. What's more, you'll get stronger and whiter teeth too!
Take Care
Do not use cinnamon powder alone on your skin. Using cinnamon alone can burn skin severely. Practice caution when using cinnamon essential oil. Never use this essential oil on its own during topical application as it is a 'hot oil' which can cause severe skin irritation. Always first mix it in a carrier such as a vegetable oil or honey.
If you're allergic to cinnamon please do not apply it on your skin or consume it in your food. To see if it's safe for your skin, use a test patch in your inner elbow. Rub a small amount of cinnamon mixed in honey onto your inner elbow. If you see any signs of irritation such as redness, burning and severe itching, immediately rinse off with cold water and do not use it on your skin.