There are so many beauty benefits of watermelon, thanks to the unique antioxidants and enzymes present within them!
What Are The Nutrients in Watermelon?
Watermelons are such a common fruit that we don't really appreciate their potent health and beauty benefits!
They contain 90% of water content, just like cucumbers. In fact cucumbers and watermelons come from the same family of plants.
But what's special about watermelons is that they are bustling in a unique antioxidant called lycopene, which gives it the characteristic red color. Lycopene is a powerful anti-aging factor.
Other enzymes in fresh watermelon include carotoneids, beta carotene and even an amino acid called citrulline.
Watermelon is rich in many nutrients including:
Vitamin A
Vitamins B1, B5 and B6
Vitamin C
Magnesium
Potassium
7 Beauty Benefits of Watermelon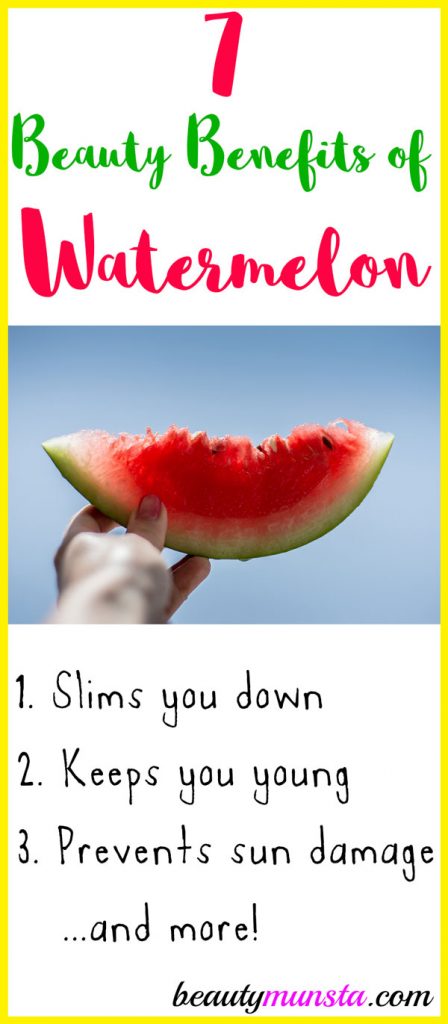 Now let's explore some of the beauty benefits of watermelon:
1. Slimming Down!
A cup of watermelon contains only 46 calories, yet is high on fiber, so it makes you feel full. This can help you prevent over eating and also cuts down on your calories. A watermelon feta salad at lunch is filling, nutritious and extremely low in calories, helping you slim down really fast!
2. Keeps You Young!
The antioxidants in watermelon such as lycopene are powerful anti-aging proponents that help you look young and vibrant. They also prevent disease and strengthen the immune system. Lycopene particularly helps fend off heart disease. It also maintains the elasticity of skin, and prevents premature wrinkles and fine lines.
3. Cools You Down!
Did you know that many ancient schools of medicine, including Ayurveda, believe that excessive body heat is the cause of many diseases and disorders including poor eye sight, hair loss, headaches/migraines, acne, rosacea and more?
Watermelon is a cooling food, according to Indian and Chinese medicine. It helps cool the body from the inside out. Eating watermelon at least once a week is a good way to keep excessive body heat in check.
4. For Beautiful Skin & Hair!
Rich in Vitamin C, watermelon is a great remedy for all sorts of skin conditions including: eczema, rosacea, sun damage and, premature wrinkles.
Vitamin C is a cornerstone vitamin that helps the body make collagen, a protein that influences the elasticity and suppleness of the skin.
It also helps strengthen hair follicles, promoting the growth of strong and healthy hair.
Lycopene and beta carotene are also fundamental in improving the health and beauty of the skin and hair.
Other Beauty Benefits of Watermelon Include:
5. Heals acne
6. Prevents sun damage, acting as an internal sun screen
7. Heals sun burns
How to Use Watermelon to Improve Your Beauty
1. Detox Watermelon Juice Recipe
The most refreshing way to use watermelon for beauty is by drinking it. Watermelon juice is so refreshing, hydrating and absolutely delicious – perfect for summertime!
For a detox watermelon juice recipe, blend together ½ a watermelon (chopped into rough pieces), a handful of fresh mint and the juice of one lemon. Strain and serve with a few cubes of crushed ice!
2. Watermelon Face Mask
One of my most popular face masks is the watermelon – yogurt face mask! You can read more about it here: Watermelon and Yogurt Face Mask for Acne.
For this face mask, all you need is to mix 1 tablespoon of watermelon puree and 1 teaspoon of yogurt. Add in 2 – 3 drops of tea tree oil to perk up the anti-acne action. Now apply this onto your face and allow it to work its magic for 5 minutes. Wash off with lukewarm water. Repeat this mask at least 2 times a week.
Watermelon is very cooling and can help soothe and calm itchy, painful and inflamed acne.
3. Watermelon Body Scrub
You know the fibrous watermelon bits that are left over when you strain watermelon juice? Don't just throw them away! Instead use it to make an antioxidant-rich body scrub!
Make a quick mixture of ¼ cup of strained watermelon fiber and 2 tablespoons of sugar. Add 5 drops of lavender essential oil and mix. Now scrub this all over your body using your fingers and palms, in a circular motion. Let it rest for just 2 minutes and then wash off. This will leave your skin feeling ultra smooth, soft and radiant!
Would You Like Purified Watermelon Extract to Make Your Own DIY Skin Care Treatments?

What are your favorite beauty hacks with watermelon? Share below!