Discover 12 magnificent beauty benefits of mango butter for your skin and hair below!
Mangoes are delicious fruits that taste like heaven in your mouth. These luscious fruits contain seeds or stones that we usually throw away. But did you know that these seeds are used to extract mango butter?!
Mango butter is a natural plant butter – just like shea or cocoa butters and it's immensely useful in the natural beauty world!
Before looking at the beauty benefits of mango butter for skin, hair and more, check out its profile:
Mango Butter Profile
♥ Scientific Name:
Mangifera Indica
♥ Other Names:
Mango butter is also called mango oil or mango kernel fat
♥ Origin:
Mangoes were first cultivated in the Indian subcontinent, found in South East Asia
♥ Color and Smell:
Mango butter is off-white in color. It doesn't smell like mangoes! It has a very mild/neutral smell.
♥ Texture:
It is a semi-hard/soft butter that melts on skin contact
♥ Shelf Life:
18 months
Properties of Mango Butter
Mango butter is a nourishing plant butter rich in many nutrients and antioxidants. Here are some of the components found in mango butter:
Vitamin A
Vitamin C
Palmitic acid
Arachidic acid
Linoleic acid
Oleic acid
Stearic acid
12 Beauty Benefits of Mango Butter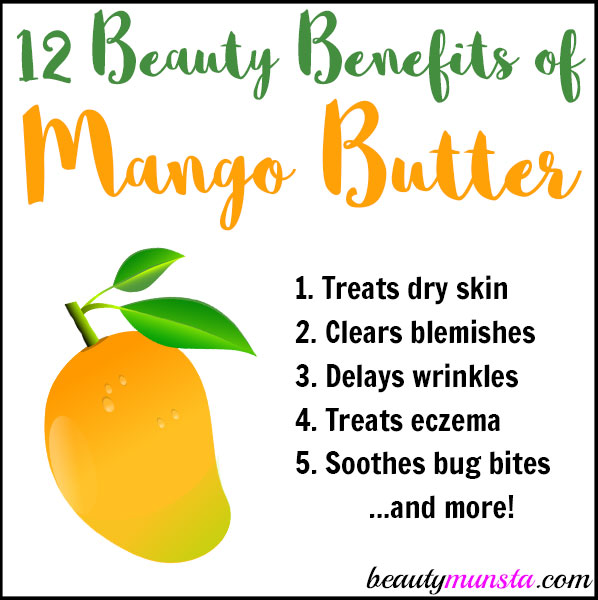 1. Treats Dry Skin
Mango butter is ultra-moisturizing. It hydrates skin, plumps it up and prevents dry itchy and tight skin. It's perfect to be used as a hand cream, face cream or body moisturizer.
2. Clears Blemishes
You can actually help clear blemishes and dark spots using mango butter! You can mix in a little with your usual moisturizer. Or better yet, make your own blemish-busting cream! Here's how:
3. Fights off Fine Lines & Wrinkles
Rich in nourishing fatty acids and antioxidants, mango butter is good for smoothing fine lines and preventing wrinkles. It also deeply moisturizes skin which keeps skin firm, smooth and beautiful.
4. Heals Scars
Want to heal your scars/stretchmarks and get back flawless skin? Use mango butter! Since shea butter and cocoa butter are also very effective in healing scars at a fast rate, consider making a scar cream with all three of these butters combined together!
Scar Cream: Simply melt down 2 tbsp of each butter in a double boiler. Once melted, you can stir in scar fighting essential oils like 7 drops of helichrysum oil, 7 drops of lavender oil and 4 drops of carrot seed oil. Now pour this mixture into a glass jar. Apply on your scars daily.
5. Soothes Bug Bites
Mango butter is also very soothing for bug bites. It heals the skin, stops itching and reduces inflammation. Dab a little mango butter on bug bites the next time the little buggers put a mark on you!
6. Moisturizes Hair
For thick and curly haired people, mango butter can be used as an excellent moisturizer. To make your own hair moisturizer, follow the instructions below:
Fruit & Flower Hair Cream: Melt ¼ cup of mango butter down in a double boiler. Once melted, stir in 1 tsp of avocado oil, 2 tsp of aloe vera gel and 10 drops of any of your favorite essential oils: geranium and lavender are good ones! Now pour the oils into a blender jar and keep it in the refrigerator for 15 minutes or at room temperature until it hardens up. When that happens, blend until you get a white creamy mixture. Store in a sterilized mason jar and use on damp hair as a moisturizer!
7. Maintains the Skin's Elasticity & Flexibility
With its high linoleic and oleic acid content, mango butter is very good at maintaining the skin's elasticity and flexibility. It also has vitamin C that boosts collagen production in skin. Collagen is a structural protein that keeps our skin looking smooth, soft and youthful.
8. Heals Minor Cuts & Rashes
Moisturize, protect and heal nicks and cuts using mango butter. You can use it straight out of the jar or make your own healing balm by mixing 2 tbsp of mango butter with 5 drops of tea tree oil.
9. Treats Eczema & Psoriasis
Mango butter is anti-inflammatory and can help treat dry itchy and red skin caused by eczema and psoriasis. Make an eczema and psoriasis cream right at home to use every after a shower:
10. Soothes Sunburn
Heal sun damaged skin with mango butter. To soothe and treat a sunburn, you can make a cooling cream using mango butter, aloe vera gel, sea buckthorn oil and peppermint oil.
11. Great Substitute for Shea or Cocoa Butter
Are you allergic to shea or cocoa butters but love the luscious moisturizing effect they give? Then look no further than mango butter! It has a low potential for allergies and skin irritability. Plus it's similar to shea or cocoa butters. It melts at body temperature and moisturizes skin instantly.
12. For Soap Making
When used in soap making, mango butter produces a hard bar that gives enough moisturizing and conditioning lather.
Where to Buy Mango Butter
Always look for 100% pure quality mango butter without additives. I like 100% pure and organic Raw Apothecary's Mango Butter which comes in a 16 oz jar.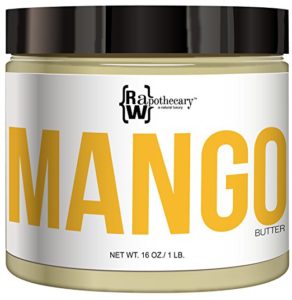 You can also buy 100% Plant Guru's Premium Raw Mango Butter that comes in a HDPE food grade jar.