What is Mango Butter?
What does mango butter do for your skin? Aside from shea butter and cocoa butter, there's another body butter that's picking up moment in the beauty world. The name of this body butter is mango butter. Mango butter has been found to possess very important nutrients and properties required by the skin for revitalization and keeping it healthy.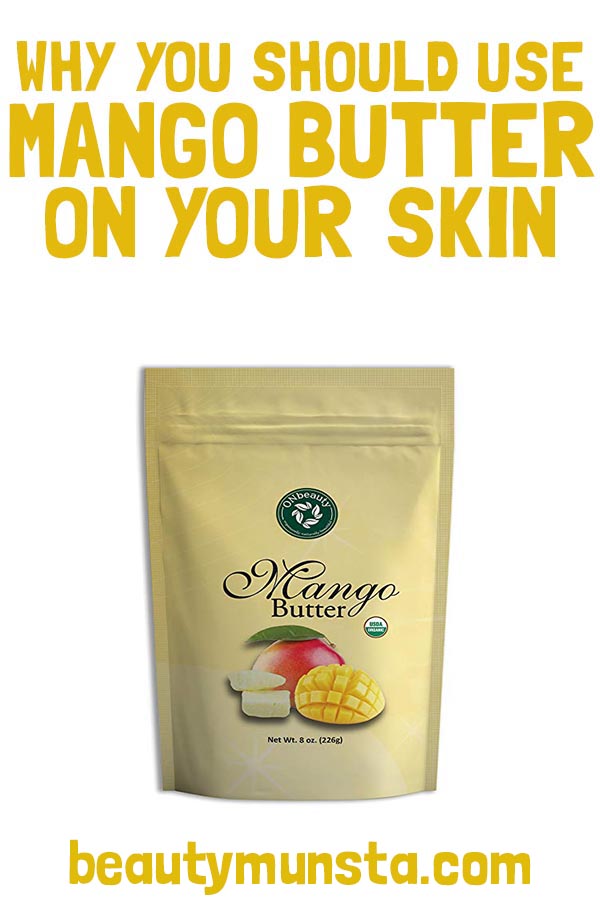 Mango butter is extracted from the hard pit/seed of the mango fruit. It is extracted by cold-pressing the mango seeds. Like shea butter and cocoa butter, mango butter is also a rich moisturizer. If you have ever wondered, what does mango butter do for your body? That's what we're going to look at today!
Mango butter has a high content of oleic acid, stearic acid, mono-unsaturated omega-9 acid and saturated fatty acid. These are the properties that make mango butter effective in moisturizing and keeping the skin tight and firm.
What Does Mango Butter Do for Your Skin? – 6 Benefits
Let's have a look at some of the benefits of mango butter when applied on skin:
1. Healing the Skin
Mango butter is a natural source of vitamin A.  Vitamin A is definitely one of the natural ingredients required to keep the body glowing and revitalized. Mango butter has a very high content of vitamin A, making it applicable for reducing the appearance of wrinkles and fine lines. It is likewise useful in helping the body achieve an overall youthful look.
2. Skin Rejuvenation and Radiance
Also, mango butter is rich in vitamin C. Vitamin C can help the skin become plump and tight. This constituent in mango butter makes it useful in keeping the skin firmer and plump.
3. Antiaging
Mango butter can help reduce the appearance of wrinkles and fine lines because it has a lasting moisturizing effect on the skin. It serves as a good anti-aging cream. So, opt for mango body butter if you wish to retain your sweet sixteen look!
4. Moisturizes the Skin
Furthermore, mango butter is effective in treating dry skin. Mango butter can reduce flakiness, dry patches and rough skin. Even skins that are sensitive can enjoy the benefits of using mango butter. Those with dry lips can as well apply mango butter to their lips to achieve smoother lips.
5. Fights Free Radical Damage
Mango butter protects the skin against environmental stressors. Applying mango butter on the skin serves as an extra protection for it against factors that stress the skin. It also soothes the skin perfectly.
6. Reduces Inflammation and Irritation
What is more? Mango butter is effective in relieving the pains associated with insect bites. If your skin has been exposed to poison ivy or you've been bitten by an insect, the resultant itchiness and stinging sensations can be calmed with mango butter. Simply apply mango butter to the affected region on the skin.
Where to Buy High Quality Mango Butter