Check out 12 amazing beauty benefits of shea butter in this post!
Shea Butter – Amazing Skin, Hair & Body Butter from Africa
Hailing from the tropical regions of Africa, shea butter (a.k.a karite butter) is extracted from shea nuts through a traditional method of boiling the rock hard nuts. This butter is extremely rich in fatty acids, vitamin A, E and F which are extremely nourishing for hair, skin and the whole body. Let's first see what exactly is in shea butter that makes it so good for the skin & hair: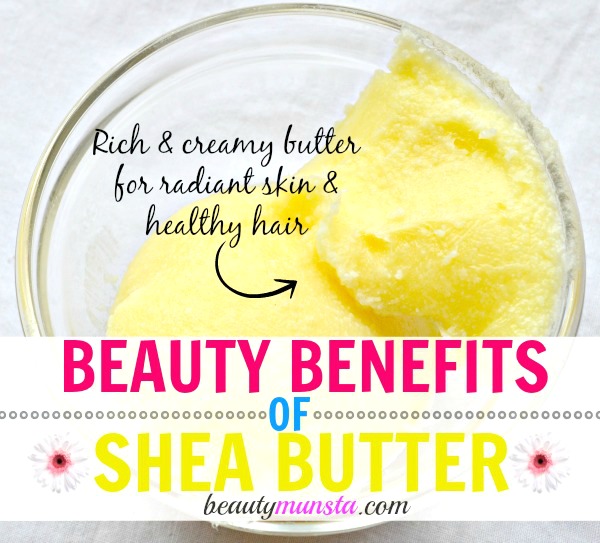 Nutrients in Shea Butter for Healthy Skin & Hair
Vitamin A – Vitamin A is essential for cell renewal and growth and it fights off free radicals that cause premature aging of skin.
Vitamin E – Known as the 'skin vitamin', vitamin E is a powerful antioxidant that will promote youthful, glowing and moisturized skin.
Vitamin F – Includes essential fatty acids such as stearic, oleic, linoleic and palmitic acids that keep skin hydrated, moisturized and supple.
Vitamin K – Promoting skin elasticity, vitamin K is important for beautiful skin. It also helps diminish the appearance of under eye dark circles.
Now that we've looked at the important nutrients in shea butter, without further adieu, let's now explore the 12 amazing beauty benefits of shea butter!
12 Amazing Beauty Benefits of Shea Butter for Skin, Hair & the Body
From plumping up dry parched skin to intensely moisturizing dry curls, shea butter offers lots of amazing benefits for your skin & general beauty. Here's why you need this splendid beauty butter in your life:
1. Moisturizes Skin
Every shea butter beauty out there knows how rich and intensely moisturizing this amazing nut butter is! It has a smooth consistency that is easily spreadable on the skin. Haven't you noticed that immediately after you apply shea butter on your skin, it immediately plumps up and glows with radiance!
2. Prevents Wrinkles
Did you know that Shea butter is incredibly RICH in Vitamin E? It contains a lot of vitamin E in the form of tocopherols and tocotrienols which are powerful antioxidants that help fight off free radicals. Free radicals are the major cause of premature aging of skin and hair because they steal oxygen molecules from healthy skin cells, thereby causing them to become dull and lifeless. Shea butter moisturizes skin, thereby keeping it soft & supple and helping in smoothing out any fine lines and wrinkles.
3. Heals Dry Parched Skin
Rich in a ton of healthy saturated fatty acids, shea butter should be your number one go-to to treat and soothe dry parched skin. The saturated fatty acids in shea butter include palmitic acid, oleic acid, linoleic acid and stearic acid which comprise a large percentage in shea butter and are responsible for softening skin. These fatty acids also help protect & shield the skin from unwanted nasties by creating a lipid layer over the skin.
4. Soothes Inflammatory Skin Conditions
The powerful antioxidants in shea butter also have strong anti inflammatory properties that reduces any inflammation cropping up on your skin, be it acne inflammation, inflammation due to burns, itchy skin inflammation or eczema, psoriasis and any other inflammatory skin condition.
5. Calms Sunburned Skin
Due to its rich vitamin E and antioxidant content, shea butter is known to calm down inflammation and pain resulting from a sun burn. Applying shea butter to sun damaged skin helps seal in moisture and treats flaky & peeling sunburns. Make sure not to apply it on its own, as it can trap heat due to its fatty acid content. Mix it with cooling agents such as rose water or pure aloe vera gel.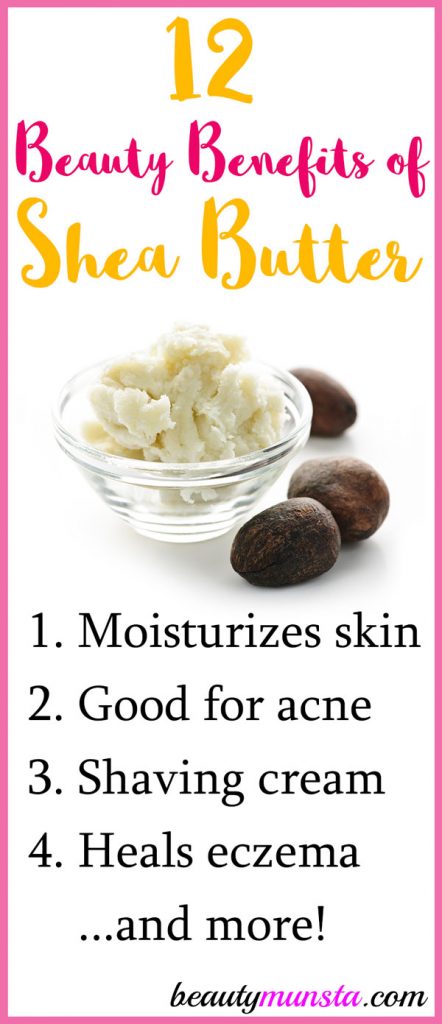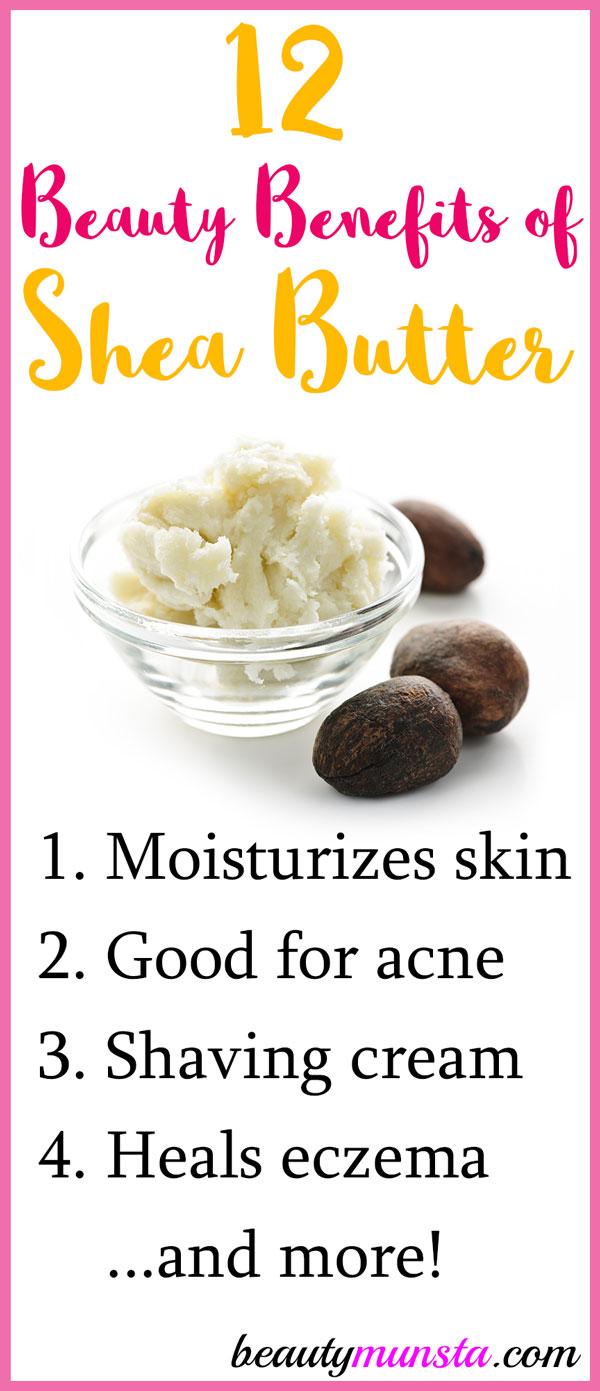 6. Relieves Itchy Skin
Because of its antibacterial properties together with the significant amount of cinnamic acid esters, shea butter has been proven to provide soothing relief for itchy and irritated skin. Its emollient properties lubricates dry, flaky skin that is known to cause itchiness.
7. Perfect as a Shaving Cream
Just like coconut oil, you can use shea butter as a natural shaving cream because of its emollient properties. Since it is also antibacterial and anti-inflammatory, it helps prevent ingrown hairs, rashes and allergies that appear due to shaving.
8. Treats Skin Allergies
Shea butter is known to be an anti-irritant because of its natural cinnamic ester acid content and powerful antibacterial and anti-inflammatory properties that helps fight off allergens and bacteria that can irritate skin and cause rashes.
9. Prevent & Reduce Stretch Marks
One of the best known beauty benefits of shea butter is that it helps prevent stretch marks and some claim that it helps fade out the appearance of stretch marks with time. That's because shea butter contains a lot of powerful antioxidants including vitamin A that promotes skin elasticity and prevents stretch marks from forming.
10. Tames Frizzy Hair
It's rich in fatty acids such as oleic, stearic, linoleic and palmitic acids which seals moisture into dry hair cuticles thereby helping hydrate them. Shea butter will also help create a water resistant layer that protects the hair strands from environmental damage. Shea butter hair masks will not work well for thin, fine and porous hair because it ends up weighing it down and making it super greasy! If your hair falls in that category, then try these coconut oil hair masks.
11. Natural Sunscreen
Though not a very effective natural sunscreen, shea butter does have SPF ranging from nothing to 6 (some say 10), depending on what quality you buy. Shea butter will act as a natural sunscreen and a natural tanning product as well, mainly if you have a medium to brown complexion with olive/yellow undertones. Practice caution before using shea butter. If you have very fair skin that can burn, then please use any other trusted organic sunscreen to avoid horrible sun burns & other skin disasters.
12. Treats Acne Naturally
Since shea butter is non-comedogenic, it can be used to moisturize acneic skin without clogging up pores. It's also highly antibacterial and anti-inflammatory, making it great for killing off acne causing germs and also reducing acne inflammation. Personally, I've used shea butter to moisturize my skin during breakouts and it felt really soothing and wonderful.
Take Care
Please buy organic raw and unrefined shea butter for skin & hair care! You can do a patch test with shea butter on your inner elbow to see if it's safe for you to apply on your skin!
Where to Get Shea Butter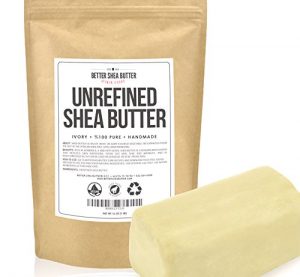 Make sure to buy pure raw shea butter, without additives. A good quality unrefined ivory shea butter you can buy is Better Shea Butter's Unrefined Pure Raw African Shea Butter. You can use it directly on your skin and also to make your own beauty products with!
My Favorite Tried & Tested Shea Butter Recipes Ebook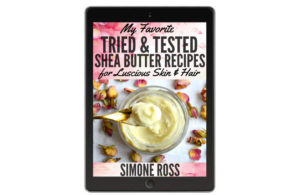 Do you love shea butter and want to make your own beauty products with it?! Check out this ebook "My Favorite Tried & Tested Shea Butter Recipes for Luscious Skin & Hair" for 30 awesome recipes, complete with step-by-step instructions, beautiful pictures and other valuable shea butter info!