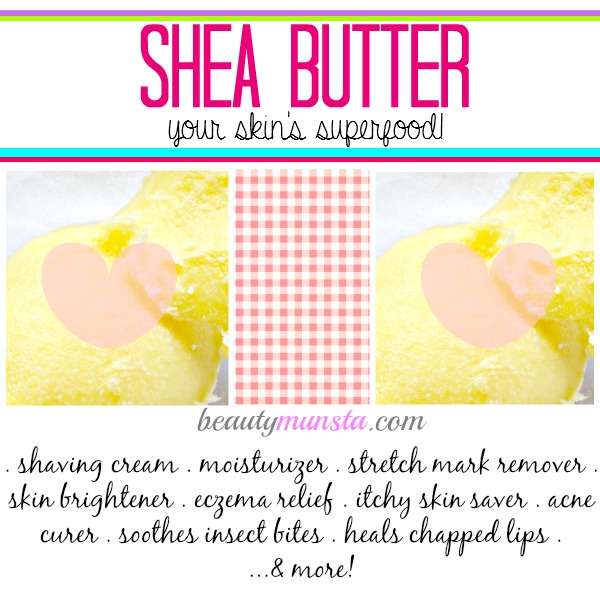 The last pharaoh, Cleopatra, who was known for her ethereal beauty also used shea butter in her beauty regimen. Early accounts describe trade caravans carrying clay pots filled with this beauty butter all the way up to Egypt from other parts of Africa. Other women in Africa also used shea butter to moisturize their skin, as well as protect it from stretch marks and infection. It's been thousands of years but shea butter is still being used and valued as an excellent beauty product and skin protector even today. And now it's your turn to add this amazing skin product to your beauty pantry! But first, you absolutely need to know the top 15 shea butter benefits for skin!
Where to Get Shea Butter

Here's where you can buy good high quality shea butter from. The second one I've linked is the kind of shea butter I buy (East shea butter a.k.a Shea butter Nilotica). As you can see from my pictures, this shea butter is so soft you do not need to melt/soften for use! It's also got a deep yellow color owing to its rich vitamin A content. You'll also see that it's non-greasier compared to West shea butter plus its light nutty scent isn't unpleasant/overpowering like that of West shea butter's.
1. Moisturizes Skin
The number one benefit of shea butter for skin is its intense skin lubricating properties. Since it is rich in fatty acids, shea butter is a great natural moisturizer which plumps up skin of all types even oily acne prone skin! You can use it alone or mix it with a drop of essential oil to get rid of the nutty smell that some people find overpowering.
2. Rejuvenates Tired Skin
Whenever your skin looks dull and tired, rejuvenate it by applying a small amount of shea butter! It not only wakes up gray looking skin but also help fight off free radicals and act as a natural tanning aid for olive skin tones.
3. Gets Rid of Stretch Marks
Whether it's from recent weight gain/loss or just after pregnancy, stretch marks are unattractive marks on the skin that no one wants to ever see. Since ancient times, African women used to apply shea butter on their skin to successfully prevent post pregnancy stretch marks. Shea butter is also known to help fade out and get rid of stretch marks as well as other scars and dark marks. Use the cross section method (vigorously rubbing shea butter with two fingers in opposite directions) to reduce the appearance of stretch marks.
4. Treats Chapped Lips
Shea butter is even better than other natural products such as vegetable oils when it comes to healing chapped lips because it is thick. Some vegetable oils are thin and don't stick to the skin on the lip and can easily rub off. But when you use shea butter, you don't need to keep on reapplying very many times. As shea butter acts as a wonderful emollient and lubricant, it helps lubricate and seal moisture in dehydrated lips.
5. Lubricates Cracked Heels
The same ultra lubricating properties of shea butter that make it great as a natural healer for chapped lips, work in treating cracked heels. If you're looking for a natural alternative to petroleum jelly, then go for shea butter! It's just as thick and heavy as petroleum jelly and can trap moisture and help soften up the tough and rough skin of cracked heels. Simply slather on a generous amount on your heels and put on some socks before jumping into bed.
6. Calms Itchy Skin
Shea butter provides a soothing relief for itchy, flaky and dry skin. It's moisturizing properties help hydrate itchy skin caused by dryness while the strong anti bacterial properties will fight off germs that cause itchiness.
7. Brightens Skin
Whenever I apply shea butter onto my skin after cleansing it, I always get compliments on how bright my facial skin looks! Applying shea butter actually helps brighten the skin and make it look soft, smooth and supple. It's no lie – try it yourself! Get a pea sized amount of shea butter and massage it onto your face after cleansing to give it a radiant glow.
8. Relieves Eczema
Did you know that you can use shea butter to make your own eczema cream/balm? Shea butter is soothing to eczema prone skin especially when whipped with rose water. It contains powerful anti inflammatory properties that cool down inflammatory skin conditions like eczema, among others.
9. Hydrates & Plumps Up Dry Skin
Acting as a great moisturizer for skin of all types, shea butter is also particularly known to help treat dry skin by lubricating and plumping it up with moisture-rich goodness. If you have dry skin, keep a small container of shea butter mixed with a drop of your favourite essential oil with you in your handbag/backpack. Apply it whenever your face starts getting dry for immediate relief.
10. Helps Prevent Wrinkles
When you apply shea butter on your face, you just know your skin is gonna look smooth and youthful. We all know that fats are absolutely necessary for supple wrinkle-free skin – and shea butter is RICH in fatty acids! The lubricating properties of these fatty acids help smooth out skin and prevent wrinkles and fine lines from forming.
11. Reduces the Appearance of Blemishes
Just like it helps fade away scars, dark marks and skin discolorations, shea butter is also known to reduce the appearance of blemishes by nourishing it. The powerful anti oxidants and vitamins in shea butter like vitamin A, which is helpful in reducing dark circles, help reduces the appearance of blemishes and dark spots as well as speed up the healing process of blemishes and dark spots on the skin.
12. Soothes Sunburns
Make a cooling and soothing cream by whipping up shea butter and pure aloe vera gel (shealoe) to cool down mild sun burns. Shea butter contains strong anti inflammatory properties that help calm sun burn inflammation and its anti bacterial properties protect the sun burn from germs that can cause infection and nasty boils.
13. Calms Skin Rashes & Allergies
Shea butter has been used to treat skin rashes, including those caused by posion ivy and other plants, and allergies that form inflamed bumps on the skin. Its anti inflammatory properties soothe inflammation while its rich fat content  forms a lipid layer over skin which reduces irritation. Not to mention, the high amount of vitamin E in shea butter will promote rapid healing.
14. Acts as a Shaving Cream
Shea butter – whipped or not, can act as an excellent shaving cream plus it'll help prevent razor burns, in grown hairs, stinging and other sensitivities normally experienced after shaving using commercial shaving cream!
15. Heals Insect Bites
Soothe any insect bite with shea butter! Its anti inflammatory goodness reduces the redness and coat the bite with a lipid layer that helps lubricate and calm down the pain. Many people say it helps stop the itch as well!
Take Care
Please buy unrefined raw shea butter and avoid the refined one in which many nutrients have been destroying through the refining process. Store bought shea products also mostly contain other additives & fragrance which may cause irritation.
My DIY Shea Butter Recipes Ebook
Do you love shea butter and want to make your own beauty products with it?! Check out my ebook "Tried & Tested Essential Oil Recipes with Shea Butter" for 30 awesome recipes, complete with step-by-step instructions, beautiful pictures and other valuable shea butter & essential oil info in this Ebook!