Here are the 9 best essential oils for stretch marks that I've listed down for you plus how they can prevent and help fade away stretch marks for good!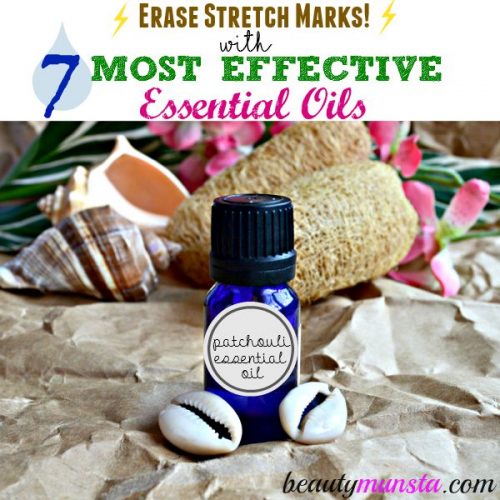 My Experience with Stretch Marks
When I was in my teens, I got these ugly stretch marks on my hips that looked so horrible because they were purple! At least if they were white I wouldn't have felt so terrible but that purple color just didn't look good on my skin.
In those days, I used to use a healing Ayurvedic body oil containing all sorts of herbs all over my body at least once a week before a shower and they reduced considerably (thank god!). I also used sesame oil for its nourishing and healing properties when my Ayurvedic oil got done. Sadly, due to school stress and all that jazz, I quit doing anything to treat those stretch marks after about three months or so…Flash forward 3 years later and the stretch marks are really faded out but they're still there because I stopped using any treatment on them.
Now, I would go ahead and buy another bottle of herbal oil or use my sesame oil but I don't particularly like the smell of that herbal oil or sesame oil for my body. So I went ahead exploring and that's how I found out you can use essential oils for stretch marks!
Safety Note: Pregnancy Stretch Marks
Since stretch marks are a form of scarring, it's best to start using essential oils earlier on to prevent those nasty purple/white scars. Choose one of the essential oil stretch mark recipes I've shared and apply every night to prevent stretch marks on your belly, breasts, thighs, hips and other areas. However, since most essential oils are not safe to use during pregnancy or breast feeding, please first consult your medical practitioner before using them! Caution: One of the essential oils for stretch marks that you absolutely must not use during pregnancy is jasmine essential oil.
How to Use Essential Oils for Stretch Marks
For best results, apply the essential oil recipes below at least once a day. Night time is best because this is the time when the skin heals & repairs itself and the treatment will sit undisturbed. Some people like to use stretch mark treatments twice a day – after their morning shower and just before bed. Ultimately, it depends on you but the maximum usage, to be safe, is twice a day.
1. Lavender Essential Oil
Lavender essential oil (where to buy) is a must-have in every household. It's the one essential oil that's the cure-all for almost any beauty ailment. It is known to be great for treating skin rashes, cellulite and dark spots and will help prevent as well as fade stretch marks in any part of the body.
2. Neroli Essential Oil
Though it was named after the 17th century Italian Countess of Nerola, who was fond of it and used it to perfume her gloves, neroli essential oil (where to buy) originated from orange blossom trees in Morocco and Tunisia. Neroli essential oil is one of the best essential oils for stretch marks and it assists in regeneration of scarred tissue. Due to its being a cicatrisant, neroli essential oil has powerful anti scarring properties that will help prevent and fade stretch marks.
3. Patchouli Essential Oil
Native to India and Malaysia, patchouli was used to ward off moths from Indian cashmere shawls which were being transported to Victorian England. Patchouli essential oil (where to buy) is known for its rich pleasant herby scent and thick consistency. It has strong cell regeneration properties and also encourages new cell growth as well as repairs damaged tissue. All these properties are effective in keeping away and fading stretch marks.
4. Frankincense Essential Oil
Extracted from frankincense resin, frankincense essential oil (where to buy) is a sacred essential oil popularly known through the bible story of the three wise men. Frankincense essential oil is the best essential oil for scars because of its powerful anti scarring properties. It will therefore work wonders in healing stretch marks since they are a form of scars too. Frankincense essential oil helps prevent and heal tissue damage thereby gradually fading and erasing ugly scars and stretch marks.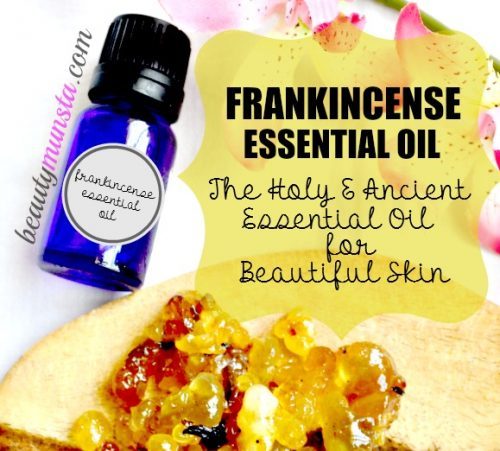 5. Geranium Essential Oil
Extracted by steam distillation, geranium essential oil (where to buy) is said to have been used since ages ago by Ancient Egyptians to treat and heal cancerous tumours. This essential oil has lots of beauty benefits for the body and is one of the most effective essential oils for stretch mark treatment. It helps mend collagen and improve skin's elasticity by boosting elastin fibers.
6. Jasmine Essential (or Absolute) Oil
Jasmine oil (where to buy) has a rich exotic and flowery scent originating from India and China where it was valued for its scent, medicinal properties and even used as an aphrodisiac. In skin care, jasmine essential oil is great for treating dry skin, balancing oily skin, improving skin's elasticity, reducing and preventing scarring and also fading stretch marks. It has skin healing and revitalizing properties that can help fade away stretch marks.
Note: This concentrated oil is actually an absolute or essence, rather than an essential oil. It is really very expensive to extract pure jasmine essential oil as it takes about 8 million carefully plucked flowers to make just 2pounds of the essential oil!
7. Helichrysum Essential Oil
Obtained from helichrysum flowers, helichrysum essential oil (where to buy) is native to Africa where it was used as a healing medicine for rheumatism. Of about 500 species of helichrysum, just a few of them produce essential oil, making it quite an exquisite essential oil. Helichrysum essential oil can easily penetrate into the skin, nourishing it and improving its elasticity. It also encourages cell & tissue regeneration and repair as well as stimulates new cell growth.
Take Care
If you have health problems of any sort, including asthma and epilepsy, please first consult your doctor before using essential oils on your body.
Always dilute essential oils in a carrier oil or base cream/lotion before application (2 drops of essential oil in 1 tsp of carrier oil). Read more: How to Dilute Essential Oils
A little goes a long way. When used in large amounts, essential oils can be very toxic and hazardous.