What are the best essential oils for old scars! Here's a list of the top ten oils you should use!
Did you know that scars from pimples, cuts, after-marks of boils, moles, warts, burns, wounds and surgery can be healed using essential oils?
Essential oils are aromatic volatile liquids referred to as the 'life essence' of plants. Extracted from the leaves, roots, flowers, bark, fruit and any other aromatic parts of plants, essential oils have powerful natural healing therapeutic and medicinal properties that make them an excellent natural remedy for many health conditions including skin ailments such as scars.
What Makes Essential Oils Good for Healing Old Scars?
The cicatrisant properties, also known as cell/tissue regenerative properties, in essential oils aid in healing old and new scars. These properties not only help speed up the wound healing process but also regenerate new cells and tissue. Below are some of the best essential oils with cicatrisant and other healing properties that are very effective in healing old scars!
10 Best Essential Oils for Old Scars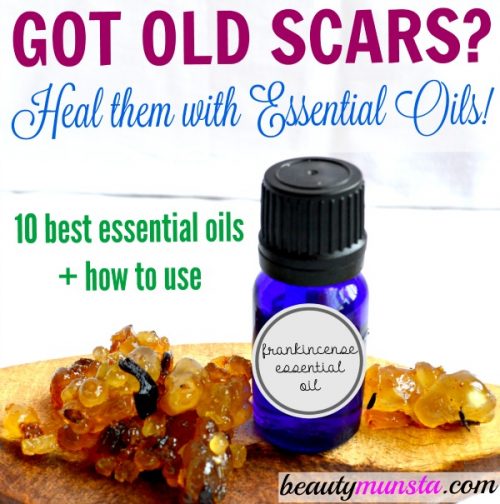 1. Helichrysum Essential Oil
► Buy Here
Helichrysum essential oil is the best essential oil for old scars and scars in general! It's extracted from the colorful helichrysum flower, which closely resembles the sunflower. Using helichrysum essential oil helps fade and reduce the appearance of old scars, stretchmarks and surgical scars due to its high content of chemical compounds called diketones, which stimulate tissue re-growth and reduce scar tissue.
2. Frankincense Essential Oil
► Buy Here
After helichrysum essential oil, frankincense essential oil is the next best essential oil for old scars. It is very effective in the treatment of new and old scars, after-marks of boils, surgical scars, scars from mole/wart removal as well as acne scars. It's also one of the very few essential oils that you can use 'neat' or undiluted on your skin. Apply a few drops on your scar and gently massage it into the skin in opposite directions of the scar to break up scar tissue.
3. Carrot Seed Essential Oil
► Buy Here
Great for soothing sun damaged and aging skin, carrot seed essential oil is also useful in the treatment of old scars. It has skin rejuvenating properties that help lighten dark marks, spots and blemishes on the skin. The powerful antioxidant properties in carrot seed oil deflect oxygen stealing free radicals that degenerate healthy skin cells and prevent the scar from fading.
4. Geranium Essential Oil
► Buy Here
Geranium essential oil is perfect for nourishing the skin and repairing all kinds of skin ailments from oily skin to eczema. Its cicatrisant properties help gradually heal and fade old scars by nourishing, moisturizing and breaking down scar tissue.
5. Rose Essential Oil
► Buy Here
This luxurious and romantic essential oil offers lots of beauty benefits for the skin, hair and body. It provides gentle soothing and calming properties for inflamed skin, tones and lifts mature skin as well as heals skin discoloration including the ones in the form of old scars.
5. Lavender Essential Oil
► Buy Here
While we've used it to fade small acne scars, lavender essential oil can also be used to gradually heal old scars, lighten them and break up scar tissue. Its cicatrisant properties play a role in gradually fading out old scars. Lavender essential oil can also be used to treat burns, cuts, wounds and abscesses, thereby preventing scars. Read more beauty benefits of lavender essential oil in this post.
6. Rosemary Essential Oil
► Buy Here
Best known for treating thinning hair, promoting hair growth and re-growth as well as preventing hair loss, rosemary essential oil has also been shown to be one of the best essential oils for old scars. It helps tone, tighten and firm skin as well as reduce the appearance of scar tissue, thereby helping heal old scars.
7. Neroli Essential Oil
► Buy Here
Known for its beautiful flowery scent, neroli essential oil is most popular in the world of aromatherapy and natural healing. It has powerful skin cell and tissue regenerative properties are valuable when it comes to fading out scars, whether new or old. It is also known to prevent scarring and stretch marks.
8. Sage Essential Oil
► Buy Here
One of the more potent essential oils, sage essential oil must be used with caution. It helps heal old scars by stimulating cell and tissue regeneration and breaking up old scar tissue. To use, dilute 3 drops of sage essential oil in 1 tbsp of a carrier oil and massage onto the scar.
9. Niaouli Essential Oil
► Buy Here
Extracted from the young leaves and twigs of the Melaleuca Milidiflora plant, niaouli essential oil has skin healing and revitalizing properties. It's useful in treating wounds, acne, blemished, boils, burns and bug bites and its cicatrisant properties make it valuable in helping fade and lighten old scars.
10. Cistus Essential Oil
► Buy Here
Cistus essential oil is one of the less-known essential oils but it is a wonderful skin healing tonic and is especially useful in soothing irritated skin, wounds, mature & aging skin, inflammatory skin conditions including psoriasis & eczema as well as in healing scars.
Take Care
Always dilute essential oils in a carrier oil, cream or lotion before applying it on your skin (as a rule of thumb, mix 2 drops of essential oil in 1 tsp of carrier oil). For more info read: How to Dilute Essential Oils
First do a patch test on your inner wrist or elbow to make sure you are not allergic to the essential oil before applying it on your body.
Never ingest essential oils and keep them away from children and pets as they are very potent and can be toxic.
If you are pregnant or nursing and would like to use essential oils for old scars, please first consult your medical practitioner.
Consult with your doctor if you suffer from asthma, hypertension, epilepsy or any chronic health conditions before using essential oils.
Thank you for reading this article! If you found it useful, please share on Facebook, Pinterest or Twitter!