Naturally treat scalp psoriasis with essential oils! Discover 10 best essential oils for scalp psoriasis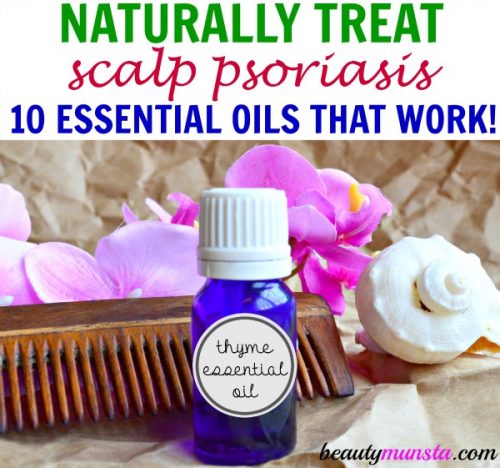 Psoriasis on the Scalp – an Itchy Predicament
Over 7 million Americans suffer from Psoriasis, a skin condition that is characterized by scaly and often dry, red, itchy patches that appear mainly around knees, elbows, wrists, scalp and buttocks, but can also appear on large areas of the body in severe cases. Contrary to popular belief, psoriasis is not an infection that can spread or be caught – it is actually a genetic condition whereby the skin cells regenerate at a very fast rate as an autoimmune response. Psoriasis can be triggered by environmental factors, stress and certain prescription drugs. Scalp Psoriasis is particularly worrying because even though it cannot be easily visible as on the rest of the skin, it can cause severe itching, sometimes bleeding and it often leads to hair loss.
Can Scalp Psoriasis Be Cured with Essential Oils?
Although psoriasis is considered to have no cure, doctors often prescribe topical steroids and immune system suppressing medications among others, to manage the symptoms of psoriasis. These medications come with an array of side effects that can be avoided by using potent yet natural essential oils. More and more psoriasis sufferers are turning to herbal remedies to treat psoriasis as well as essential oils because these types of holistic solutions can have more lasting effects, while quick-fix medications are almost always followed by recurring psoriasis flare-ups.
Scalp Psoriasis – the Emotional Link
If you are looking for a holistic cure for your psoriasis, it is fundamental to consider the connection between your emotions and psoriasis/ psoriasis flare-ups. In a recent Harvard Health Publication, Dr. Grossbart, a clinical psychologist and psychodermatology expert explained the mind-body connection regarding psoriasis, after having noted that most people suffering from skin conditions have underlying psychological issues. Let's now take a look at the best essential oils for scalp psoriasis relief below:
Top 10 Essential Oils for Scalp Psoriasis Relief
1. Oregano Essential Oil
Being a powerful fungicide, bactericide and antiseptic, oregano essential oil (where to get it) is known to treat a wide variety of health conditions such as intestinal parasites, candida and other yeast infections, nail fungus, respiratory conditions, arthritis, athletes foot & skin conditions such as eczema, acne, skin allergies and psoriasis among others. Oil of Oregano can be ingested in food amounts, under the supervision of a professional health care professional and can be diluted in a base cream/carrier oil of choice and applied topically to soothe & improve scalp psoriasis.
2. Tea Tree Essential Oil
In most cases, scalp psoriasis can be unbearable and cause excessive itchiness and scratching which results in wounds that can get infected. Just like oregano essential oil, tea tree essential oil (where to get it) is a disinfectant that can be used to cleanse and purify the scalp without aggravating scalp psoriasis. If you dilute tea tree essential oil in a carrier oil or shampoo and massage it gently on your scalp before rinsing, it can help numb the pain, reduce itching and prevent infection from scratch wounds.
3. Frankincense Essential Oil
Since scalp psoriasis is characterized by flaky, dry and dehydrated skin, frankincense essential oil (where to get it) is one of the best essential oils to treat it naturally since it has hydrating and moisturizing properties that lock moisture into the skin. It is also a strong antiseptic that fights off germs and microbes that irritate scalp psoriasis and prevents infection.
4. Thyme Essential Oil
Thyme essential oil (where to get it) is among the best essential oils for your scalp. It's effective in naturally treating dandruff, itchy scalp issues and fungal infections as well as stimulating hair growth and reducing hair fall. It contains chemical compounds such as thymol and carvarcol which are fungicides and bactericides that help fight off microbes that exacerbate scalp psoriasis.
5. Geranium Essential Oil
Originating from Africa, geranium essential oil (where to get it) is all about balance. It helps improve dry and itchy scalp issues associated with scalp psoriasis by balancing sebum production and sealing in moisture. It also has skin soothing and anti-inflammatory properties that calm inflamed, red and itchy skin.
6. Rose Essential Oil
With its gorgeous romantic aroma, rose essential oil (where to get it) is not just for youthful and beautiful skin. It is also a powerful natural remedy to soothe, calm and heal scalp psoriasis. It has nourishing and moisturizing properties that will eliminate an itchy dry scalp while its antiseptic properties disinfect & purify the scalp killing off germs, bacteria and other microbes that aggravate scalp psoriasis. Using rose essential oil for your scalp psoriasis will also leave you smelling sensational and put a smile on your face the whole day!
7. Helichrysum Essential Oil
Popularly known for its scar-healing and stretch mark fading properties, helichrysum essential oil (where to get it) is also very effective in treating scalp psoriasis. It is also a strong anti-inflammatory that helps soothe and calm down inflamed scalp psoriasis. Mixing helichrysum essential oil in a blend of other essential oils and carrier oils creates potent scalp psoriasis healing blend.
8. Lavender Essential Oil
Known for being the most versatile of essential oils, lavender (where to get it) is among the best essential oils for scalp psoriasis because of its soothing and healing properties. It also balances scalp oils and hydrates dry skin. Lavender essential oil can be applied 'neat' onto the skin without dilution but it's recommended to dilute it in a carrier oil if applying to a large area of skin.
9. Sandalwood Essential Oil
Sandalwood essential oil (where to get it) is known to be the most moisturizing essential oil on the planet. Use it to soften dry peeling and hard scalp psoriasis as well as balance the scalp's sebum production. Sandalwood essential oil also contains antiseptic properties that help reduce itchy skin and protect the scalp from harmful microbes that cause infection.
10. Rosemary Essential Oil
I've talked about how rosemary essential oil (where to get it) is the best essential oil for hair growth in this post, but it's also one of the most effective essential oils for healing scalp psoriasis. Rosemary essential oil contains rosmarinic acid which has shown potential anti-inflammatory action that soothes and calms scalp inflammation. Its antiseptic properties help improve and calm down the symptoms of scalp psoriasis.
Tips to Keep Scalp Psoriasis at Bay
► Steer away from Conventional Shampoos – Conventional Shampoos are filled with surprisingly harmful chemicals such as SLS (Sodium Laureate Sulfate) – a rat poison, pthaltes and parabens – linked to cancer. Instead, switch to non-shampoo methods or to organic and gentle shampoos, such as my favorite Maple Holistics Sage Shampoo
► Moisturize your Scalp – Make it a habit to deeply moisturize your scalp with hydrating yet light oils like jojoba oil or coconut oil. Heat the oil and gently massage into your scalp with your finger tips for about 5 minutes. Preferably, do this moisturizing massage right before bed time and wash your hair the next morning. Make sure to protect your pillowcases from the oils by covering them with an old towel.
► Amp up the Good Oils in your Diet – In today's calorie-conscious world, we have been conditioned to avoid oils altogether in our diet. Yet in fact, good oils such as omega 3 fatty acids, found in sea fish, hemp & chia seeds and coconut oil, are actually essential to good health. Adding good oils to your diet can show visible improvements to scalp psoriasis.
All Natural Hair Care Guide with Essential Oils!
Want to know more about essential oils for hair and how to make scalp & hair care recipes with essential oils? Check out our Complete Guide to Using Essential Oils for Scalp & Hair Care that talks about the magical properties, benefits & uses of essential oils for your scalp and hair with over 100 recipes to make your own chemical-free hair products for a healthy scalp and beautiful hair.
DIY Herbal Hair Oil Infusions Guide with Recipes
Want to make your own herbal hair oils? Check out our DIY Herbal Hair Oil Infusions eBook that contains an A-Z list of healing herbs and spices to infuse for hair, what base oil to choose for your hair type, methods of infusing your hair oils plus 20 exciting hair oil recipes for dry hair, heat damaged hair, hair growth, even gray hairs, scented hair and more!
Where to Get a Natural Shampoo
If you are going chemical-free on your hair, but want to save the time of making a homemade shampoo, this Maple Holistics Sage Shampoo is a game-changer. It contains powerful herbs such as sage: for dandruff & itchy scalp treatment, rosemary: for hair growth and prevention of hair loss and spikenard for dandruff treatment. It also has argan, jojoba and tea tree oils that all protect the scalp from germs, keep hair clean as well as hydrated and moisturized. This shampoo does not contain sulfates, so it will not lather the way you are used to, but you will quickly get used to it and notice the difference!
Take Care
Ensure to check with your doctor/ health care professional to see if essential oils are safe for you if you suffer from hypertension, skin allergies and other medical conditions.
Use only 100% pure and high quality essential oils.
Never use essential oils 'neat' (directly without dilution) onto your skin. Always dilute first with a carrier oil (1 drop of essential oil in 1 tsp of carrier oil). For more info read: How to Dilute Essential Oils
If you are pregnant or lactating and would like to use essential oils for scalp psoriasis, please first consult your doctor as most essential oils are not safe to use for pregnancy or lactation.