The best essential oils for sun damaged skin? Here they are!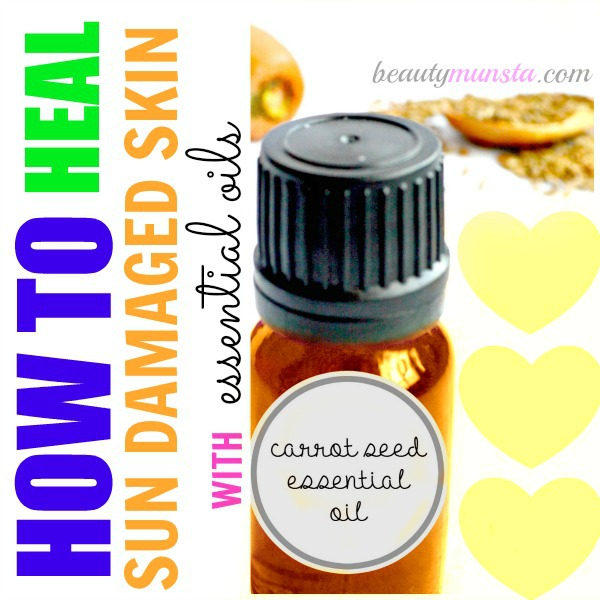 Maybe you wanted a nice tan or just some good ole vitamin D but instead you got a huge red sunburn that's awfully painful and itchy too!
Sunburns happen to millions of people out there and sometimes, no matter how much you shield yourself, you still get a little pink after an outing in summer.
Fortunately, sun damaged skin can easily be cooled down with these top 7 essential oils that contain antiseptic, anti-fungal, antibacterial and anti-inflammatory properties that will also keep your skin healthy and looking youthful.
Sun damaged skin can be mild – something that doesn't hurt and you aren't really bothered about or severe – burns & is really painful (in this case, essential oils will still help of course but, its better to seek professional advice).
It depends on how much sun your skin was exposed to, but generally, sun damage happens when the sun dries up all the skin's moisture and depletes its natural supply of lubricating oils.
The sun's UV radiation causes the most damage to skin because it not only causes painful burns but also causes long term change in the skin's structure.
Check out some tips to naturally heal your sun damaged skin:
Tips for Sun Damaged Skin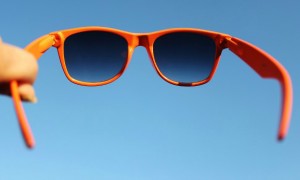 H.Y.D.R.A.T.E. Sun damaged skin needs to be revitalized with moisture as the body tries to naturally heal the sunburn by drawing water away from the rest of the body to the skin's surface. So make sure you drink water + take lots of fluids like juices, soups & herbal teas. This will also keep away any headaches and tiredness following a sunburn.
Essential Oil Bath Safety: When soaking in bath water with essential oils to relieve sunburns, do not add bubbles or soap as these will dry out your skin and delay the healing process.
That's Too Many Drops! Please do not over apply/apply too much of essential oils when using them. Essential oils are very potent and can severely aggravate your sun damaged skin especially if you don't dilute them enough.
Brrr! No Icy Showers. Never take ice cold showers or baths too relieve the heat but rather use tepid or cool water since the skin is already damaged by UV rays and too cold temperatures can traumatize the tissue as well.
No to Nasty Chemicals. Avoid using synthesized chemical products on your skin for example try as much as possible to buy pure or food grade aleo vera gel. Only use 100% pure essential oils and make sure not to get products named 'lavender oil' or 'carrot seed oil' as these contain additives that you definitely shouldn't apply on sun damaged skin.
Be Gentle >.<". Sun damaged skin is really sensitive and you need to give it time to heal on its own. Please resist the urge to keep applying 'this and that' or more than enough treatments to soothe your sunburn, as this might not only aggravate it but also slow down its natural healing process. When applying the treatments, take care to gently smooth the mixture on your skin without scratching or rubbing it in too hard. Spray bottles  come in handy here! Just spray on the treatment without touching the damaged skin.
Don't miss: Get your complete guide to essential oils for summer with over 90 blends and recipes here!
Here are my top best essential oils for sun damaged skin to restore, calm, cool and soothe:
1. Lavender Essential Oil
Lavender essential oil is one of the most popular essential oils used to soothe sunburned skin.
It has powerful anti-inflammatory properties that make it well suited for calming down angry red sunburned skin.
Apart from the instant cooling effect it provides for sunburns, lavender essential oil also helps in cell regeneration & growth.
Lavender essential oil contains adaptogenic compounds that will speed up the healing process of sun damaged skin.
► Oatmeal Lavender Bath: To soothe & relieve your sun damaged skin, soak in an oatmeal lavender bath: add in a handful of colloidal oatmeal and 5 to 10 drops of lavender essential oil to lukewarm bath water. Soak for at least 20 minute. Remember to relax, keep your mind calm and most importantly don't concentrate on the painful sunburns while you let the bath work wonders in healing your sun damaged skin.
2. Carrot Seed Essential Oil
Anti-oxidant rich and moisturizing, carrot seed essential oil is one of the best essential oils for sun damaged skin.
Though it is popularly used in homemade skin care recipes to protect the skin from sun damage, it also provides skin soothing benefits for after the sun damage occurs.
Carrot seed essential oil contains carotene, which is nourishing & healing for both sun damaged and aging skin.
It also contains antiseptic, carminative and cytophylactic properties that are beneficial for skin. The anti-inflammatory & healing properties of carrot seed oil will calm down redness and even out discolorations associated with sun damaged skin.
►Soothing Gel: Mix 1 drop of carrot seed essential oil in a teaspoon of pure aloe vera gel and apply it on sun damaged skin.
3. Frankincense Essential Oil
Frankincense essential oil has many benefits for skin including helping diminish the appearance of stretch marks and scars, treating acne, promoting cell regeneration as well as soothing rashes and providing pain relief for sun burned skin.
Using frankincense essential oil will help bring sun damaged skin back to its original lustre. Frankincense essential oil is ideally used to help relieve the pain following sunburns.
It is also particularly good for dry skin, and if you have dry + sun damaged skin, use frankincense to hydrate skin and provide moisture-rich rejuvenation.
► Spritz: Fill a 2 ounce spray bottle with distilled water and add 2 drops of frankincense essential oil and 2 drops of peppermint essential oil. Spray on the affected area for immediate relief.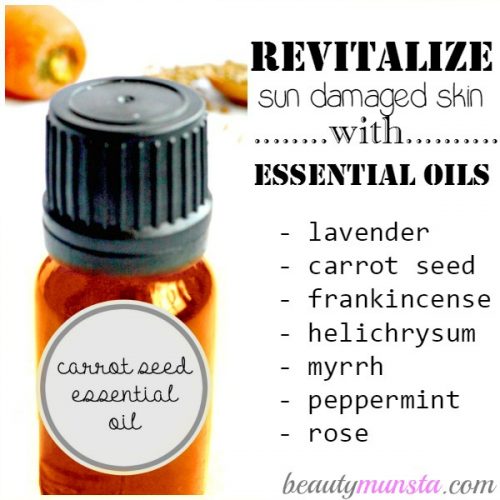 4. Helichrysum Essential Oil
Extracted from a natural medicinal plant known as helichrysum, this essential oil contains high antioxidant, antifungal, antimicrobial and anti-inflammatory properties.
It is native to the Mediterranean region, including Bosnia and Herzegovina, Turkey, Italy, Spain and Portugal, where it's long been used for its medicinal properties.
Helichrysum essential oil will help relieve the pain caused by sunburns and also hydrate sun damaged skin.
►Healing Blend: Mix 1 drop of helichrysum essential oil in 1 teaspoon of pure aloe vera gel and smooth it gently over your sunburn. Helichrysum essential oil also helps in cell renewal and growth.
5. Myrrh Essential Oil
This essential oil, extracted from a thorny shrub in the Middle East and Horn of Africa, has been used since ancient times for its powerful healing properties.
It has been used in Ancient Egypt as a natural sunscreen and using it in the right way gives a gorgeous tan too!
Myrrh essential oil is used to treat dry, flaky, itchy and scaly skin brought about by excessive sun exposure.
► Instant Relief: To ease sun damaged skin, mix 2 drops of myrrh essential oil and 1 drop of peppermint essential oil in 1 ounce of coconut oil and smooth it over your whole body.
 6. Peppermint Essential Oil
Peppermint essential oil provides a cooling effect when applied topically to skin.
It contains a numbing agent: menthol that provides a natural anesthetic to your sunburn that will cool down and numb the burning pain.
Peppermint essential oil will give a cooling relief to even the most angry lobster-like sun damaged skin.
Another added benefits is its antiseptic properties that will help prevent any infection from sunburn bubbles or blisters associated with sun damage.
► Cooling Compress: To treat your sun burn, all you need to do is to make a cooling & soothing peppermint compress. First cool the sunburn down by showing the affected area to tepid to cold water for about 5 minutes. Next, get a clean wash cloth and wring it in cold water so that it turns damp. Add about 2 to 3 drops of peppermint essential oil to the compress and gently dab it on your sunburn for about 5 to 10 minutes. Your skin will instantly feel soothed and refreshed!
7. Rose Essential Oil
Although this romantic essential oil is added to many skin care products, homemade or otherwise to attain gorgeous skin, you might be wondering how exactly it helps with sun damaged skin.
Well, rose essential oil has one important property that is really beneficial for sun damaged skin: the ability to make skin more permeable, hence allowing it to absorb the healing nutrients, from other oils in your blend/treatment, more effectively.
That's not all – in addition to quicker absorption of nutrients, rose oil also has a myriad of benefits for sun damaged skin. It has powerful anti-inflammatory properties that reduce skin redness while its emollient properties keep skin moisturized & hydrated.
► Refreshing Rose Mist: Make a refreshing and cooling facial/body mist by adding two drops of rose essential oil to 1 cup of pure/distilled water. Also add 4 drops of helichrysum essential oil and shake vigorously. Store this in a spray bottle and spritz away!
Take Care
First check with your doctor to see if essential oils are okay to be used by you if you suffer from hypertension, skin allergies and other medical conditions.
Always use 100% pure and high quality essential oils.
Never use essential oils 'neat' onto your skin. Always dilute first with a carrier oil (1 drop of essential oil in 1 tsp of carrier oil). For more info read: How to Dilute Essential Oils
If you are pregnant or lactating and would like to use essential oils for nail growth, please first consult your doctor as most essential oils are not safe to use for pregnancy/lactating women.