Here are 5 of the best essential oils to treat hives plus effective recipes that really work in soothing & calming those itchy hives!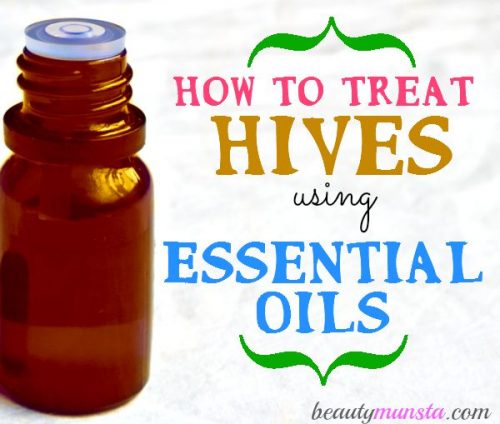 Hives are red, itchy raised bumps/welts on the skin that look just like mosquito bites. Roughly 1 in 6 people develop hives at some point during their lives and for most people, they can take anywhere from a few days to a week to heal on their own.
For some people hives can be a downright source of pain and anguish especially when they itch and sting like crazy. Using hydrocortisone creams may give temporary relief but don't solve the problem once and for all plus they contain additives like fragrance and preservatives that can irritate skin further.
Ditch the commercial creams & lotions for all natural essential oils! Below is a list of five of the best essential oils to treat hives naturally and provide instant relief!
5 Essential Oils to Treat Hives
1. Lavender Essential Oil
One of the best essential oils to treat hives, lavender essential oil is extracted from the fresh smelling lavender flowers by steam distillation. It's antispasmodic and antiseptic properties help protect the skin from microbes and irritants that cause skin allergies including hives.
► Where to Get It
► Soothing Lavender Soak: Fill your bathtub with warm water and add a cup of oatmeal (colloidal or instant – both work fine). Next add about 7 drops of lavender essential oil and stir well using your hand. Get in and relax for about 30 minutes for a soothing relief.
2. German Chamomile Essential Oil
German chamomile essential oil is distilled from Matricaria chamomilla and is also known as blue chamomile because of its beautiful dark blue color. It is very effective in healing and soothing skin irritations, allergies and itchiness. German chamomile essential oil is anti-allergenic and anti-spasmodic which makes it great for relieving hives, eczema, psoriasis and other inflammatory skin conditions.
► Where to Get It
► Cooling Chamomile Cream: Combine 5 drops of german chamomile essential oil in an ounce of coconut oil. Store in a small clean glass jar and apply to the hives after cleaning the skin thoroughly.
3. Peppermint Essential Oil
Extracted from Mentha piperita, peppermint essential oil is known for its ability to cool down inflamed & burning skin, reduce redness as well as calm itchy & irritated skin. It provides instant relief for hives because of its anti-itch, anti-allergenic and anti-inflammatory properties.
► Where to Get It
► Peppermint Spray for Instant Relief: In a 2 ounce spray bottle, add pure distilled water and 3 to 5 drops of peppermint essential oil. Shake well to combine. Spritz on the itchy hives to provide a cooling sensation that also numbs the pain.
4. Myrrh Essential Oil
One of the ancient and holy essential oils, myrrh essential oil has long been used since biblical times for its powerful healing properties. Just like frankincense essential oil, myrrh essential oil is extracted from the gum resin which is got from the bark of the myrrh trees. It has anti-microbial, anti-inflammatory and fungicidal properties that help treat hives.
► Where to Get It
► Moisturizing Myrrh Balm: Place an ounce of raw shea butter in a small mason jar. Place the mason jar in a pan filled with a couple inches water. Gently heat until the shea butter softens then remove from heat and stir in 5 drops of myrrh essential oil using a clean spatula. Leave it to harden for an hour before use.
5. Helichrysum Essential Oil
Helichrysum essential oil is anti-allergenic, antispasmodic and anti-inflammatory, which makes it one of the best essential oils to treat hives. It's known to soothe bug bites & other skin swellings as well as irritations and also calms inflammation.
► Where to Get It
► Healing Helichrysum Hive Gel: Mix 5 to 7 drops of helichrysum essential oil in 2 ounces of pure aloe vera gel. Transfer to an amber glass container. Apply to hives to soothe & cool the irritated skin and get rid of the itch!
Take Care
Please be careful when using essential oils as they are very potent and using them wrongly can cause severe negative reactions.
Never use essential oils 'neat' or undiluted on your skin since they are very potent. Always dilute with a carrier oil first (1 drop of essential oil in 1 tsp of carrier oil). For more info read: How to Dilute Essential Oils
If using an essential oil for the first time, add a few drops to a carrier oil (1 drop of essential oil in 1 tsp carrier oil) and apply on your inner elbow to see it is safe for you to use.
Make sure to buy 100% pure and high quality essential oils.
Since most essential oils are not safe for pregnant & nursing women, please first consult your doctor before using any of them.