Soothe and calm poison ivy rashes and itchiness using essential oils!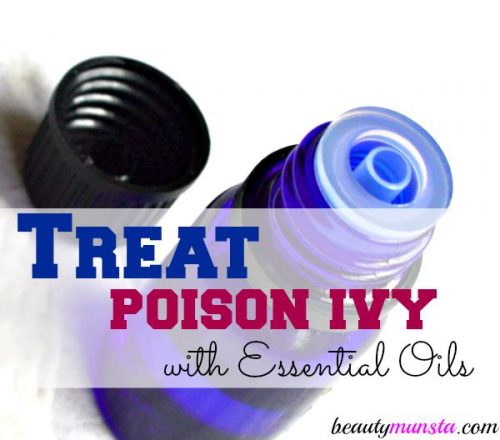 Poison ivy rashes are one of the biggest summertime woes for skin. Seriously, if you've ever had the misfortune of getting too close to a poison ivy plant, then you have my sympathies. Poison ivy and other poisonous plants like poison oak or sumac, exude urushiol oils that when come into contact with skin, cause allergic reactions. For some people, the reaction is severe with terrible itching, red inflamed skin and huge swelling.
For typical poison ivy symptoms, you can easily use natural remedies to soothe & heal. One of my best natural remedies is using essential oils! I've also listed my best non-essential oil home remedies down below but first, let's take a look at 7 of the best essential oils to treat poison ivy!
Don't miss: Get your complete guide to essential oils for summer with over 90 blends and recipes here!
7 Essential Oils to Treat Poison Ivy Rashes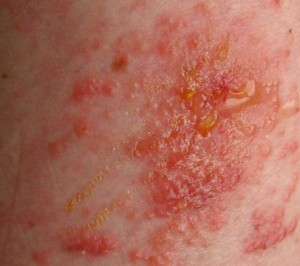 1. Lavender Essential Oil
Lavender essential oil is literally first aid in a small bottle. It has strong antiseptic and anti-inflammatory properties that disinfect and soothe the poison ivy rash. It provides a soothing effect and instantly calms a ferocious itch.
► Handy Lavender Wipes: Take a pack of wipes containing lavender essential oil the next time you go camping/hiking in summer. You can find organic lavender wipes here.
2. Peppermint Essential Oil
Just thinking of peppermint essential oil makes me feel soothed & cooled. For anything itchy, whether it's your scalp, a bug bite or just plain old terrible itch from nowhere, use peppermint essential oil and I promise you – you won't regret it. It contains menthol, which gives a cooling sensation that calms poison ivy rashes and numbs down the itch & pain.
► Cooling Peppermint Spritz: Add 5 drops of peppermint essential oil in 1/2 cup of distilled water. Next add 1 tsp aloe vera gel. Close Mix well. Transfer to a 4 oz spray bottle and shake well before spritzing on the poison ivy rash.
3. Tea Tree Essential Oil
Highly antiseptic, antibacterial, antimicrobial and anti-fungal, tea tree essential oil is one of the best essential oils to treat poison ivy. Use it to disinfect the affected skin before you apply any other treatment.
► Tea Tree Disinfectant: In a glass bowl, pour 1/4 cup of water, 3 drops of tea tree oil and 1 tsp witch hazel. Mix well. Dip a cotton ball into the solution and gently wipe it over the poison ivy rash to cleanse and disinfect.
4. Roman Chamomile Essential Oil
Chamomile essential oil is soothing & calming and great for skin of all types including sensitive skin. Roman chamomile essential oil is great for bug bites, inflammatory skin conditions and skin allergies & rashes like poison ivy.
► Chamomile Calendula Gel: Mix 3 drops of roman chamomile essential oil in aloe vera gel and slather it all over the rash for a cooling relief.
Leaves of Three – Let them Be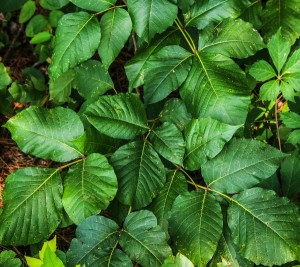 Here's what the poison ivy plant looks like – it's a vine/shrub with three leaflets, so the next time you go hiking, don't forget to keep away from them!
5. Myrrh Essential Oil
Myrrh essential oil is moisturizing and hydrating and also an effective essential oil to treat poison ivy rashes. It's also a powerful antiseptic which helps minor cuts, burns, stings, bug bites, allergic skin reactions and poison ivy/oak/sumac.
► Soothing Oat Bath with Myrrh: Run a tepid bath and throw in two handfuls of quick oats, 1 tbsp of coconut oil and 10 drops of myrrh essential oil. Soak in for at least 20 minutes to calm the rash.
6. Eucalyptus Essential Oil
Eucalyptus essential oil works just like peppermint essential oil to treat poison ivy. It contains menthol, which helps numb the itch, take away the pain and cool down the inflamed skin. Some aromatherapists allow using it without dilution on the poison ivy area but it's best to dilute it before use as it has a tendency to burn & irritate the skin. Check out my super effective essential oil recipe for poison ivy down below!
► Eucalyptus Cold Compress: Fill a large bowl with 2 cups of cold water. Add 5 to 10 drops of eucalyptus essential oil and stir well. Place a clean and soft wash cloth in the bowl and leave it to soak for about 10 minutes. Apply the wash cloth to the affected area and when it gets warm, repeat the process. If your skin is too sensitive to touch, just use a spray bottle to spritz the treatment for a cooling relief.
7. Cypress Essential Oil
Having strong antiseptic properties, cypress essential oil is also among the best essential oils to treat poison ivy rashes. It's also useful in the treatment of excessive discharge of fluids. Dilute with aloe vera gel and apply it on the poison ivy rash when the blisters have opened to speed up healing.
► ACV Cypress Tincture: Mix 1 tbsp of apple cider vinegarin ½ cup of distilled water and add 7 drops of cypress essential oil. Store in a 4 oz spray bottle and spritz on the affected area.
My Other Poison Ivy Remedies for Instant Relief
Jewelseed – In a pan of boiling water, steep a whole jewelseed plant after washing it thoroughly. After 15 minutes of steeping, pour the water into ice cube tray and leave it to freeze completely. There you have it! Instantly cooling jewelseed ice cubes to calm poison ivy rashes.
Banana Peel – You may not believe this but banana peels actually have some magic for healing and soothing bug bites. Just very gently rub a banana peel or two over the itchy poison ivy rash – it gives a cooling sensation and helps reduce the itch. If the sting's bad and so oozy with pus that rubbing seems painful, then just stick the banana peel on the affected area!
Baking Soda – This is a popular home remedy to treat poison ivy/oak. Just make a paste out of baking soda and water. You don't need to add a lot of water and make it drip all over. Just mix ½ tsp of baking soda, 1 tsp of water and 1 tsp of raw honey (for extra soothing) and apply to the rash. This will reduce the swelling and take away the itch.
Take Care
If you notice any other reactions accompanied by the typical poison ivy symptoms including high fever, pus oozing blisters or rashes spreading across the body, immediately go and get it checked with your health care professional.
Always use 100% pure and high quality essential oils.
Never use essential oils 'neat' onto your skin. Always dilute first with a carrier oil (2 drops of essential oil in 1 tsp of carrier oil). Read more: How to Dilute Essential Oils
If you are pregnant or lactating and would like to treat poison ivy with essential oils, first consult your doctor as most essential oils are not safe to use for pregnancy/lactation.
Please first read Caution & Safety when Using Essential Oils before using them on your body, especially if you're a beginner.