Want to know the best essential oils for dry skin? There are many essential oils for dry skin but here are the 9 best and most effective!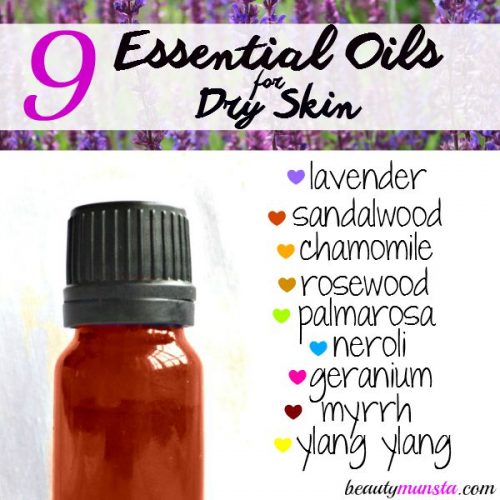 Got dry skin? Try using one or more of these essential oils to naturally heal as well as promote beautiful skin. Without further adieu, let's move on to this pretty bulky list of 9 best essential oils for dry skin!
9 Moisturizing Essential Oils for Dry Skin
1. Sandalwood Essential Oil
► Scientific Name: Santalum album
Sandalwood essential oil is the best essential oil for dry skin! Since 1000 years ago, caravans carrying sandalwood used to travel from India, the land of sandalwood, all the way to Egypt. It was valued for its spiritual & calming properties and was used by Egyptians for embalming. Sandalwood essential oil has a moisturizing and hydrating effect on skin especially for dry and chapped skin. Dry skin accompanied by redness and inflammation can also be healed using sandalwood essential oil, which has powerful anti-inflammatory properties. One of the best things about sandalwood essential oil is that it is a non-irritant so it can be used for all skin types.
2. Chamomile Essential Oil
► Scientific Name: Chamaemelum nobile (Roman), Matricaria chamomilla (German)
► Where to Get It (Roman) , (German)

Both Roman and German essential oils are good essential oils for dry skin. Roman Chamomile essential oil is extracted from the English chamomile flower and it is especially useful for skin irritations such as dry & itchy skin while German chamomile soothes and calms skin, helps in tissue healing & regeneration and also treats dry, red and irritated skin. Into your bathwater, add a few drops of chamomile essential oil and stir well. Soak in this bath to relieve dry, itchy, irritated and red skin.
3. Palmarosa Essential Oil
► Scientific Name: Cymbopogon martini
The 'rosa' in palma rosa makes it sound like its related to the rose flower and it does actually have a slight scent of roses. Another fascinating fact about palma rosa is that it's actually a wild growing grass and the essential oil is extracted from the grass before its flowers. Palma rosa essential oil is antiseptic, antibacterial, cytophylactic, etc. It is great for skin of all types and helps heal dermatitis, acne, skin infections and dry skin. It helps regulate the moisture levels in the skin, thereby keeping skin soft, supple and elastic.
4. Neroli Essential Oil
► Scientific Name: Citrus aurantium var. amara
Neroli is also known as orange blossom from which neroli essential oil as well as orange blossom water, a popular flavoring ingredient in Arab cuisine, is distilled. Neroli essential oil is known for its amazing scent that also has a relaxing effect on the body. It has many beauty benefits for skin including preventing and getting rid of stretch marks, fading away facial and body scars and rejuvenating skin. Neroli essential oil also hydrates skin and keeps it smooth and supple. You can also use neroli hydrosol to hydrate dry skin – I talk about it's amazing beauty uses here!
5. Lavender Essential Oil
► Scientific Name: Lavandula angustifolia
The most popular essential oil, lavender essential oil has a wide variety of therapeutic and aromatherapy used – and it's got great beauty benefits too! Whether it's acne you have or skin inflammation or dry skin, lavender essential oil treats, soothes and moisturizes. It's also a powerful skin soother and antibacterial, which makes it great for treating inflammation and redness associated with dry skin and it will destroy any germs that cause dry skin to itch and get infected. Apply lavender essential oil mixed in shea butter or cocoa butter and massage it onto your dry skin to lubricate.
6. Rosewood Essential Oil
► Scientific Name: Aniba rosaeodora
Rosewood essential oil is extracted from the wood of the Brazilian rosewood, an evergreen tree, through steam distillation. The wood is also used for making furniture, accessory items, flooring, guitars, chopsticks in China, etc. It has been so extensively used by the French for cabinet making and carving, that rosewood is now an endangered species. For skin, rosewood essential oil has been shown to be very effective in keeping it healthy and warding off infection since it is a powerful antiseptic and antibacterial. It aids in rejuvenating and watering dry and withered-looking skin as well as stimulates skin cells.
7. Myrrh Essential Oil
► Scientific Name: Commiphora myrrha
Myrrh essential oil, much like frankincense essential oil, was very popular in the ancient world. It is native to Arabia, Somalia and Yemen. It was used as medicine by the Chinese, for mummification and in cosmetics by the Ancient Egyptians. Ancient Greek soldiers used to take a tiny vial of the oil to battle because of its effectiveness in stopping bleeding wounds. It is excellent for healing dry and chapped skin – even skin of extreme dryness can be soothed using myrrh essential oil.
8. Geranium Essential Oil
► Scientific Name: Pelargonium odorantissimum
Native to Africa, geranium essential oil was introduced to Europe in the 17th century. It has many therapeutic uses and it is known for its balancing and calming effects on the emotional state of the mind. Geranium essential oil also has lots of beauty benefits including balancing the skin's sebum production making it good for healing both dry and oily skin, treatment of eczema & shingles, treatment of cellulite and its cicatrisant properties promote quick wound healing. Here's my DIY face lotion recipe with geranium essential oil to treat dry skin and you can find my DIY shea geranium body butter here.
9. Ylang Ylang Essential Oil
► Scientific Name: Cananga odorata var. genuina
Extracted from the beautiful white ylang ylang flowers, ylang ylang essential oil has an exotic scent and a stimulating effect on the body, including the skin. Just like other essential oils for dry skin like palma rosa, ylang ylang essential oil and a balancing effect on skin which helps control sebum production on dry skin. People with extremely dry skin can use ylang ylang to help plump up their dehydrated skin and lock in moisturizing goodness. You can add this exotic essential oil to your bath water or mix it in a carrier oil of your choice to soothe and treat dry skin.
Take Care

Never use essential oils 'neat' on your skin. Always mix with a carrier oil first (2 drops in every tsp of carrier oil). Read more: How to Dilute Essential Oils
Do not use in pregnancy or lactation.
Before applying, please first use a patch test by applying on your inner elbow to ensure you will not have any negative skin reactions. Monitor the area for 6-12 hours for any signs of irritation. If you see irritation, immediately rinse with warm water and a mild soap and do not apply the essential oil on your body.
Finally, ensure to buy only 100% pure unadulterated essential oils.