Shea Butter – The Skin's Super food
Shea butter is slowly rising in popularity in the natural beauty world – but it has been used by African communities since ancient times for healing, medicinal, food and cosmetic purposes. Shea butter is extracted from the nuts of the Karite tree, which is native to certain African countries like Mali, Ghana, Burkina Faso (in Western Africa) and Sudan and Uganda (in the East African regions).
Shea butter was once regarded as a precious commodity and evidence shows that it was used by Ancient Egyptians for cosmetic and other uses. Shea butter is an ivory-colored, solid fat that has a warm, nutty scent. Throughout history, shea butter has been revered for its skin healing properties. It is used to manage and treat dry skin, acne, wrinkles, stretch marks, discoloration and pigmentation as well as scars and blemishes. Shea butter also has mild SPF quantities (SPF 6) and is soothing for sun-burned skin. Today shea butter can be found in the market in the form of lotions, body butters, soaps and in its raw unrefined form.
How to make your own Shea Body Butter at Home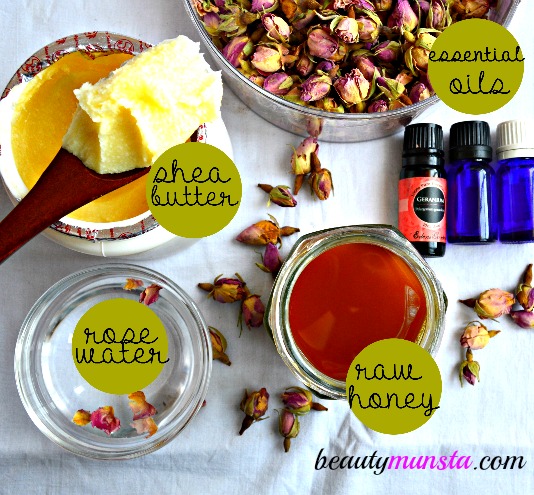 Making shea butter at home isn't complicated at all. You may have come across recipes requiring you to use a double boiler system, egg beaters and other equipment, but here, I'm going to show you that anyone can make beautiful, invigorating shea body butter that's even better than those expensive body butters that come in fancy packages! Yes, it's possible – I make my own shea body butter in small batches all the time – all I use is a small blender or mixer/grinder! The whole process barely takes 10 minutes! Impressed? Let's get on to the recipe and see how it's done!
Ingredients
• Shea butter – 4 tbsp (get it here)
• Rose water – 2 tbsp (get it here)
• Raw Honey – 1tsp (get it here)
• Lavender Essential Oil – 6 drops (get it here)
• Geranium Essential Oil – 4 drops (get it here)
• Tea Tree Essential Oil – 2 drops (get it here)
Directions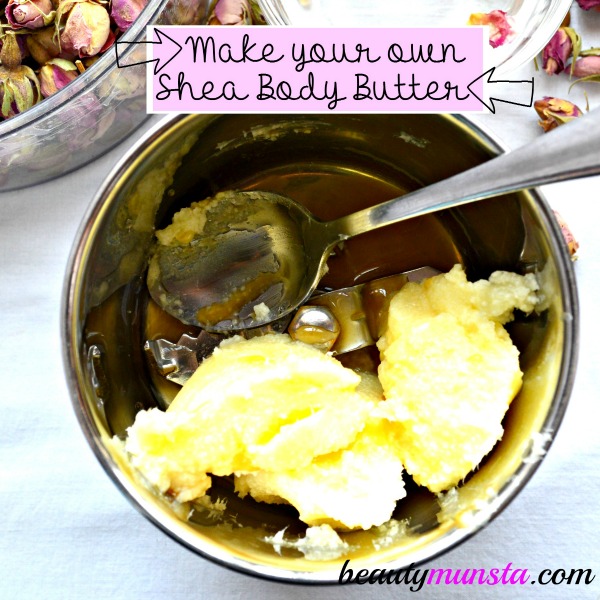 This is a really simple DIY, you'll be surprised with how fast and easy it is – and yet, you'll end up with a body butter that's silky, soothing and luxurious!
Into a clean, dry blender, scoop out all your ingredients – shea butter, rose water and raw honey, and blend for 20 seconds.
Pour your blended/whipped into a (preferably glass) container and carefully pour in all the essential oils, drop by drop.
With a clean spatula, mix up the shea body butter and the essential oils for about 2 – 4 minutes, or until you are satisfied that everything is mixed thoroughly.
Close tightly with the lid and store in a cool place, away from sunlight.
What makes this DIY Shea Body Butter Recipe So Good?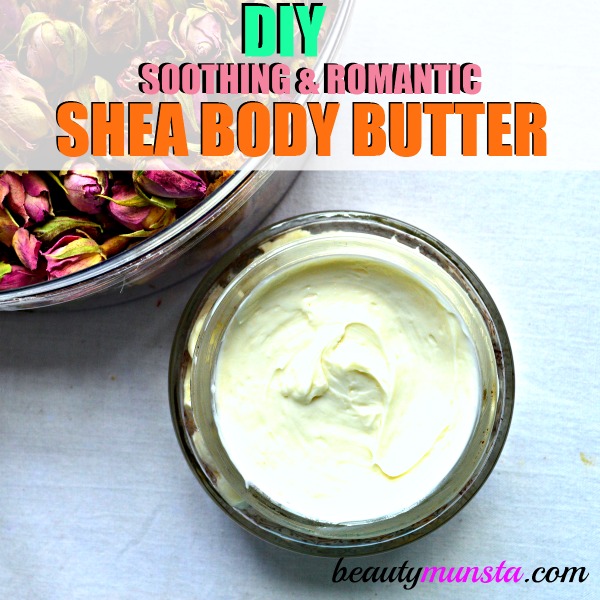 Apart from this being cost-effective to prepare at home, easy, time-saving and easily customizable, let's have a look at the benefits of each of these wonder ingredients in this recipe;
➝ Shea Butter – Rich in Vitamin A (Retinol), Vitamin E (the Skin Protector) and essential fatty acids, shea butter is an intensely moisturizing and emollient butter harvested from the nuts of the Karite tree. It moisturizes hydrates and heals dry, parched skin; soothes inflammatory skin conditions, prevents wrinkles and promotes youthful skin.
➝ Rose Water – Rich in flavanoids and Vitamin C, rose water is a renowned skin rejuvenator that has healing, anti-inflammatory, anti-bacterial and astringent properties. It is also rich in Vitamins A, E, D and some B vitamins.
➝ Raw Honey – Honey, in its raw state is a powerhouse of vitamins, live enzymes, minerals and nutrients, all of which make honey amazing for skin. It is antibacterial, anti-aging, hydrating and rejuvenating for dull, tired skin.
How much Essential Oil should you add?
You may have noticed I don't go overboard with my essential oils in any of my recipes. This is because pouring in too much of essential oils can make the product smell too strong and off-putting. Plus, essential oils are potent and a little goes a long way so there's no need to use an excess in the hopes of getting 'more benefit' out of it. The real secret to getting real results is consistency. In any case, I'd recommend that you go by the number of drops suggested in my recipe and then go ahead and add more (cautiously) if you feel the need to. As a general rule, for every 50 tbsp of carrier oil, use only 1.25 tbsp of essential oil.
Note:

I actually used East shea butter/shea butter Nilotica to make this shea body butter, as you can see in the picture. It doesn't stink like West shea butter plus its soft (not hard) in its raw form and is yellow (richer in skin healing beta carotene/vitamin A!) Get it here:
Other Essential Oils that Blend Well with Shea Butter
Shea butter does have a strong nutty smell and when put on hair or skin, it may interact with your own body oils and sweat and create not-so-pleasing smells. This may not be the case for everyone, of course. Nevertheless, shea butter is one of those ingredients that should most definitely be scented with essential oils that will leave you smelling heavenly and fresh all day long.
Some of the essential oils that blend well with shea butter are:
• Bergamot Essential Oil: With a sweet, refreshing, citrus scent, add bergamot for its antibacterial and calming properties
• Frankincense Essential Oil: Enjoy Frankincense's mysterious, woody and spicy, with the benefits of its anti-acne and anti-aging properties.
• Citronella Essential Oil: With a sharp, lemony scent, use citronella for its invigorating aroma.
• Cinnamon Essential Oil: A familiar autumnal scent, cinnamon is warming and sweet.
• Vanilla Essential Oil: A sweet, warm and rich scent, use vanilla in your shea butter to smell absolutely scrumptious and charming!
For more essential oils that mix well with shea butter, go to my list of best essential oils for shea butter!
My Tips
Feel free to multiply the recipe by as many times as you want.
You don't need to blend the mixture for too long! Just blend for a few seconds at a time checking to see if it has blended evenly and reached a creamy consistency.
Has the heat from the motor of your blender melted up your shea butter while blending? This isn't a problem at all, and it often happens if you blend for too long. Just stick the jar in the freezer for 5 minutes and give it a quick blend again!
Make sure you use good quality shea butter, rose water and raw organic honey to create a high quality, healing product. It is also very important to use essential oils from trusted sources that can guarantee purity and more.
My Favorite Tried & Tested Shea Butter Recipes Ebook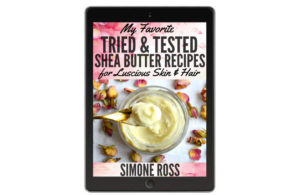 Do you love shea butter and want to make your own beauty products with it?! Check out this ebook "My Favorite Tried & Tested Shea Butter Recipes for Luscious Skin & Hair" for 30 awesome recipes, complete with step-by-step instructions, beautiful pictures and other valuable shea butter info!