Discover the top 10 benefits of frankincense essential oil for skin!
Frankincense – An Ancient Treasure of Arabia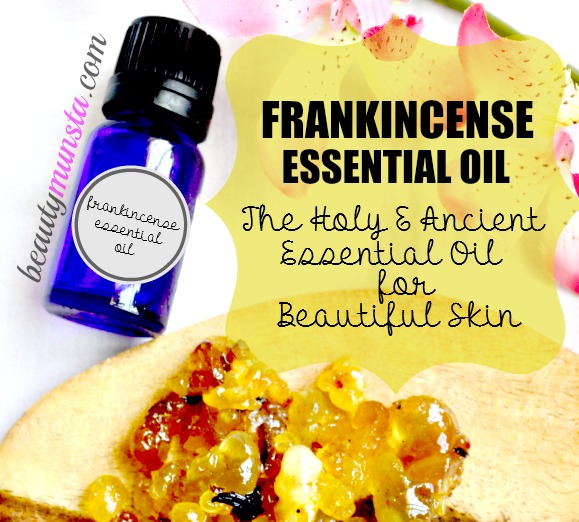 Once costing worth more than its weight in gold, this luxurious essential oil has always been used in the Arab world for its healing, cleansing, & aroma therapeutic properties. Many Arab homes of today still burn frankincense resin to benefit from its amazing medicinal properties.
Frankincense essential oil is said to fight cancer, relieve stress, boost the immune system, kill harmful germs and bacteria, balance hormonal levels, ease digestion, reduce inflammation, act as a sleep aid, promote healthy teeth & germs, relieve nasal congestion and reduce scars & stretch marks & so much more.
In this post, I'll be focusing on the benefits of frankincense essential oil for skin as seen below.
Benefits of Frankincense Essential Oil for Skin
There are many benefits of frankincense essential oil for skin, hair & beauty but in this post, I'll take you through the top ten benefits of frankincense essential oil for skin:
1. Promotes Healthy Skin
Frankincense essential oil contains so many fabulous skin beautifying properties including anti-inflammatory, anti-acne, anti-aging, antibacterial, anti-scarring and astringent properties that will make your skin look more beautiful than ever!
►Facial Mask:
Make a facial mask using 1 teaspoon of
raw honey
, 1 drop of frankincense essential oil and 1 teaspoon
oat flour
to smooth, soft & supple skin.
2. Treats Acne
Frankincense essential oil is a natural germicide and disinfectant and that's one of the reasons why frankincense resin is usually burned in Arab homes. This same property of is responsible for fighting off acne causing germs and disinfecting acneic skin, thereby helping prevent acne.
►Direct Application: Dabbing a drop of frankincense essential oil onto your pimples using a q-tip is a good acne spot treatment to kill germs and treat acne naturally.
3. Fades Acne Scars
One of the most important reasons why people use frankincense essential oil for skin is because of its powerful anti-scarring properties. It is said to help heal and fade acne scars at a faster rate due to its skin healing properties.
►Spot Treatment: To reduce the appearance of scars and gradually fade them away, add a drop of two of frankincense essential oil on your finger and apply it on the scar. Then using two fingers or your thumbs, rub in the oil vigorously in the opposite direction. This method is known as cross section and helps in breaking up scar tissue.
4. Prevents Premature Aging
Frankincense essential oil is one of the top best essential oils for aging skin. Its skin rejuvenating properties are known to revitalize dull, tired, sagging mature skin. It's anti-aging properties help fight off free radicals that cause fine lines and wrinkles.
5. Regulates Oily Skin
Frankincense essential oil can be rather drying for some sin types but that's good news for people with very oily skin! Since frankincense is a natural astringent, it helps regulate sebum, reduce large pores, tone & firm skin.
►Oil-Control Face Wash: To reduce oily skin, you can combine a few drops of essential oil in your facial cleanser and use it to wash your face.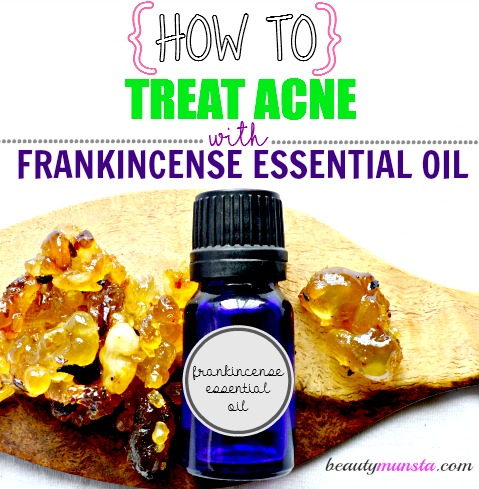 6. For Stretch Marks & Scars
Frankincense essential oil is can be used to gradually reduce the appearance of stretch marks & unsightly scars. It works effectively for both old and new scars. Use the same cross section method mentioned above to help reduce scars.
7. Treats Dry Skin
Dry, cracked and parched skin can be healed using frankincense essential oil. All you need to do is add a few drops in a base cream or carrier oil and apply on the affected areas.
►Moisturizer:
Mix 3 drops of frankincense essential oil oil in an ounce of
castor oil
and apply it on cracked heels on the feet before bed. Put on some socks to prevent staining your sheets.
8. Soothes Inflammation
Reduce any type of inflammation on the skin using frankincense essential oil since it has potent anti-inflammatory properties that will cool down acne inflammation, eczema, sun burns, psoriasis and any other skin inflammatory condition.
►Soothing Body Mist:
Make a refreshing sunburn body mist by combining 3 drops of frankincense essential oil with 3 drops of
peppermint essential oil
in 250 ml of
distilled water
. Spritz onto your skin for soothing relief.
9. Treats Ingrown Hairs
One of the less known benefits of frankincense essential oil for skin is that it helps in the extraction and prevention of ingrown hairs. Since frankincense essential oil is anti-inflammatory, it will help remove any inflammation around the ingrown hair and its antiseptic properties will protect the ingrown hair from getting infected and turning into a boil.
► Antibacterial Lotion: You can apply a drop or two of frankincense essential oil onto your ingrown hairs with a q-tip, however, for those with sensitive skin, simply mix a few drops of the oil in your body lotion and apply to avoid irritation.
10. Heals Sun Damaged Skin
There are a few specific essential oils for sun damaged skin and frankincense essential oil is just one of them. Fundamentally, frankincense essential oil is used to take away the pain from about by sunburns but it also helps in speedy recovery of the sun damaged skin because it promotes cell regeneration and new skin growth.
►Cooling Gel:
Mix a few drops of frankincense essential oil in
aloe vera gel
and apply it onto your sun damaged skin for immediate relief and fast repair-action.
Where You Can Buy Frankincense Essential Oil
There are many fake versions of frankincense essential oil out there in the market. Don't make a mistake of buying 'frankincense oil'. Only purchase 'frankincense essential oil' because the 'frankincense oil' is just frankincense essential oil mixed with other oils/ingredients so it's not the pure and potent one I'm talking about in this post. Please make sure to buy 100% pure and high quality frankincense essential oil.

Take Care
Please dilute frankincense essential oil with a carrier oil or base ingredient before use. The rule of thumb is to dilute 2 drops of frankincense essential oil for every tsp of carrier oil or base ingredient. For more info read: How to Dilute Essential Oils
Most essential oils are not recommended to be used by pregnant or breast feeding women. Please consult your doctor before you attempt to use any essential oils. Keep essential oils away from the reach of children.
When purchasing frankincense essential oil, always look for 100% pure & high quality essential oils.
The above information is only for information purposes so please do not take it as medical advice.
♥ Frankincense is one of my favorite essential oils. What are your favorites? ♥