Black Seed – The Blessed Seed
Black seed has long been used in the Arab world for its miraculous health benefits. In Arabic, it is called habbatul barakah which means blessed seed. It has been praised by Prophet Muhammad (pbuh) as a miracle cure of many health problems and indeed, many studies conducted since 1959 have shown how nutritious and potent black seed is against a myriad of health issues.
Black seed (scientific name; Nigella Sativa) is also known as black cumin, small fennel, fennel flower, nutmeg slower, black caraway, etc, and has many other exotic English names such as 'Love-in-a-mist'. These tiny black seed are flavorful and were once used as a spice in the East before black pepper.
Black seed oil is extracted from black cumin seeds and is highly nourishing for hair, skin and the general body. In this post, I'll be talking about the amazing healing black seed oil benefits for skin in particular. But first let's take a look at the nutrients found in black seed oil that contributes to beautiful skin:
Nutrients in Black Seed for Beautiful Skin
Omega 3 acids – Hydrates, moisturizes & lubricates skin. Promotes supple, soft and smooth skin. Heals parched & chapped skin.
B-Vitamins – For younger-looking skin. Increases production of ceramides and fatty acids. Boosts skin's hydration. Reduces inflammation.
Vitamin C – Provides sun protection. Stimulates collagen synthesis. Improves skin tone & texture. Reduces the appearance of dark spots. Delays fine lines & wrinkles.
Zinc – Fights acne. Treats minor skin irritations and infections. Treats dry itchy and flaky skin.
Calcium – Provide anti aging skin benefits. Enhances skin cancer protection. Anti oxidant protection from UV damage. Maintains lipid barrier function. Boost cells renewal.
Potassium – Promotes healthy hydrated & moisturized skin.
Why Black Seed Oil is So Good for Skin
Now that we know the nutrients in black seed oil that promote beautiful glowing skin, let's see just a few of the properties of black seed oil that makes it so good for skin:
Antibacterial. One of the reasons why black seed is so good in treating acne is its potent antibacterial properties. Black seed oil contains not only antibacterial properties but also antiseptic, anti-fungal an antimicrobial properties that are known to kill all sorts of germs. It is also effective in fighting dandruff and skin and scalp infection.
Anti-inflammatory. The anti-inflammatory properties of black seed oil will help reduce inflammation, swelling and puffiness in the skin caused by acne, inflammatory skin conditions and other factors.
Anti Aging. Black seed oil is rich in powerful anti-oxidants that are the number one anti aging agents. Antioxidants are known to fight off free radicals that cause destroy the skin's cellular degradation by stealing oxygen from healthy skin cells, thereby causing them to become lifeless and withered. This eventually leads to the formation of fine lines, wrinkles and sagging skin.
 Nourishing & Healing – Black Seed Oil Benefits for Skin
Nigella sativa not only has millions of health benefits including warding off cancer and healing inflammation, but it also offers lots of beauty benefits for healthy radiant skin. Below, I've listed five amazing black seed oil benefits for skin:
1. Deep Cleanses Pores
Have you heard of the oil cleansing method of washing the face? Basically, it entails using oils to cleanse the skin without any harsh soaps & cleansers. Organic oils used in the oil cleansing method are known to drive out stale oils that have accumulated deep inside the pores and thereby cause acne, whiteheads and blackheads. To use black seed oil to cleanse your face, simply fill a 2 oz small mason halfway through with extra virgin olive oil. Add one teaspoon of black seed oil and 4 to 6 drops of tea tree essential oil. Mix well. Every time you're going to wash your face, massage a little of this mixture onto your face then dab a hot damp washcloth to allow the oils to penetrate deep. After 5 minutes, rinse your face and wipe/ pat dry with a clean towel.
2. Treats Acne
Due to its anti-bacterial and anti-inflammatory properties, black seed oil is excellent in helping keep the acne away. Its antibacterial properties fights off acne causing bacteria and disinfect acneic skin while the anti-inflammatory properties take away acne inflammation and reduce the swelling, making acne appear smaller. Soak a q-tip with black seed oil or simply add one drop on your clean fingertip and dab it onto your pimples.
3. Heals Eczema
A study conducted on the comparison between the effects of black seed oil and a steroid cream, Betamethasone, showed that both worked effectively in suppressing the symptoms of eczema (affecting the hands), except of course, conventional creams have a myriad of unwanted side effects. Why not use black seed oil and avoid any gruesome side effects? Another plus point is that black seed oil is all natural and contains anti-inflammatory properties that calm inflammation and redness associated with eczema & other inflammatory skin conditions.
4. Moisturizes & Softens Skin
Black seed oil is an excellent emollient which moisturizes dry, flaky and chapped skin. It softens and makes it look smooth and supple. In a small mason jar, mix 1-2 ounces of coconut oil with 2-4 teaspoons of organic black seed oil. Apply just a little of this on your dry areas to moisturize. Using this mixture as an overnight treatment is ideal.
5. Delays wrinkles & fine lines
Black seed oil has powerful antioxidant properties that ward off free radicals that damage skin cells by stealing oxygen molecules. This makes the skin cells dull and lifeless, thus forming wrinkles and fine lines. Although some people find it okay to use black seed oil 'neat' onto their skin without mixing it in another oil, people with sensitive skin should first mix it with a carrier oil before use.
6. Prevents skin cancer
Applying black seed oil on the skin is also proven to protect the skin from a certain form of skin cancer known as squamous cell carcinomas, which is majorly caused by prolonged UV exposure. This form of skin cancer affects the skin's top most layer and can spread to the surrounding cells and tissue. Black seed extract has been shown to contain an anti-cancer substance, Thymoquinone, that inhibits cell proliferation and induces apoptosis in squamous cell carcinoma. Make your own black seed facial/body oil by mixing 1 tbsp of black seed oil in 1/4 cup of jojoba oil. Add 10 drops of frankincense essential oil for its anti-cancer properties.
Where to Buy Black Seed Oil
Make sure to purchase 100% pure black seed oil! Avoid oils that contain fillers and other substances. I recommend buying Amazing Herbs 100% Pure Cold-Pressed Black (Cumin) Seed Oil!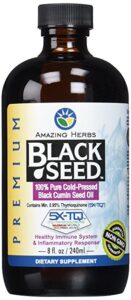 Take Care: Be careful not to get black seed oil into your eyes. Flush immediately with water if it happens.Please do not use/ingest black seed oil if you are allergic to it. Pregnant women and lactating mothers should avoid black seed and black seed oil. If you have any health queries please first consult your health care practitioner before using black seed oil on your skin/hair/general body.