Find out 10 stunning beauty benefits of black seed oil for skin, hair and more in this post!
Black seed oil is got from black seeds (black cumin) also known as Habbatul Baraka (Blessed seed) in Arabic and Love in the Mist in English. It has been praised by the prophet Muhammad (pbuh) as a cure-all for any ailment except death. Since 1959, over 200 studies and 500 research papers show the amazing benefits of black seed from curing migraines to diabetes and bronchial problems. However, in this article, we shall concentrate on the beauty benefits of black seed oil for gorgeous skin, hair and teeth!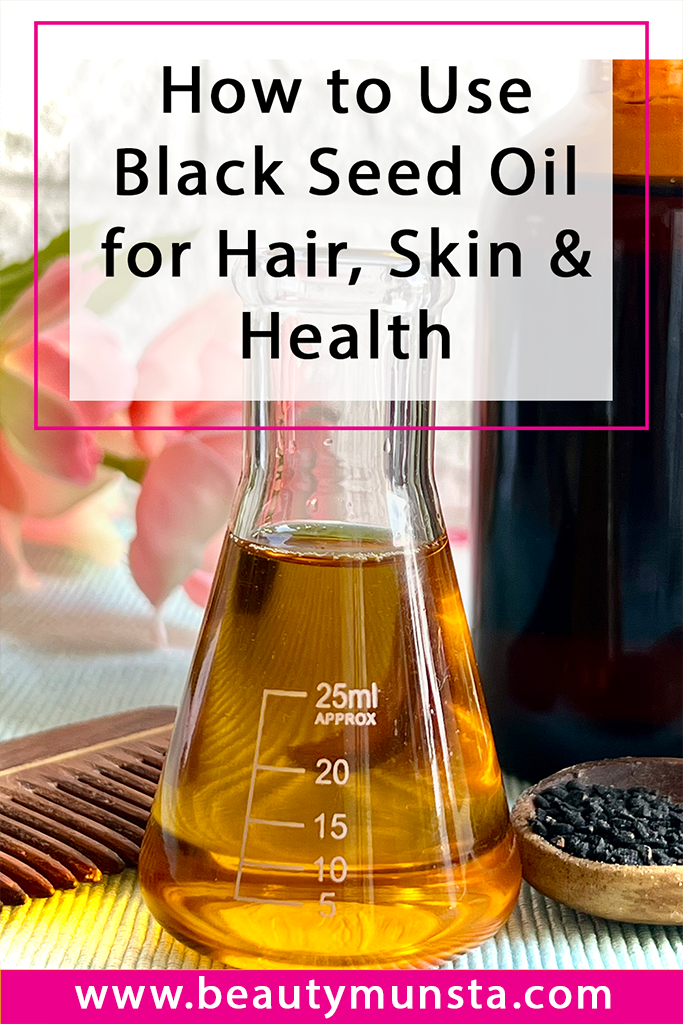 10 Stunning Beauty Benefits of Black Seed Oil
Here's a list of 10 stunning beauty benefits of black seed oil:
1. Promotes re-growth of bald patches

Many people claim to have re- grown bald patches and fixed hair loss issues using black seed oil! It contains as many as 100 valuable nutrients including calcium, protein, potassium, zinc, vitamins and essential fatty acids that will boost hair growth. Black seed oil is all natural so it doesn't hurt to try!
2. Conditions, softens hair
Use black seed oil to soften and condition all hair types including frizzy wild curls. Black seed all nourishes the hair strands by penetrating deep into hair cells, thereby softening them and making them more manageable. For softer locks, apply 1 to 2 teaspoons of black seed oil to your freshly-washed hair strands and leave it on for about 15 to 30 minutes. Rinse off with plain water and dry thoroughly.
3. Fights off and gets rid of acne
The anti-inflammatory properties of black seed oil reduce the appearance of acne and pimples by getting rid of the redness caused by acne inflammation. Since black seed oil was used in ancient times in treatment of skin irritations, it soothes itching and irritation of acne. Mix 1 drop of black seed oil in 1 teaspoon of yogurt and apply it on your face as a anti-acne face mask!
4. Moisturizes and soften dry skin
Oils are very important for lubricating and protecting the skin's outer layer from irritants and oxidation. Black seed oil is rich in plant acids, fatty acids and amino acids that help maintain the skin's lipid barrier and prevent drying of skin. Place one teaspoon of black seed oil in 1 cup of coconut oil and use this as a massage oil all over your body once a week to keep your skin smooth as a baby's! Remember to focus more on the elbows, knees and heels as these are some of the rough areas of our skin.
5. Protects skin from wrinkles and premature aging
Rich in anti-oxidants, black seed oil is a perfect ingredient to fight off free radicals that notoriously damage skin and hair cells through oxidation. Black seed oil contains a key component, known as thymoquinone which is rich in powerful antioxidants. It has anti-inflammatory and anti-oxidative properties that protects skin cells from free radical damage.
6. Treats skin diseases such as rashes and eczema
Black seed oil contains natural antihistamine properties which helps reduce the negative symptoms of allergy sufferers. Its anti-inflammatory properties helps calm rashes and inflammation. To soothe eczema and other skin conditions, mix 1 teaspoon of black seed oil with 1 tablespoon of olive oil and 1 tablespoon of honey. Apply this onto the affected areas and leave it to sink for 30 minutes before taking a warm bath.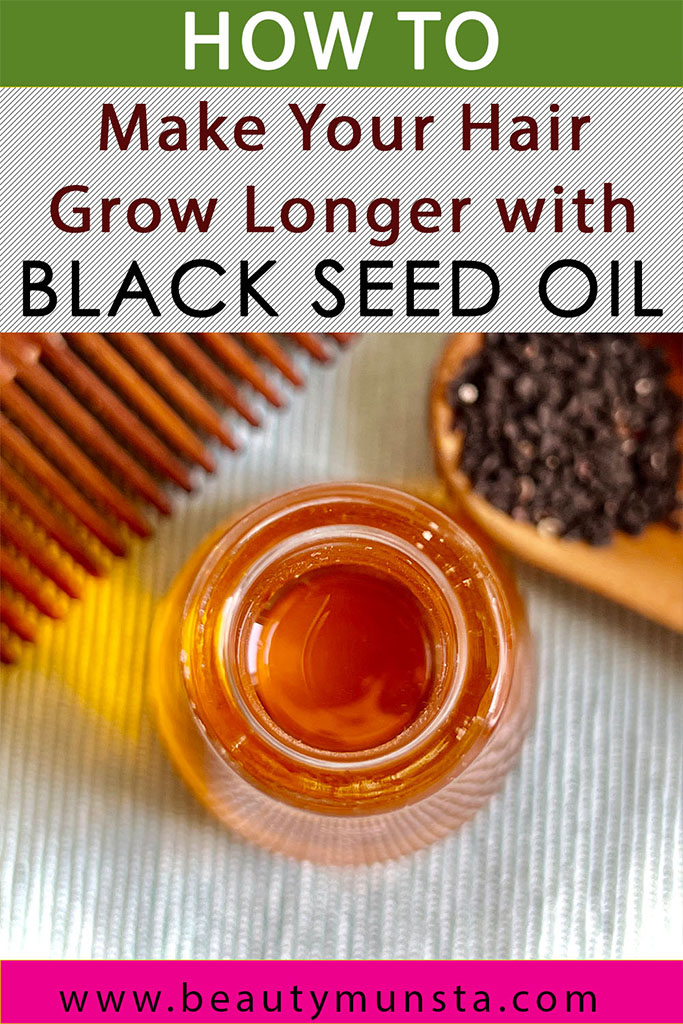 7. Stimulates hair growth
The number one reason I started using black seed oil was for my hair – to strengthen, prevent hair fall and stimulate hair growth! Black seed has been prescribed since ancient times for improving the quality, thickness and growth rate of hair strands. It is loaded with amino acids, meaning it is rich in protein that is necessary for hair growth. Heat 2 tablespoons of black seed oil until it is warm but not hot to touch. Massage this onto your scalp and smooth some over your hair strands. Leave it on for 15 minutes before rinsing thoroughly with warm water.
8. Seals off split ends
Black seed oil, which contains lots of fatty acids and amino acids, create a protective layer over hair strands, thereby helping prevent and seal off split ends. Before bed, massage just half a teaspoon of black seed oil onto your hair length, concentrating mostly at the ends where the most damage occurs. You can choose to rinse off in the morning or leave it on your next wash.
9. Promotes strong teeth and healthy gums
Mix a little black seed oil with coconut/ sesame oil and use it for oil pulling to promote healthy teeth and gums. Oil pulling helps pull out toxins from the body thereby curing numerous health ailments including constipation, allergies, stiff joints, blood and heart disease. Black seed oil helps get rid of yellow tooth stains, kill mouth bacteria and freshen up bad breath. I normally use 1/4 teaspoon of black seed oil mixed with 1 teaspoon of sesame oil and 5 drops of clove essential oil to maintain a healthy mouth!
10. Thickens eye lashes and eyebrows
Black seed oil has been hailed as a potent hair growth oil. It stimulates hair follicles, thereby promoting hair growth. For thick eyelashes and eyebrows, use your index finger to dab a drop of black seed oil onto your eyebrows and eye lashes before bed. This sinks deep into the follicles and give you luscious thick lashes! Note: Don't put a lot as it can seep into your eyes and burn.
Where to Buy Black Seed Oil
Don't know where to look for black cumin seed oil or which brand to get? Try this 8 oz bottle from Amazing Herbs.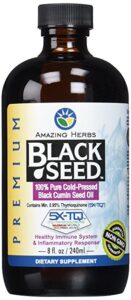 Take Care
Be careful not to get black seed oil into your eyes. Flush immediately with water if it happens. Please do not use/ingest black seed oil if you are allergic to it.
Read Next: