Do you love munching on almonds? Then you'll be more than happy to read these 10 beauty benefits of almonds for your skin, hair & more!
Almonds are one of the healthiest tree nuts! They are nutrient-rich, filled with vitamins, minerals and essential fatty acids. These nutrients boast a long list of health benefits including promoting heart health, fighting off diabetes, minimizing the risk of Alzheimer's and much more!
But did you know that almonds also have brilliant beauty benefits?! They are rich in certain nutrients including Vitamin E, calcium, potassium, fiber and healthy unsaturated fats that boost natural beauty!
Without further ado, let's explore 10 beauty benefits of almonds for skin, hair & more!
10 Beauty Benefits of Almonds for Skin, Hair & More
Below are 10 brilliant beauty benefits of almonds for your skin, hair & more!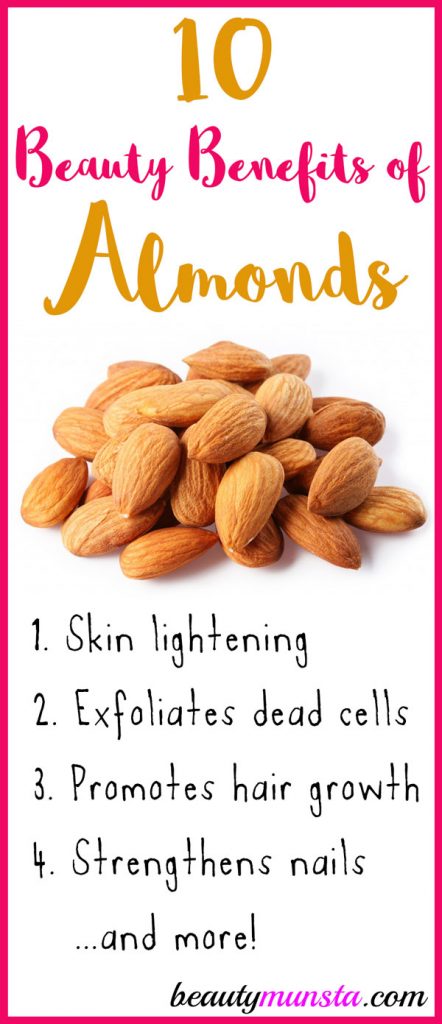 1. Skin Lightening
Among the top beauty benefits of almonds is that it naturally bleaches skin with its skin lightening properties. Use almond powder or almond flour as a facial mask to get its skin lightening benefits! Here's a simple but effective skin lightening face mask you can do:
Natural Skin Bleach: Into a small bowl, add 2 tsp almond powder, 1 tsp yogurt, ½ tsp fresh lemon juice and ½ tsp raw honey. Mix well and apply onto your face, avoiding the eyes. After 10 minutes, gently rinse the mask off with warm water, then splash your face with cold water. Pat dry and admire how brighter and lighter your skin looks! Don't forget to tone (if you do) and moisturize your face afterwards!
2. Natural Face Cleanser
Using almond powder to cleanse your skin is a way to reduce the amount of toxic chemicals you use in your daily life.
Almond Cleanser: Store ¼ cup of almond powder in an air tight jar in your bathroom cabinet. Enhance it by mixing in 4 drops of lavender essential oil. To use, place about 1 tsp of the powder on your palms, mix with a little water to form a milky paste then rub it all over your face, keeping your eyes shut tight. Rinse off well with tepid water. Pat dry with a towel then tone and moisturize your face as usual.
3. Skin Exfoliator
Almond powder has a slight abrasive texture that acts as a wonderful exfoliator for your skin. It's gentle in nature but at the same time, really sloughs off dirt, dead cells, flaky skin and grime from your face! Mix a little almond powder with honey then scrub it on your face to exfoliate!
4. Boost Hair Growth
Trying to grow your hair out longer and thicker? You must include almonds to your diet! Almonds are among the top foods to eat for longer hair! The reason for this is their rich nutrient content. They contain high amounts of Vitamin E & protein that foster growth of new hairs.
Soak about 10-15 almonds overnight then munch on them as a healthy snack to boost your hair growth by miles!
5. Strengthen Nails
Are your nails weak and soft? Eating almonds will strengthen them up! The vitamin E content in almonds is very high and it's responsible for strengthening & moisturizing nails – even promoting nail growth!
5. Protects Skin from Sun Damage
Almonds are rich in antioxidants. This makes them good foods for protecting the skin from free radicals in the sun's UV rays that damage skin. Munch on almonds regularly or use almond oil on your skin to protect it from sun damage.
6. Has Anti-Aging Properties
Smooth supple skin? Yeah baby! It's possible when you're an avid almond eater! As mentioned above, almonds are super loaded with Vitamin E that leaves your skin looking youthful, wrinkle-free, supple and healthy!
7. Aids in Weight Loss
Beauty also means having a fit and healthy body! If you're looking to lose excess weight, then think of adding almonds to your diet! You can use almond flour instead of regular all purpose flour. Also, snack on almonds as a healthy snack alternative to curb cravings!
8. Helps Decrease Acne
Almonds are super rich in fiber which has a lot of benefits for people with acne! Fiber helps bulk up wastes in the colon, enabling them to easily be transported out of the body without any problems. The wastes take toxins and harmful substances with them. If these toxins are not purged in a timely and efficient manner, they get out of the body through acne and breakouts. So eating almonds helps reduce acne from the inside-out!
9. Promotes Healthy Moisturized Skin
Your skin's top layer, also known as the epidermis contains high levels of Vitamin E, did you know?! It protects skin cells' outer membranes which keeps them strong and healthy. Strong membranes are able to seal moisture deep into the skin which keeps your skin healthy and moisturized. So to keep your Vitamin E levels balances, consume almonds in plenty and use almond oil as a skin moisturizer!
10. Reduces Skin Inflammation
Almonds have anti-inflammatory properties that reduce skin inflammation and redness. If you're suffering from an inflammatory skin condition like eczema, psoriasis or rosacea, it's time to toss almonds into your daily diet to see improvement in your skin!

It's time to enjoy the above 10 beauty benefits of almonds by incorporating them into your diet! Don't forget to also use them topically for beautiful skin from the outside!