When you know about the beauty benefits of acai berry, it just makes this super-fruit a whole lot yummier!
What is Acai Berry ?
Acai berry is a pricey super-fruit that took the masses by storm when popular celebrities started talking about it.
It's a small purplish-red super-fruit that originates from South America. It's really special because it boasts a unique composition of phytonutrients, antioxidants, aminos, omega acids, electrolytes, vitamins and trace minerals!
There's no other fruit quite like acai berry!
Though best known for weight loss, acai berry is equally powerful at boosting the health and immune system, reducing inflammation, boosting energy levels, protecting cells from damage and more! By reducing oxidative stress in the bloodstream, acai berry helps keep all the organs, including the skin, healthy and youthful!
Acai's amazing anti-oxidant properties make it extraordinary for improving the beauty of your hair, skin, nails and total body!
Beauty Benefits of Acai Berry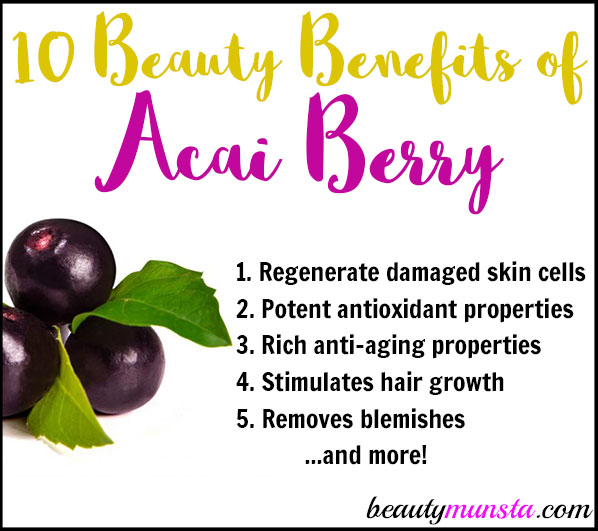 These are just a few of the beauty benefits of acai berry:
Regenerate and heal damaged skin cells
Restores moisture in the skin and hair
Softens the skin
Potent antioxidant properties
Rich anti-aging properties
Promotes youthful supple skin
Reduces fine lines and wrinkles
Helps promote blood circulation in the skin
Reduces scars and helps break down scar tissue
Removes blemishes and dark spots
Treats acne, pimples and infected pores
Stimulates hair growth by healing damaged hair follicles
Heals sun damaged skin
Gentle exfoliant when applied on skin
How to Use Acai Berry for Beauty
Here are the best ways to use acai berry to enhance your beauty and youth:
1. Eat Acai!:
Beauty starts from the inside out! The best way to enjoy the beauty benefits of acai berry is by eating it. If you have access to the fresh berries, you're lucky! Good thing acai berry is available in powder form all around the world so you can consume it by blending it in your smoothies or mixing it in warm water to make acai berry tea
2. Acai Berry Face Mask:
The next best way to enjoy the beauty benefits of acai berry is to apply it on your skin, especially in the form of a face mask! A great acai face mask to try is by mixing 1 teaspoon of acai berry powder with 1 teaspoon of greek yogurt. Apply the thick paste on your skin for 10 minutes and wash off with warm water! Repeat twice a week as a maintenance treatment to refresh your face!
3. Acai Berry for Your Hair:
After a shower, rinse your hair with an antioxidant-rich, healing and repairing acai berry rinse. To make this, simply steep 1 tablespoon of acai berry powder in 2 cups of purified water overnight. Strain and gently rinse your washed hair with this overnight acai tea. You'll notice shinier, healthier hair and you can do this rinse as maintenance once a month.
Where to Get Acai Berry Powder

You can buy this high quality and organic 4 oz freeze-dried acai berry powder from Feel Good Organics.
.
You can also buy Acai Berry Powder Capsules – 600mg, 60 capsules from Best Naturals.