Get to know 14 beauty benefits of ylang ylang essential oil for your whole body!
Ylang ylang oil is DIVINE! I love using it as a natural perfume for my hair and body. It has highly fragrant fun floral scent which is said to calm frayed nerves. Its name means 'flower of flowers.'
I've been using ylang ylang essential oil for quite some time now for beauty purposes so I thought a beauty profile on this lovely essential oil was in order! Some of the ways I use it is by adding a few drops to my homemade shampoo, hair mask, DIY deodorant and hair perfume oil.
Before we delve into 14 beauty benefits of ylang ylang essential oil, let's first check out its essential oil profile!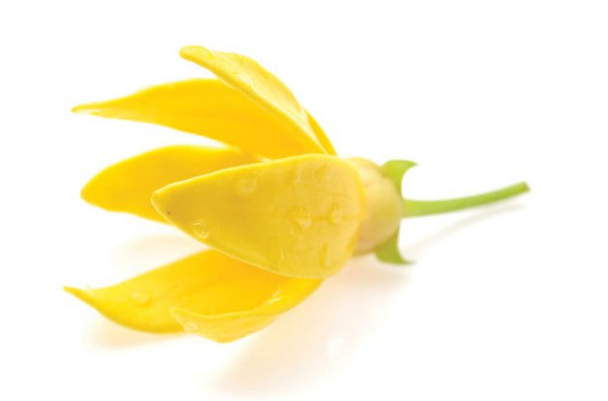 Ylang Ylang Essential Oil Profile
♥ Pronunciation:
EE-lang EE-lang
♥ Scientific Name:
Cananga odorata
♥ Other Names:
Ylang ylang oil is also known Cananga oil, true ylang ylang essential oil and ylang ylang complete essential oil
♥ Origin:
Ylang ylang is native to Polynesia, Indonesia and the Philippines. It is cultivated in Java, Sumatra, Reunion, Madagascar and the Comores
♥ Color and Smell:
It is slightly yellow in color and has a highly fragrant, intensely sweet floral scent
♥ Texture:
It has a thin to medium consistency
♥ Shelf Life:
4 years
♥ Potential for Irritation:
Low
♥ Precautions & Tips
Always dilute ylang ylang essential oil before application. Use a carrier oil for dilution. The dilution rate is 2 drops of ylang ylang oil in 1 tsp of carrier oil like olive oil, coconut oil, etc. For more info, read How to Dilute Essential Oils
Never drop ylang ylang oil into your eyes, ears or mucous membranes.
Do not ingest.
Keep away from children and pets.
Do a skin patch test using 1 drop of ylang ylang oil in ½ tsp of carrier oil in your inner wrist. If you notice any irritation, do not use the essential oil.
Avoid during pregnancy.
People with high blood pressure should avoid ylang ylang oil.
If having any severe or chronic health problems, consult a doctor before using ylang ylang oil.
Properties of Ylang Ylang Essential Oil
Some of the therapeutic properties of ylang ylang essential oil include:
Antidepressant, antiseborrhoeic, antiseptic, aphrodisiac, hypotensive, nervine and sedative.
14 Beauty Benefits of Ylang Ylang Essential Oil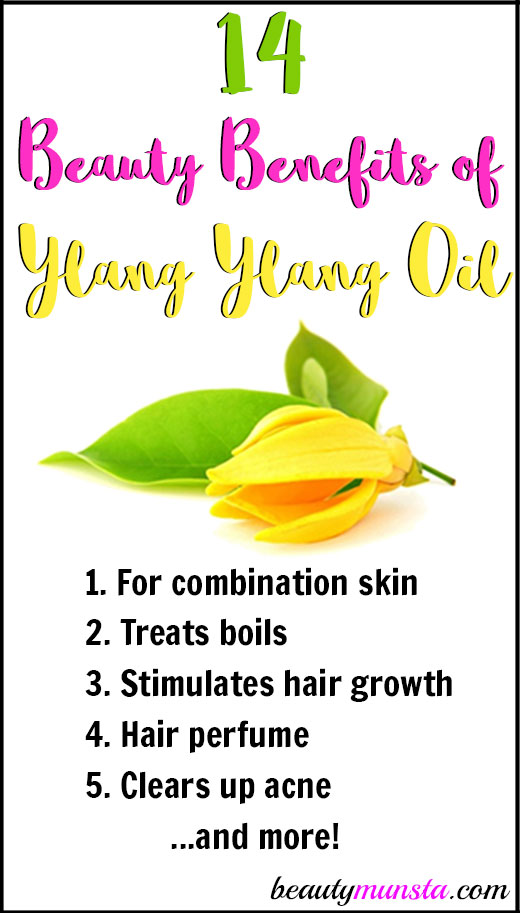 1. Balances Skin Sebum
One of the best beauty benefits of ylang ylang essential oil is its sebum balancing properties. Sebum refers to the natural oils produced by our skin. Ylang ylang oil has a balancing effect that helps correct overly oily as well as very dry skin types.
2. Promotes Hair Growth
Did you know that ylang ylang essential oil promotes hair growth? Yes it does! It not only stimulates the hair follicles but also boosts blood circulation to the scalp, kills germs that lead to hair loss and also reduces scalp inflammation that causes hair to fall off. Below is a lovely hair growth blend from TheMiracleofEssentialOils article, How to Use Ylang Ylang Oil for Hair Loss
Floral Hair Growth Blend: In an amber dropper bottle or clean container, pour in ½ cup of liquid coconut oil. Now drip in 10 drops each of ylang ylang, rosemary and lavender essential oils. Screw on the bottle's cap and shake well to combine. Give your head and good massage with this blend to stimulate hair growth 1-2 hours before showering.
3. Makes Hair Silky & Shiny
Want silky, shiny and conditioned locks of hair? Use ylang ylang oil! I like adding 2 drops of ylang ylang oil to my hair brush then brushing my hair. It not only leave it looking shiny but also gives it an intoxicating scent! You can also make a hair oil by combining 15 drops of ylang ylang oil in ½ cup of sweet almond oil. Apply 3 drops on your hair length to make it silky and shiny.
4. Has Anti-Aging Effects
You can't miss out on the anti-aging effects of ylang ylang oil! It has antioxidant properties that fight off free radicals which are responsible for premature aging, fine lines & wrinkles.You can make a nice face cream to fade fine lines using just 3 essential oils: ylang ylang, geranium & rose!
Anti-Aging Facial Cream: Into a Magic Bullet blender, add ½ cup of shea butter. Now add 2 tbsp of rose water and 1 tsp of vegetable glycerin. Blend till you get a white cream. Transfer the cream into an amber glass jar then add 5 drops of ylang ylang essential oil, 5 drops lavender essential oil and 3 drops geranium essential oil. Mix well with a disposable chopstick. Your face cream is ready! Use a pea-sized amount on your face. This cream can last for 6 – 12 months, provided you keep it away from contamination, sunlight and water.
5. Alleviate Skin Irritations
The anti-inflammatory properties of ylang ylang essential oil make it good for treating inflamed skin. You can dilute it with a carrier oil and apply it to irritated skin, bug bites, skin rashes and even dry itchy eczema patches.
6. Has Antiseptic Properties
There are a number of essential oils with antiseptic properties and ylang ylang oil is one of them! It can be used to treat acne, ingrown hairs, rashes, boils and disinfect wounds. To make an antiseptic blend, mix 2 drops of ylang ylang oil and 2 drops tea tree oil in 2 tsp of witch hazel then apply to the affected i.
7. Clears Up Acne
Yes! You can also use ylang ylang essential oil to clear up acne! It's sebum regulating properties help reduce excess sebum production which is common in oily skin. Meanwhile, its antiseptic properties help disinfect ad speed up healing of acne wounds.
8. Treats Boils
Do you get boils often? Your ingrown hairs might also get infected and bring out a boil! If you have ylang ylang essential oil around, you won't have to worry! It has antiseptic properties that are good for disinfecting skin.
Boil Treatment: Simply get a bowl and add ½ cup of warm water, 2 tbsp sea salt, 4 drops tea tree oil and 4 drops ylang ylang oil. Mix everything together. Soak and wring out a washcloth in the bowl and press it on your boil. Repeat until the water becomes cold then discard.
9. Good for Combination Skin
Ylang ylang oil is great for combination skin because it has sebum regulating properties. You can add 7 drops to your 8 oz face wash bottle to benefit from its skin balancing properties!
10. Natural Aphrodisiac
Ylang ylang flowers were strewn on the beds of newly weds in Indonesia to create a romantic atmosphere. That's because ylang ylang is a natural aphrodisiac! You can use it in a roll on perfume to spark desire!
Spark Desire Roll On Perfume: In a small glass bowl, add 15 drops of ylang ylang oil and 5 drops sweet orange essential oil. Mix them together with a toothpick. Now add 2 tsp of grapeseed oil and stir again. Collect this blend using a syringe and transfer to a 10 ml roller bottle. Roll onto your collar bones, back of neck, hair ends, wrists and other pulse points.
11. Hair Perfume
As I mentioned earlier, I love using ylang ylang oil as a hair perfume! It has a long lasting and intense fragrance that remains on your body for long. To make a hair perfume, follow the instructions below:
Hair Perfume Spray: Get a 2 oz spray bottle and add 7-10 drops of ylang ylang oil, 2 tsp aloe vera gel and 1.5 oz distilled water. Shake the bottle well and spray on your hair to scent it up!
12. Luxurious Bath Oil
Ylang ylang oil has an intense fragrance that lasts long. It's good to use as a luxurious bath oil! You only need to add just a few drops to achieve a nice scent that will linger on your skin. Don't forget it's a natural aphrodisiac so it can be used as a sensual and romantic bath oil.
Luxurious Bath Oil: Mix up 7 drops of ylang ylang oil in 1 tbsp of coconut oil. Stir this mixture into a warm bath and soak in for as long as you want!
13. Calming Massage Oil
Did you know that in aroma therapy, ylang ylang oil is praised for its calming properties? It's good for soothing the mind, fighting depression, alleviating tension, anxiety & fear. It also has a euphoric and sedative effect on the nervous system. Make a calming massage oil with it as follows:
Calming Massage Oil: Add a little less than ½ cup of liquid coconut oil in a 4 oz amber glass bottle. Now carefully drip in 15 drops of ylang ylang oil. Screw on the cap tightly and shake well. Use it to massage your hands, feet, scalp or back. You can do self massage or get a partner to massage you.
14. DIY Deodorant

Ylang ylang's antiseptic properties plus long lasting fragrance make it a good addition to your DIY deodorant! I'm currently use a deodorant I made with ylang ylang essential oil. Here's the recipe: DIY Deodorant without Coconut Oil
Where to Buy Ylang Ylang Essential Oil
Always look for 100% pure high quality ylang ylang essential oil without additives. Do not buy fragrance oils or oils with synthetic ingredients added to them. My recommended ylang ylang essential oil is from Plant Therapy. You can buy it here

References