Find out what's in store when you apply your DIY acai berry face mask onto your skin!
Acai berry is extremely amazing for your skin! This unique superfood originates from South America and is available all over the world today in the form of acai berry powder. The berry is a small, deep-red to purple-colored fruit that grows on the acai palm tree.
These berries are a powerhouse of nutrients, including antioxidants, aminos, essential fatty acids, vitamins and minerals.
Now imagine applying all this goodness on your face!
Can You Use Acai Berry on Your Skin?
Yes! You can absolutely apply acai berry on your skin, including your face. In fact, acai berry could be one of the most potent natural ingredients that you can apply as a face mask.
Now, remember everyone is different, so while acai berry is generally not known to be allergenic, I recommend you do a patch test before using it on your skin.
To do a patch test, all you need to do is make a thick paste of the acai berry powder along with pure water and apply it onto your inner wrist or inner elbow. Leave it on for up to 12 -24 hours and observe to see if you have any negative reactions. Negative reactions include itching, redness, rashes, burning sensation and swelling.
If you have no negative reactions, then you're good to go! You can apply acai berry on your face with amazing results.
Benefits of Acai Berry for Skin
Here are some of the benefits of acai berry for skin:
Fights wrinkles and fine lines
Promotes youthful and supple skin
Reduces swelling and puffiness of the face
Soothes irritated and reddened skin
Combats acne and pimples
Gently exfoliates the skin
Makes skin soft and smooth
Brightens the skin
Hydrates the skin
How to Make Your Own Acai Face Mask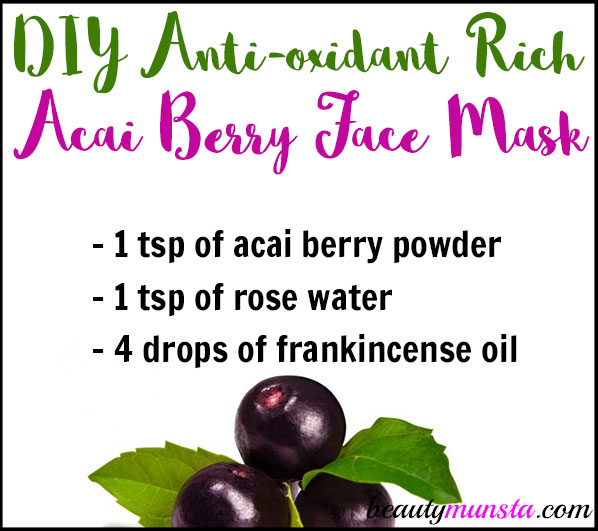 I must say I was surprised at how expensive the commercial acai berry face masks are! In my opinion they are really not worth the money. Buying freeze-dried acai berry powder is much more sensible. This way you can eat it for its numerous health benefits, while also being able to apply it on your face!
Now let's find out how to make this simple acai berry face mask at home!
Ingredients:
Directions:
In a small, clean bowl, pour in all your ingredients.
Mix thoroughly.
Now wash your face with your cleanser or whichever gentle soap you use. Pat dry.
This step is optional, but highly recommended. Do some facial steaming to open up your pores.
Time for application! Use your clean finger tips to evenly apply the face mask all over your face.
Leave the mask on your face for about 10 – 15 minutes.
Now wash off with a small cotton cloth. No need to use cleanser/soap at this point.
Pat dry and apply your moisturizer, as usual.
Have you tried an acai berry face mask before? Your face must have been glowing!