Goji berries are pretty little red fruits that are mostly sold in dried form. They're highly touted as an incredible superfood. Let's check out how to make a DIY goji berry face mask in this post!
Benefits of Goji Berries for Skin
Did you know that gojiberries contain more beta carotene than carrots and have more vitamin C than any other fruit?! Yup, this superfood is not called a superfood for jokes. It's very nutrient-dense. It also contains powerful antioxidants and vitamins like vitamin B1, B2, B6, C and E. Not to mention, these super berries also contain a variety of over 18 amino acids, protein that is essential for elastic and youthful skin.
Here are the benefits of goji berries for skin, summed up:
Promote ageless skin
Improve skin tone
Give skin a healthy glow
Antibacterial properties
Lighten blemishes
Offer sun protection
And more!
Read my post on 10 Beauty Benefits of Goji Berries for more information! Let's check out how to make a DIY goji berry mask below:
DIY Goji Berry Face Mask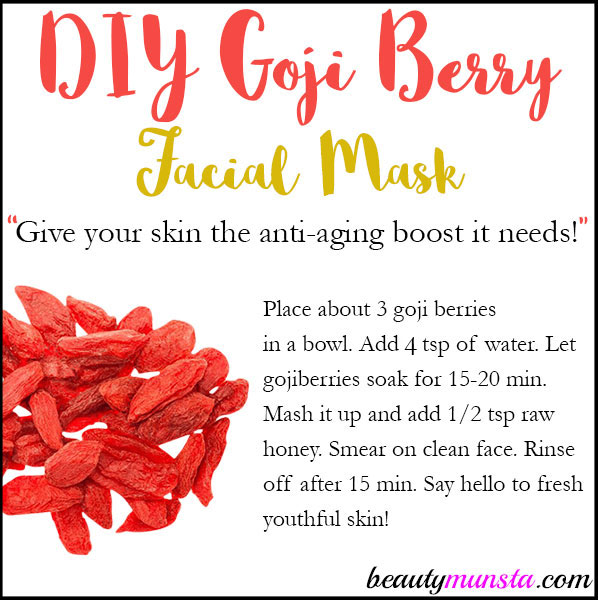 What you Need
Directions
The first thing to do is to soak your goji berries in enough water so that they soften up and can be mashed to a pulp.
Soak 3 goji berries in about 4 tsp of water for like 15 minutes.
Once the time is up, mash up the goji berries to a pulp using clean fingers.
Now add ½ tsp raw honey, mix up then smear the mask on your clean face and neck.
Let it penetrate for 15 minutes then rinse off, pat dry and moisturize.
Say hello to fresh youthful skin!
Do this anytime your skin needs an anti-aging boost! It can be once or twice a week.
Hope you love this DIY goji berry face mask as much as I do! Ta-ta!