A beautiful orange colored oil, sea buckthorn is extremely nourishing and revitalizing to the skin. Find out 10 skin benefits of sea buckthorn oil for healthy skin in this post.
The oil of sea buckthorn is extracted from the fleshy fruit or seeds of sea buckthorn berries. It's a carrier oil not an essential oil which some people mistake it for.
It comprises as many as 200 nutrients which make it incredibly nourishing to skin cells. Take a look at some of the nutrients found in sea buckthorn oil:
Vitamin E
Linoleic acid
Lycopene
Beta carotene
Palmitic acid
All the above are very good ingredients for skin care. Vitamin E is known to moisturize skin at a whole new level, reduce discoloration and fade blemishes as well as fight aging.
The fatty acids lock moisture into skin, nourish skin cells and form a protective barrier over them. Beta carotene gives skin a beautiful golden glow.
Where to Find Sea Buckthorn Oil
When it comes to skin care products, it is essential to purchase only the highest quality since the skin readily absorbs whatever is put on it. Buy 100% pure high quality certified organic sea buck thorn oil here.

10 Skin Benefits of Sea Buckthorn Oil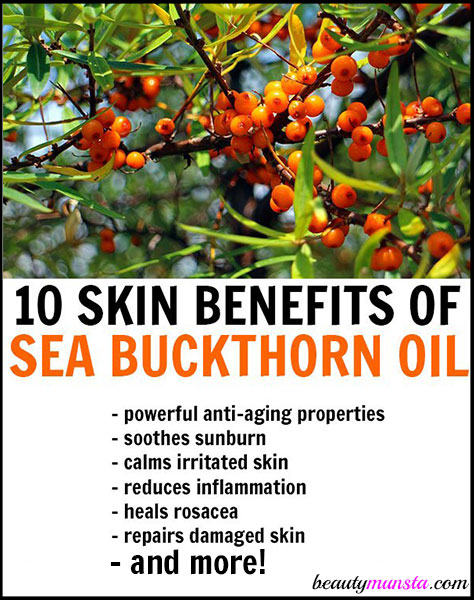 1. Calms Irritated Skin
Sea buck thorn oil is gentle and soothing to irritated skin. It nourishes and protects skin that is sensitive and easily prone to irritation. You can use it on bug bites, skin rashes, itchy patches and bumpy skin.
2. Repairs Damaged Skin
This orange oil feeds skin with nutrients and plumps it up with moisture that helps repair damaged skin cells.
3. Moisturizes Dry Skin
Since it has a thick consistency, sea buckthorn oil lubricates skin and protects it from harsh winds and cold temperatures that make skin dry and flaky.
4. Soothes Sunburn
Sunburns are a big skin inflammation on a wide area of the body. To speed up healing of the damaged and sensitive skin, sea buckthorn oil can be used. Combine ¼ cup of pure aloe vera gel with 5 drops of sea buckthorn oil. Spread it gently over your sunburn to soothe and heal.
5. Heals Rosacea
Rosacea is also caused by skin inflammation and is characterized by red, hot and irritated skin. Since many skin products irritate rosacea skin, a natural holistic skin care treatment would work wonders in managing it. Sea buck thorn oil is a star ingredient for rosacea sufferers.
Make your own facial cooling treatment by combining ½ cup of aloe vera gel, 2 tbsp sea buckthorn berry oil, 2 tbsp organic rose water, 3 drops lavender oil and 2 drops german chamomile oil in a Pyrex measuring cup. Now pour this mixture into an amber plastic disc top bottle. Store in the refrigerator. Apply a little on your face as a cooling moisturizer.
6. Powerful Anti-Aging Properties
With its high vitamin E and nourishing nutrient content, sea buckthorn oil is good for preventing premature aging. It will delay sagging skin and smooth out existing fine lines and wrinkles!
7. Good for Eczema & Psoriasis
Reduce inflammation and dry itchy eczema and psoriasis patches by using sea buckthorn oil topically. You can also consume sea buckthorn supplements to get your eczema under control. Note: First consult your doctor before taking any supplements.
8. Nourishes Skin
Sea buckthorn oil is a good skin nourisher which promotes healthy and glowing skin. Make a skin nourishing serum by mixing up 1 tbsp witch hazel, 5 drops sea buckthorn oil, 3 drops of geranium oil and 1 tbsp organic lavender hydrosol. Pour it into a 2 oz amber glass dropper bottle. Use just 1 – 3 drops all over your face before bed.
9. Fades Acne Scars & Blemishes
Fade away your acne scars, dark marks, spots and blemishes using sea buckthorn oil! You can mix up 3 drops of sea buckthorn oil in 1 tsp of rosehip oil and massage it on your scars or use it as a spot treatment to lighten blemishes.
10. Gives Skin a Golden Glow
Because of its high beta carotene content, sea buck thorn oil has a bright orange color that can stain skin a beautiful color.
Make your own body tanning oil by combining ½ cup liquid coconut oil, 7 drops sea buckthorn oil and 5 drops of carrot seed oil in a 4 oz amber glass dropper bottle. Apply a few drops all over exposed skin to tan it wonderfully.
Caution
Don't use more than the recommended amount of sea buckthorn oil or it'll stain your skin orangish.
Consult your doctor before taking sea buckthorn oil capsules.
Always do a patch test with new skin care products on your inner elbow to make sure you aren't allergic. Mix up 1 drop of sea buckthorn oil in 1 tsp coconut oil and apply on your inner elbow. Check for any negative skin reactions within 1 – 2 hours. If there's nothing, then yay! Go ahead and use sea buckthorn oil on your body.