Sea buckthorn oil is a beautiful orange colored oil, popular for its skin healing effects! In this post, I'm sharing with you 3 amazing sea buckthorn oil recipes for skin!
Sea buckthorn oil is extracted from sea buckthorn berries, which grow on thorny shrubs. The sea buckthorn berry shrub is native to Europe and Asia. The plant has long been used for its medicinal benefits. Ancient Greek texts and Tibetan medicinal texts speak of herbal remedies concocted with these vibrant orange berries as treatments for various skin ailments.
This orange oil is super nutritious! Filled to the brim with vitamin C, beta carotene, vitamin E and other plant compounds, it's no wonder sea buckthorn oil is so good for skin!
Here are some of the benefits of sea buckthorn oil for skin:
Alleviates dry skin
Soothes sun damaged skin
Reduces skin inflammation associated with rosacea, eczema, psoriasis and more inflammatory conditions
Boosts collagen and reduces the formation of fine lines and wrinkles
Helps balance the skin's natural sebum production
For more benefits, please read my post 10 Benefits of Sea Buckthorn Oil for Skin
Where to Buy Sea Buckthorn Oil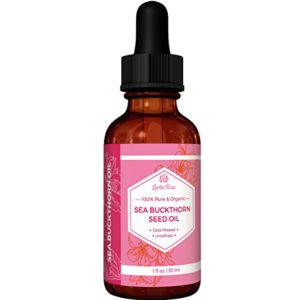 Before we look at 3 sea buckthorn recipes for skin, I'd like to first clarify which kind of sea buckthorn oil you should use. I've also provided a trusted brand you can try out. Make sure to get 100% pure sea buckthorn oil without any additives. My recommended brand is Leven Rose's 100% Pure and Organic Sea Buckthorn Oil. You can purchase it from here. Remember to also do a patch test before using!
3 Spectacular Sea Buckthorn Oil Recipes for Skin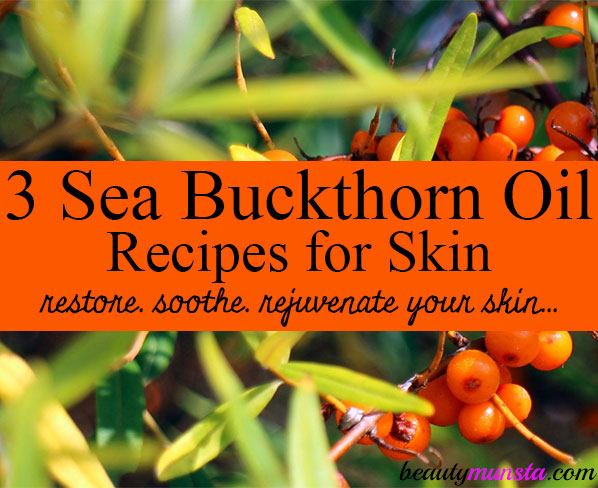 1. Anti-Aging Sea Buckthorn Serum
What you need
Directions
Carefully add the rosehip oil and jojoba oil into the bottle using a small funnel.
Now add the sea buckthorn oil and essential oils, if using.
Close the cap and shake the bottle gently to mix the oils up.
Massage a few drops onto your face and neck, using an upward motion. Do this at night time as this is when the skin repairs itself.
2. Soothing Sea Buckthorn Blend for Damaged Skin, Sunburn & Inflammation
You can use the below recipe for any kind of inflammation on your skin. Whether it's due to inflammatory skin conditions like eczema, rosacea and psoriasis or sun damaged skin and burns.
What you need
Directions
Put all the ingredients into your blender.
Blend for a few seconds until everything is well combined.
Transfer the blend into a sterilized storage container and store in the refrigerator.
Use a suitable amount on the affected area to soothe, cool and heal.
3. Night Time Acne Treatment and Prevention Blend
Sea buckthorn oil does a good job in treating acne and preventing further breakouts. The blend below contains argan oil, which has a comedogenic rating (pore clogging rate) of zero. This makes it a suitable oil for acne prone skin.
What you need
Directions
Add all ingredients into the glass dropper bottle with the help of a small funnel.
Gently shake the bottle to mix everything up.
Apply just a few drops (like 3) all over your face at night time before bed.

I hope you enjoyed these recipes and plan to use any of them soon! Come back and share your results! And don't forget to share these recipes with friends and family! Everyone deserves to benefit from the wonders of sea buckthorn oil for skin!