There are so many beauty benefits of juniper essential oil that can be put to use for both men and women.
Juniper essential oil is one of the renowned essential oils available for our use. The essential oil comes from from the juniper tree. The female juniper tree produces a black or blue berry fruit. Juniper essential oil is extracted from the berries, leaves or wood of the juniper tree through steam distillation. It should be noted that the oil gotten from juniper berries is more preferred because it is superior in quality.
Juniper essential oil has a clean, woody and spicy scent.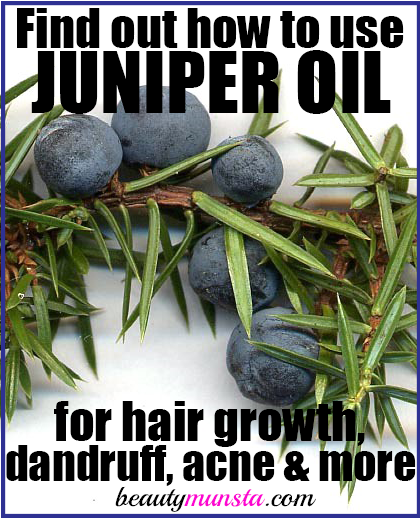 The origin of juniper can be traced back to Egypt. Juniper berries were found in ancient Egyptian tombs. Although juniper berries were not grown in Egypt initially, it was believed that the berries were imported to Egypt from Greece because the Greeks were known for using the berries for medicine. In Europe and Tibet, juniper was used to combat diseases that were contagious like cholera and typhoid fever.
Juniper essential oil is pale in color and when talking about its viscosity, it is kind of watery. When considering beauty, juniper essential oil possesses some therapeutic properties that makes it a great addition to your collection. Some of the therapeutic properties of the essential oil related to beauty are astringent and antiseptic. The essential oil also possesses some chemical compositions like a-terpinene, cayophyllene y-terpinene and more.
Where to Buy Juniper Essential Oil
Edens Garden Juniper Berry Essential Oil, 100% Pure Therapeutic Grade (Inflammation & Pain) 10 ml

Top 4 Beauty Benefits of Juniper Essential Oil
As mentioned earlier, juniper essential oil has a lot of benefits – health and beauty benefits, but today, we shall be discussing the beauty benefits of juniper essential oil.
1. Reverse Hair Loss
Many factors may contribute to the loss of hair. However, irrespective of what the cause of hair loss may be, Juniper essential oil is up to the task of fixing hair loss, thus promoting a growth of healthier hair strands. You can fix your hair loss problem by mixing 8 drops of juniper essential oil in 1 and 1/2 tablespoons of jojoba oil together. Massage the mixture through hair and scalp thoroughly and allow the mixture sink in for some 15 minutes.  So that your hair can retain the nutrients present in the mixture, you can get a headwrap or towel, soak it in hot water, squeeze the water out and wrap your hair in this towel for the 15 minutes you'll keep the mixture on.
Other natural remedies for hair loss:
2. Clear Dandruff
If you have dandruff or a flaky scalp, try applying juniper oil. Juniper oil has some potent antimicrobial properties that can help fight dandruff-causing bacteria and fungus. If you have smelly scalp, juniper oil can likewise be helpful. Before washing your hair use a dandruff-busting hot oil massage.
Ingredients 
Procedure
Heat up ¼ cup of coconut oil until it's hot enough to touch.
Now add in 8 – 10 drops of juniper oil and mix.
Massage this oil into your scalp and let it sit for 10 – 30 minutes.
When the time is up, wash your hair with shampoo as usual.
Repeat this process before every shower.
Other natural remedies for dandruff:
3. Eliminate Cellulite
Cellulite is a skin condition which gives a symptom like the peel of an orange on the skin, due to the uneven deposition of the fat under the skin. Juniper essential oil is very potent in promoting the circulation and dissolving of fat, so it is very effective for dealing with the formation of cellulite.
If you are suffering from cellulite, here is a homemade mixture you can prepare to get rid of it:
Ingredients:
Procedure:
All you have to do is mix the drops of juniper oil and the carrier oil together.
Then apply the mixture to the part affected by cellulite on your skin and massage thoroughly for the mixture to sink in.
Other natural remedies for cellulite:
4. Relief from Acne and Oily Skin
Another beauty benefit of juniper essential oil lies in its antibacterial property. Because of this property, juniper essential oil is suitable for the effective treatment of acne and oily skin. Acne is a skin condition caused by inflammation. The symptom of acne is pus-filled red bumps on the skin. The red bumps are caused by the overproduction of sebum on the skin, thereby blocking the pores present on the skin.
This do-it-yourself (DIY) oil mixture will do the magic for you.
Ingredients:
Procedure:
Mix the drops of juniper essential oil together with the jojoba oil thoroughly, then regularly apply the mixture to the acne infected area.
Finally, allow the mixture to sink into your skin for a while before washing off with water (use warm water).
You can manage oily skin that makes the skin prone to acne formation with this mixture.
Read more on natural ways to fight acne: