For centuries, rhassoul clay has been used in the ancient world as a prized beauty ingredient. People from ancient Egypt, North Africa, Rome, Greece and Turkey have all gained from the numerous beauty benefits of rhassoul clay for hair and skin

Rhassoul clay is a natural clay mined in the Atlas Mountains of North Africa. It has been mined since the 8th century and is super rich in many minerals including silica, iron, magnesium, potassium, sodium, lithium and trace elements.
Why was it mined all the way in the 8th century, you ask? Well, for its beauty benefits of course! It is traditionally combined with water and used as a skin and hair purifying ingredient.
Rhassoul clay was also used as a sort of mud wrap for the whole body. This amazing mineral-rich clay has lots of beauty benefits for skin so without further ado, let's get on with them!
Where to Get Rhassoul Clay

Before we look at the beauty benefits of rhassoul clay, I want to share with you my favorite rhassoul clay. It's 100% Pure Moroccan Rhassoul (Ghassoul) Clay from SaaQin. It comes in a 1 pound packet.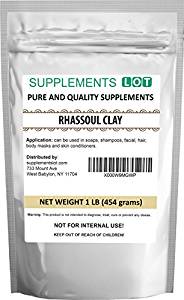 10 Beauty Benefits of Rhassoul Clay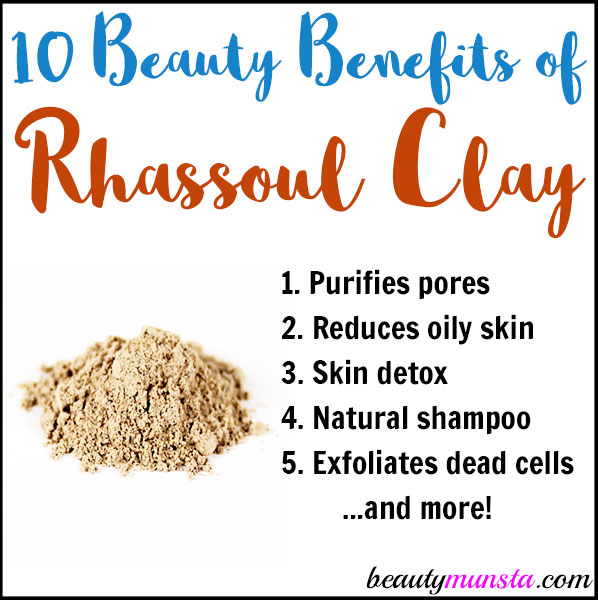 1. Exfoliates Dead Cells
Flaky dead skin looks unsightly. Fortunately, rhassoul clay has a mild abrasive texture that helps scrub off dead cells from the skin, leaving it smooth and soft.
► Scrub-Away-Dead-Cells Scrub: Combine ¼ cup Epsom salts, 2 tbsp rhassoul clay and ¼ cup of grapeseed oil in a mason jar. Now add 10 drops of sweet orange essential oil. Stir very well to form a soft but gritty scrub. Use it to scrub off excess flakes on skin.
2. Purifies & Deeply Cleanses Pores
The soaplike form and molecular structure of rhassoul clay makes it very efficient at deeply cleansing out clogged pores. It helps suck out dirt, grime and pollution from deep within the pores, thereby purifying them.
► Pore-Purifying Cleanser: In a clean container, combine 2 tbsp of rhassoul clay, ½ cup of colloidal oatmeal and 10 drops of lavender oil. When washing your face, place a tsp of cleanser on your palm and add a little water to create a paste. Rub this paste onto your face in deep circular motions then rinse off with tepid water. Behold clean and fresh skin!
3. Reduces Excess Oily Skin
Rhassoul clay soaks up surface oils and stale sebum stuck deep within the pores. This prevents pimples, blackheads and comedones from forming!
► Oily Skin Soak Up: Mix up 1 tsp of rhassoul clay with enough water to form a paste. Now rub this paste all over your face and let it sit for just a few seconds to soak the oils. Rinse off with warm water then splash your face with cold water to close pores.
4. Softens Rough & Tough Skin
Got rough knees and tough elbows? It's time to use rhassoul clay to soften those stubborn patches! Rhassoul clay also helps with cracked heels and bumpy skin!
► Mud Wrap: Mix up ¼ cup of rhassoul clay with enough whole milk to form a mud-like paste. Rub the paste all over rough spots of your skin such as the elbows, knees, heels and others. Leave it on for 15 minutes then wash off well.
5. Tightens Large Pores
Because it has natural astringent properties, rhassoul clay tightens skin and shrinks large pores.
► Skin Tightening Mask: Mix up 1 tbsp of rhassoul clay with 2 drops of tea tree oil and enough water to form a paste. Apply on skin and leave it to dry up then rinse off with warm water.
6. Fights Dandruff
Got dandruff? Try rhassoul clay! It helps exfoliate dead skin as well as balance sebum secretion on the skin which helps fight off dandruff.
► Dandruff Hair Pack: Mix in a bowl 1 tbsp rhassoul clay, 2 tsp apple cider vinegar and enough water to form a paste with a medium consistency, not too watery, not too thick. Now add in 7 drops of tea tree oil and mix again. Use as a hair mask for 7 minutes then wash off very well to fight off dandruff.
7. Acts as a Natural Shampoo
The saponin content in rhassoul clay makes it a good shampoo alternative. Saponins are natural cleansing agents found in certain plant material that forms a sort of lather when mixed with water.
► DIY Rhassoul Clay Shampoo: Mix up ¼ cup of rhassoul clay in enough rose water to form a paste. Now add 5-7 drops of ylang ylang oil. Stir well. In the shower, wet your head then massage the paste on your scalp and strands. Rinse off with cool water. Your hair will feel squeaky clean and soft.
8. Conditions & Detangles Hair
Rhassoul clay is cleansing and makes hair soft, silky, shiny and manageable! When you use it as a hair mask, it acts as a natural conditioner to provide the extra silkiness your hair deserves!
► Conditioning Hair Mask: Mix up 2 tsp of coconut oil and 2 tbsp of raw honey in 2 tbsp of rhassoul clay. Slather this on your locks and leave it in for about 5 minutes. Rinse off well with tepid water. Try de-tangling your hair – isn't it so easy?! Your hair will be tangle-free in a very short time and will look conditioned and silky!
9. Detoxifies Skin
Clays are known for their detoxifying effects on the body because of their high levels of ion exchange. Rhassoul clay is no exception! It draws out not only dirt and sebum but also toxins and wastes clogging the body.
► Detox Bath: Run a warm bath and while the bath water is running, add 1 cup of rhassoul clay mixed with 10 drops of lavender oil and 10 drops of peppermint oil. Let it disperse then soak for as long as you want to benefit from the bath's detoxifying effects.
10. Soothes Skin Irritations
Rhassoul clay has a skin soothing effect as well! It helps with inflammatory skin conditions like eczema and psoriasis. Make a soothing mask with rhassoul clay and coconut milk to get relief quick.
► Skin Soothing Mask: Mix up 2 tsp of rhassoul clay with enough coconut milk to make a paste. Apply on the skin irritation and leave it to dry up then gently wash it off with warm water.

Do you know any other beauty benefits of rhassoul clay? Or have a rhassoul clay recipe to share? Leave a comment below!