Do you know how amazing rhassoul clay is for hair? Find out by making this DIY rhassoul clay hair mask!
Rhassoul clay has been mined since the 8th century! It's found exclusively in the Morrocan Atlas mountain ranges, which makes it even more amazing. Rhassoul comes from the Arabic word 'rassala' which means to wash.
Yes, this clay has been used since the ancient times just for its beauty benefits for the skin and body. In fact, it is such a prized beauty ingredient that brides are gifted it before their wedding. People would come all the way from their foreign lands to experience the luxurious beauty ritual of a full body clay wrap in Moroccan hammams.
Moroccan women also used this clay as a natural hair wash and hair mask. Recipes for hair masks were passed down by elders and now I bring you this DIY rhassoul clay hair mask for gorgeous hair!
We're going to be using simple but very effective ingredients in this hair mask.
DIY Rhassoul Clay Hair Mask Recipe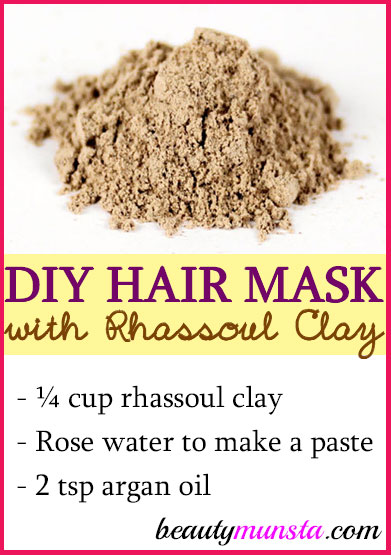 What you need
Directions
Into your non-metal bowl, dump in the rhassoul clay.
Now add the argan oil.
Slowly add rose water a little by little, while mixing with a spoon to create a smooth spreadable paste.
Once that's done, add in 5 drops of luxurious rose essential oil.
Now mix again and DIY rhassoul clay hair mask is ready!
Apply right before a shower. To apply, section out your hair and stand over your bathroom sink.
Scoop up the mixture and gently apply it all over your scalp. Once your whole scalp is saturated, smooth the remaining mask on your hair length.
Now tie your hair up and cover it with a shower cap. Do other things that you do in the shower like shaving.
After 5-7 minutes, rinse off the mask very thoroughly with warm water.
Now you can shampoo with a natural sulfate-free shampoo. This part is optional as rhassoul clay acts like a natural shampoo itself! But if you want to shampoo, then it's okay go ahead but remember, it's best to use a sulfate-free shampoo + conditioner!
When your hair dries, you'll be astounded by how fluffy, clean and soft it feels and looks!
You can use this DIY rhassoul clay hair mask once a week! xoxo