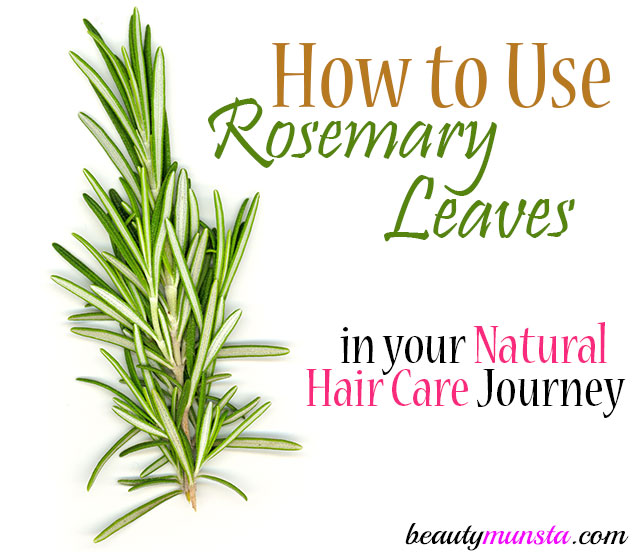 With its beautiful fresh sprigs and invigorating herbal scent, what's not to love about rosemary? And with the delicious flavor it gives to roast potatoes and chicken, what's not to love about rosemary?!
This wonderful herb grows wild in the Mediterranean region, where it originates from. It's been used extensively in the past for various purposes such as:
In the Middle Ages, rosemary was popularly used in wedding ceremonies, where the bride would adorn a rosemary wreath on her head and the groom and guests would have a sprig fastened to their shirts. Ancient Greek students hanged rosemary on their doors so that it's scent wafted into the room, clarifying the mind and promoting better understanding.
Recently, with the aid of research and a few studies carried out, rosemary has been shown to be a powerful hair growth-boosting herb, which is also widely being used as a natural remedy for receding edges, bald spots and thinning hair. Below, let's look at what makes rosemary good for hair:
What Makes Rosemary Good for Hair?
Stimulates Hair Follicles. Rosemary is a stimulant which invigorates the hair follicles, bringing more blood close to each and every hair follicle, supplying nourishing nutrients that stimulate the hair follicles, enabling them to produce healthy strong hair strands.
Anti-Fungal Agent. This fragrant herb has anti-fungal properties that are useful in combating scalp fungal infections such as ringworm and others, which ruin hair, causing hair loss and bald spots.
Has Anti-Microbial Properties. Due to its potent anti-microbial properties, rosemary is an effective herb for combating dandruff, scalp irritation, infected hair follicles and other infections caused by bacteria, yeast, fungi and other microbes.
Powerful Antioxidant. Being a powerful antioxidant, rosemary prevents premature graying of hair by warding off free radicals.
Benefits of Rosemary Leaves for Hair
► Promotes Hair Growth. Rosemary promotes hair growth by stimulating the hair follicles and enabling nutrient-rich blood to reach every hair follicle on the head, thereby waking up dormant hair follicles to start working again in producing healthy hair. It's also rich in nutrients like vitamins and minerals that promote strong long and thick hair.
► Treats Dandruff. With its antifungal & anti-microbial properties, rosemary fights off dandruff that is caused by the yeast malasezzia. It also gently cleanses and purifies the scalp, keeping it free of germs.
► Wards off Scalp Irritation. When rosemary is applied to hair, in form of a hair rinse or serum, it helps alleviate scalp irritation & itchiness by soothing the scalp and getting rid irritants like germs.
► Strengthens Hair Follicles, Shaft & Strands. Using rosemary leaves in form of hair rinses, hair teas or tonics, strengthens the hair follicles, shaft and strands, preventing easy hair breakage and damage.
► Naturally Conditions Hair. Rosemary also acts as a natural hair conditioner, promoting silky soft tresses that are tangle-free.
► Gives Hair a Natural Sheen. Rosemary rinses or hair oil infusions, when applied onto hair, give it a beautiful natural shine by smoothing out hair cuticles, making light bounce off of them evenly.
► Prevents Premature Graying of Hair. The antioxidant properties of rosemary make it a great herb for naturally preventing premature graying of hair. One other herb that's excellent for preventing early graying of hair is curry leaves.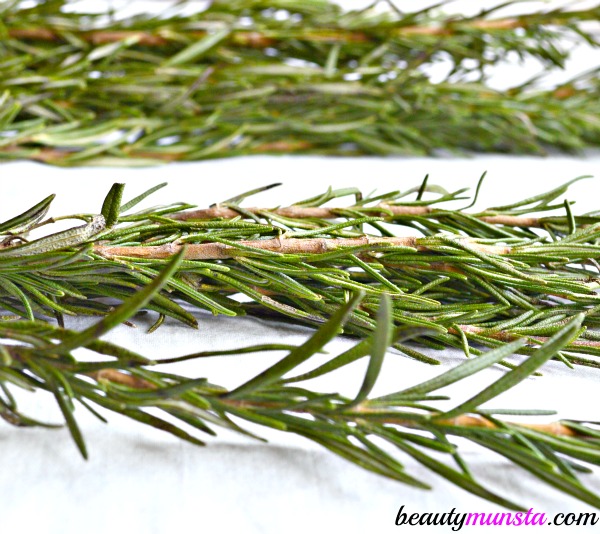 How to Use Rosemary Leaves for Hair | 3 Ways
1. Hair Growth Tonic
Restorative hair tonics are good ways to regrow bald patches and reduce hair loss. To make a rosemary hair strengthening tonic, chop up 2 medium-sized sprigs of rosemary into a mason jar and add 1 tsp of raw apple cider vinegar and 2 cups of boiling water. Shake well to combine and leave the tonic in a cool dry place for a day or overnight.
The next morning, add 3 drops of peppermint essential oil (a good hair growth aid) and stir well. Pour a little of this hair tonic on your scalp and use your finger pads to massage it in deep. Rinse it off after 7 minutes.
2. Mediterranean Hair Strengthening Rinse
Steep 2 fresh sprigs of rosemary leaves in 2 cups of boiling water overnight. In the morning when you're going to wash your hair, take the rinse to the shower with you and use it as a final rinse after rinsing out the shampoo in your hair. You'll find your tresses looking shiny, smelling fresh and naturally conditioned!
3. Nourishing Hair Oil Infusion
This is a popular remedy for hair growth and it's the most popular hair oil infusion in the Western world. What you have to do is pack a mason jar tightly with rosemary leaves (make sure they don't have a single drop of water on them! If they do, then dry them properly with paper towels first).
Now pour extra virgin olive oil over the leaves to submerge them completely. Leave it in a sunny window sill so the sunlight can help the rosemary release its goodness into the oil. To use, apply a little amount all over your scalp and an even tinier amount on your hair strands. Leave it for 15 minutes, then wash your hair very well with shampoo and tepid water.
You can use it as a hair serum, overnight treatment, conditioner, leave-in conditioner and pre-poo.
Note: All the above 3 recipes use fresh rosemary leaves for hair, but you could use dried rosemary leaves as well – only add less of these as they are more potent, being dried herbs.
Where to Get Dried Rosemary Leaves
Eat Well Premium Foods – Rosemary Leaves 16 oz, Whole Dried Rosemary Spice (Rosmarinus officinalis), Natural
More Interesting Reads