Learn how to make rosemary oil for hair growth in two ways!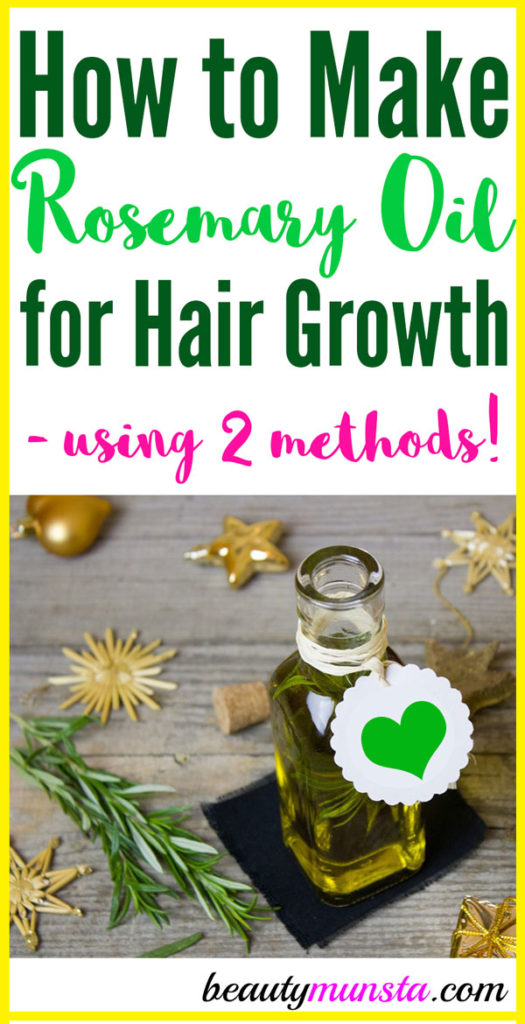 Rosemary oil is one of the best things you can make for hair growth! It's made using rosemary, which is a potent herb known to boost hair growth by miles! Here are some of the benefits of rosemary oil for hair:
Benefits of Rosemary Oil for Hair
This herbal oil contains strong anti-inflammatory, antiseptic, antimicrobial, hair follicle stimulating properties! Below are some of its benefits for hair!
Nourishes hair follicles
Stimulates hair growth
Fosters growth of new hairs
Promotes blood circulation to the scalp
Fights dandruff
Soothes scalp inflammation
Naturally treats scalp eczema, dermatitis and psoriasis
Helps reduce scalp irritation
And more!
How to Make Rosemary Oil for Hair Growth
There are two methods of making rosemary oil for hair growth: one is a time consuming but traditional process of infusing rosemary sprigs in olive oil, and the other is infusing the essential oil of rosemary into olive oil! We shall see these two methods below:
Method One: Using Rosemary Sprigs
What you need
Directions
If you're using fresh rosemary sprigs, make sure they do not contain even a single droplet of water! Dry them with paper towels or in the sun, if necessary. Water will make your rosemary oil spoil very fast.
Now place your sprigs into a mason jar and pour 1 cup of olive oil to immerse them.
Store your mason jar in a dark cupboard for 2-3 weeks to let the rosemary infuse. Shake the jar occasionally to help release more of rosemary's compounds into the oil.
Method Two: Using Rosemary Essential Oil
What you need
Directions
Pour 1 cup of olive oil into a mason jar then add 15-20 drops of rosemary oil and mix it in with a disposable chopstick.
Your rosemary oil is ready for use! Yes, this method is really quick!

Which method are you planning on using? Share below!
More Interesting Reads