Do you have sparse eyebrows and want those thick, dark eyebrows that everyone envies? Castor oil could be your answer. Discover the relationship between castor oil and eyebrow growth, why it works, how to use it and more!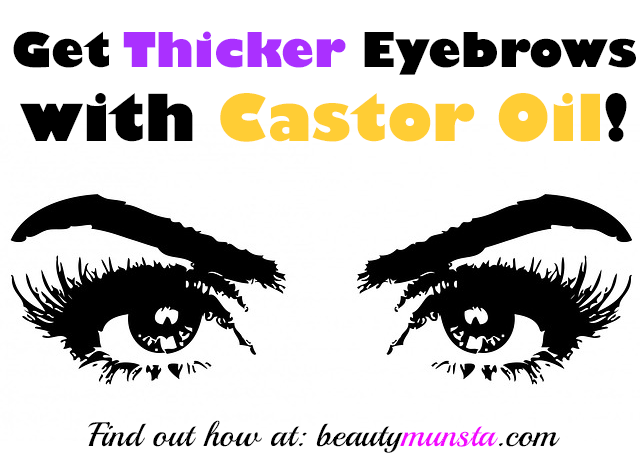 Castor Oil and Eyebrow Growth | Why it Works
The reason why castor oil WORKS is because it contains a special and unique compound called rinoleic acid. Found only in the castor bean, rinoleic acid has a special molecular structure and contains many therapeutic properties that can help hair grow.
Rinoleic acid is rich in anti-inflammatory properties that can help reduce swelling, inflammation, redness and itching that can cause hair loss.
This unique compound is also a natural analgesic, which is a pain killer that can help replace topical steroids that may have adverse side effects.
Above all, rinoleic acid helps hair growth by stimulating the hair follicles and improving blood circulation to the hair roots.
Castor oil is also rich in many anti-fungal and antibacterial agents. It is also brimming with many minerals and nutrients that can help hair growth such as vitamin E and zinc. Castor oil is rich in omega 6 and 9 beneficial fatty acids, which help hair grow healthy and strong.
Castor Oil and Eyebrow Growth | How to Use
When it comes to castor oil and eyebrow growth, a wholesome approach should be used. Castor oil can be mixed with other oils and essential oils for best results.
In order to grow healthy hair, and consequently healthy eyebrows, you need to make sure that you are also drinking plenty of water, eating a diet rich in healthy fatty acids, minerals and vitamins, or getting high quality supplements to make up for any dietary deficiencies.
Castor oil may not work for everyone and the only way to find out if it works for you is to try it! Use this castor oil eyebrow growth serum for at least 3 weeks and note if you have any improvement. If you see any improvement, it means castor oil is working for you and you can continue using it until you get your desired result.
Castor Oil Eyebrow Growth Serum
This castor oil eyebrow growth serum is so easy and only takes a couple of minutes to use. You can use cold pressed castor oil, which is colourless or black Jamaican castor oil, which many claim is better for hair growth.
We shall be adding essential oils to this recipe to give you an added advantage of the benefits of these potent oils.
You can choose to skip the essential oils if you don't have access to them. In my castor oil eyebrow growth serum I like to use peppermint oil, which is highly stimulating and promotes blood circulation to the surface of the skin. This promotes faster hair growth.
But beware that peppermint oil is tingly when applied on the skin and since you will be applying it so close to your eyes, you may find the vapors reaching your eyes and causing tears. This feeling will pass in a few minutes and it's not harmful. If you don't want to use peppermint oil, you can use other essential oils such as cedarwood essential oil, which is great for hair growth, too.
Let's get on to the recipe!
Ingredients
Directions
Using a dropper or pipette, drop in all the ingredients into an old empty mascara bottle. Make sure you clean out and dry the mascara tube and the brush, first! Or, even better buy yourself a new empty mascara tube here.
Now screw on the lid and shake vigorously to get the contents all mixed up.
Apply this oil as many times as you wish. Night time is the best time to apply it.

Have you tried castor oil for eyebrow growth? How long did it take for you to see results? Please share in the comments below!