Learn how to use castor oil for hair growth using this powerful serum that I use every week or two!
Castor Oil for Hair Growth
If you ask me what the best oil for hair growth is, I'd say castor oil. And in particular Jamaican black castor oil (JBCO). Since ancient times, castor oil has been considered a medicinal plant oil. It is got from roasting then cold pressing castor beans. Jamaican black castor oil is touted as an even more powerful hair grower than regular castor oil. It is dark brown in color because the castor beans are roasted for longer.
Castor oil is rich in Vitamin E, ricinoleic acid and other nourishing nutrients that aid in hair growth. In this article, I want to show you how I use castor oil for hair growth effectively!
You can use regular castor oil or Jamaican black castor oil but I use my fave Jamaican black castor oil!
Read more: What Does Castor Oil Do for Hair?
How to Use Castor Oil for Hair Growth
There are several ways to use castor oil for hair growth. You can make apply it directly to your scalp, make hair growth mask with it, mix it with hair growth essential oils, make a scalp massage oil with it and do hot oil treatments with it.
But for me, the best way to use castor oil for hair growth is this powerful hair growth serum. I try to use it every week to promote longer, stronger and thicker hair fast! Let's check out the ingredients we need:
Ingredients Used & Their Benefits
Rosemary Essential Oil – Rosemary essential oil gets the blood running to your scalp which helps promote hair growth. It also fights off germs, fungus and bacteria that cause scalp itching and irritation.
Peppermint Essential Oil – When applied to the scalp, peppermint essential oil gives a pleasant tingling sensation that is said to make hair follicles jump into action, producing strong long hairs.
Jamaican Black Castor Oil – Nourishes hair follicles and fosters growth of new hairs.
Liquid Coconut Oil – Helps thin down the thick sticky castor oil and also has hair growth-boosting properties. Indian women have been using coconut oil since a long time for hair growth and shine!
Moringa Oil – This oil is rich in essential nutrients and fights fungus, scalp infections and inflammation. It's praised for its hair growth boosting abilities!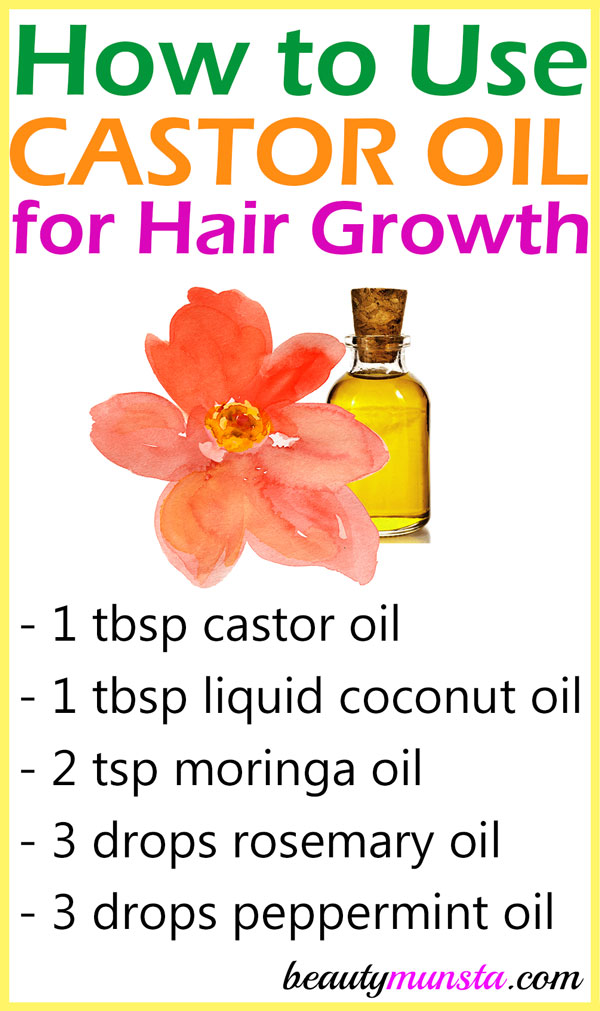 What you need:
Directions:
What you're going to do is get an amber dropper bottle (for easy application).
Remove the dropper lid and gently pour 1 tbsp Jamaican black castor oil, 1 tbsp liquid coconut oil and 2 tsp moringa oil into the bottle.
Now add 3 drops each rosemary essential oil and peppermint essential oil.
Close the cap tightly and roll the bottle between your palms to gently combine all ingredients. Shaking it will cause air bubbles to form which can make the blend go rancid faster.
To use, section your hair and apply the oil all over your whole scalp until it is saturated.
Then massage the oil in for about 3 minutes to get your hair follicles stimulated and the oils to penetrate deeper.
Now tie your hair up and cover it with a shower cap. Leave it on overnight or for at least two hours.
Wash your hair very well using a non-sulfate shampoo. Shampoo twice to get rid of all the oils.
When your hair dries, it will feel and look soft and silky!
Okay guys, that's how to use castor oil for hair growth! One of the best ways, in my opinion! Remember to use this powerful serum every week to see abundant hair growth!