Castor oil is being promoted as a natural hair growth remedy but how does it actually work? What does castor oil do for hair? Find out how you can use castor oil to get healthy hair fast.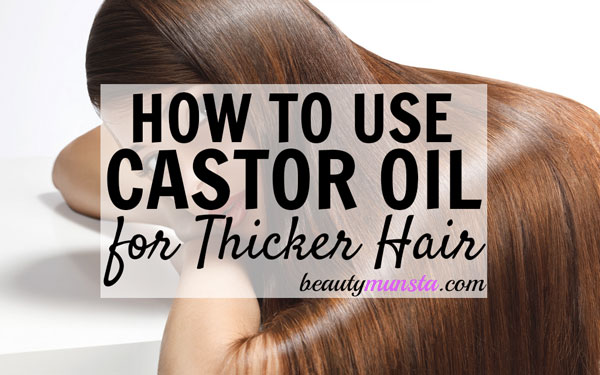 What is Castor Oil?
Castor oil (where to get it) is a nutritious vegetable oil obtained by pressing the seeds of the Castor plant, Ricinus communis. It has a distinct odor that has a notable scent when ingested. Its consistency is thick and it has a dense oil feel.
If you have seen a darker colored castor oil, it is not from another type of castor plant, but rather from the same castor seeds. Only the processing is different. Known as black castor oil or Jamaican black castor oil, it is extracted through the traditional method of roasting the castor seeds. The seeds are then boiled to extract pure castor oil that is a rich dark brown in color. Black castor oil is said to be more beneficial that the refined colorless castor oil due to less processing involved.
The Properties of Castor Oil
Castor oil is rich in a variety of fatty acid compounds, which give it many benefits for healthy hair, skin and more. Some of the main compounds found in castor oil are:
Ricinoleic acid: 85 – 95%
Oliec acid: 2 – 6%
Linoleic acid: 1 – 5%
Steareic acid: 0.5 – 1%
Palmitic acid: 0.5 – 1%
The Benefits of Castor Oil
Castor oil is an age-old beauty secret that has been utilized since ancient times. It has been long recognized for its healing properties that help promote healthy hair and skin. Apart from its beauty benefits castor oil has also been used in other areas of life. Let's take a look at some of the benefits of this versatile oil below:
Preservation : Castor oil has long been used in food preservation, especially in southern asia where it is still used to preserve grains by halting their germination and preventing decay.
Medicinal Uses : Castor oil is used in the preparation of many medicines including antifungal creams, cancer inhibitors, immuno-suppressant drugs, eye drops, HIV drugs and more.
Relieve Constipation : Castor oil is used to cure chronic constipation by stimulating the bowels and inducing bowel movements. It is a potent colon de-clogger.
Where to Get Castor Oil

Ensure to get 100% pure high quality castor oil and avoid the synthetic versions. A good castor oil is this unrefined, organic and hexane-free castor oil from Sky Organics.
What Does Castor Oil Do for Hair
What makes castor oil special is its exceptionally high ricinoleic acid, which is unique to the oil. It is the high ricinoleic acid content that makes castor oil more valuable and pricier than other oils.
There's plenty that castor oil can do for hair growth. Here are some of the ways castor oil can help your hair achieve its maximum potential:
► Faster Hair Growth : Those using castor oil report 3 – 5 times increase in hair growth.
► Reverse Hair Loss : Bald spots begin growing hair when massaged with castor oil.
► Thicker Eye Lashes : Using castor oil on the eyelashes makes them thicker and longer.
► Thicker Eyebrows : Castor oil helps thicken sparse eye brows in the same way it thickens eye lashes.
► Works for Men, Too : Even men can use castor oil to reduce hair fall, reverse hair loss and treat balding.
► Thicker Beard : Men with a thin or uneven beard can use castor oil to promote a thick, healthy-looking beard.
How to Use Castor Oil for Hair
→ Hot oil massage : Hot oil massages have huge success rates in the hair growth community because the heated oil penetrates much deeper into the hair shafts and follicles compared to cool, unheated oil. Simply heat castor oil and apply it using your fingers onto the scalp. Begin massaging your scalp with your finger tips until the oil is applied evenly all over the scalp. Allow the oil to rest for 15 minutes to an hour before washing off with a gentle shampoo.
→ Combine with other hair growth oils : As castor oil is so thick, combining it with other lighter oils such as rosehip oil or jojoba oil can make it easier to apply. You can also take your hair growth efforts a step further by using other oils that are good for hair growth such as coconut oil.
→ Castor oil serum : Make a quick yet potent serum using castor oil. Simply mix 1/2 cup of castor oil with 1/2 cup of grapeseed oil. Now add in 20 drops of cedarwood essential oil and 20 drops of lemon eucalyptus essential oil. Use 3 – 4 times a week for best results. Leave the serum on overnight and shower the next morning. This will guarantee faster hair growth within weeks. Store in a 4 oz amber glass dropper bottle.