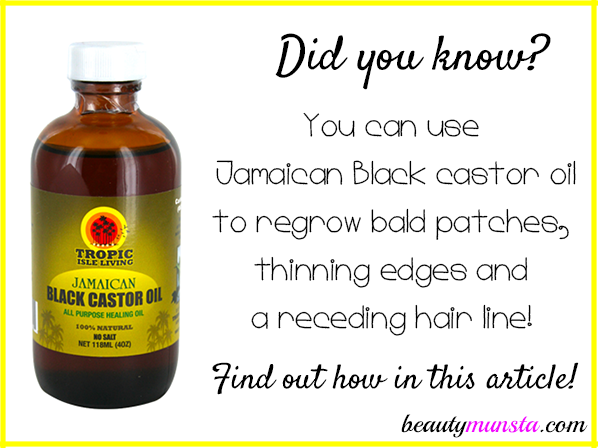 Jamaican Black castor oil has always been on my wish list. So when I finally saw a bottle in a beauty shop, I was so excited to try it out! This oil has been touted as a powerful hair grower! It can help re-grow lost hair and strengthen your hair strands so they don't fall out easily.
Where did Jamaican black castor oil come from? You may think, 'Jamaica, duh' but actually, it originates from Africa – Ethiopia, to be specific. It was brought to Jamaica through Africans during the slave trade. It's called black castor oil because it has a darker brown color, unlike normal castor oil which is a pale yellow. It gets its dark color from the long process of roasting the castor beans during the oil's extraction.
When you're looking for Jamaican Black castor oil, make sure to purchase trusted brands like Tropical Isle Living Jamaican Black Castor Oil and Sunny Isle Jamaican Black Castor Oil. If these ones aren't available to you, then you can check that the one you'd like to purchase says 100% pure Jamaican Black castor oil on it. Make sure there are no other additives especially stuff like fragrance and mineral oil. Those chemical ingredients are totally unnecessary.
Benefits of Jamaican Black Castor Oil for Hair
Jamaican black castor oil is not just good for hair growth. It can be useful for hair in the following ways:
Detoxifies the scalp of toxins and impurities
Promotes shiny hair
Fights off scalp fungal infections
Gets rid of dandruff
Kills lice
Repairs dry brittle and damaged hair
Thickens hair
It's also good for removing warts, relieving sore muscles, healing cuts & abrasions and a whole lot of other non-hair uses.
How to Use Jamaican Black Castor Oil for Hair Growth – 3 Ways
I'm all about hair growth treatments so I know exactly how to use Jamaican black castor oil to boost hair growth! Here are 3 powerful ways to use it to regain your lost hair fast:
1. Hot Oil Treatment
What you need
Directions
Place the Jamaican black castor oil and coconut oil in a small pan on the stove.
Heat it gently over low heat until warm enough to touch without hurting yourself.
Remove from heat and stir in the rosemary and lavender oils.
Now section your hair into 2 or 4 parts, whichever works for you, then using the spoon drop the oil onto your scalp.
Do this until your whole scalp is saturated.
Use your fingers to rub the oil in then cover your hair with a shower cap. You can also wrap a warm towel around your head to trap more heat.
After an hour, wash your hair to remove all the oils. Shampoo twice if it's necessary.
You can do this once or twice a week.
2. Hair Growth Blend
What you need
Directions
Mix all the oils into the amber dropper bottle.
To use, drop the oil blend onto your whole scalp or only the problem areas then start massing it in deeply using your finger pads. Do this for 2-5 minutes.
Now you can wash your hair or stay with it overnight (throw an old towel over your pillow to prevent oil stains) then wash your hair in the morning.
This can be done once a week or once in two weeks.
3. Scalp Massage
What you need
Directions
Mix up the ingredients to create a creamy mixture and store it in a clean container.
To use, dip your clean fingers into the jar to scoop up the cream then rub it on your scalp in soothing circular motions to enhance blood flow.
You can get a partner to help you with the massage if you can.
The above ways on how to use Jamaican black castor oil for hair growth are real gems to boost your hair growth by miles! Try any of them out and witness the amazing results yourself! You can see results in about 3-6 months or sooner, depending on your hair growth cycle and lifestyle changes.