Jamaican black castor oil (JBCO) is possibly the best hair growth oil around. It's highly touted for the amazing benefits it has for the hair and scalp, especially its hair growth boosting ability.
What makes Jamaican black castor oil so special for hair growth is that it's filled with powerful antioxidants and nourishing nutrients that feed hair follicles and foster growth of new hairs. Some of the nutrients it contains are Vitamin E, protein, minerals, ricinoleic acid and omega 6 fatty acids. JBCO also has strong antibacterial, antifungal and antimicrobial properties!
Without further ado, let's jump right into these 5 amazing DIY Jamaican Black Castor Oil Hair Growth Recipes! All of the treatments below are my favorites for hair growth! They WORK WONDERS! Enjoy ~
DIY Jamaican Black Castor Oil Hair Growth Recipes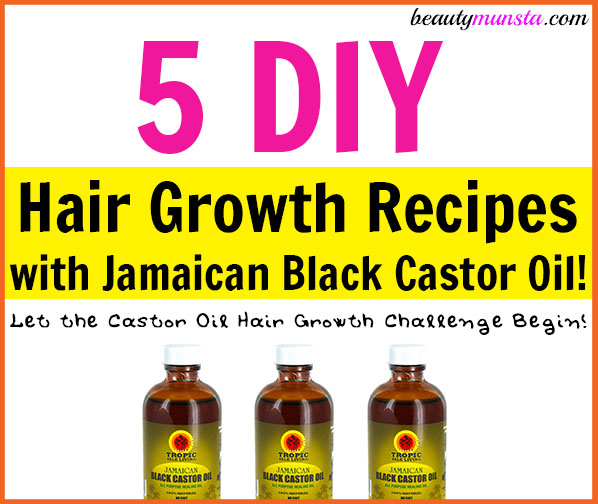 1. Daily Hair Growth Oil
This hair growth oil can be used daily as a moisturizer. Or use it every night as an overnight treatment then wash off the next morning. You can use it whichever way you want, depending on your tastes and preferences.
What you need
Directions
Combine all oils in the glass dropper bottle and shake well to mix everything up.
Store in a cool dry place.
2. Hot Oil Treatment
Hot oil treatments penetrate deep into the scalp and nourish hair to the max. When heating the oil, make sure not to get it to smoking point. Just let it become warm enough but not too warm as to hurt yourself.
What you need
Directions
Place the amount of JBCO suitable for your hair in a small pot/pan.
Gently heat it over a low flame till warm.
Now remove from heat and using a spoon, pour the oil all over your scalp.
Once your whole scalp is saturated, massage the oil in using clean fingers.
Let it penetrate for about ½ to 1 hour. Put on a shower cap to help trap heat better.
Wash your hair as usual.
3. Scalp Stimulating Massage
If you suffer from bald spots or alopecia, do this vigorous scalp massage weekly.
What you need
Directions
Using a small funnel, pour your JBCO, grapeseed oil and jojoba oil into the dropper bottle.
Then add the essential oils drop by drop.
Now cap the bottle and shake well to combine everything.
Place a few drops all over your scalp then start vigorously massaging the oil into your scalp using your finger pads. Don't be harsh but use a gentle force to stimulate blood flow.
4. Weekly Nourishing Hair Mask
Got dry and lifeless thinning hair that doesn't seem to get moisturized ever?! Try this weekly nourishing hair mask. Double or triple the measurements to make and store it in large batches for future use!
What you need
Directions
Begin by melting the shea butter and coconut oil together in a double boiler.
Once melted, let it cool off in the refrigerator until it's partially solidified. This part is important because it helps whip up the mixture into a smooth and fluffy cream.
Now get it out of the refrigerator and whip into a fluffy cream using a hand mixer.
Scoop the mixture into your storage container. Use liberally all over your scalp as a weekly mask 1-2 hours before you wash your hair.
5. Hair Growth Gel
If you have itchy scalp and dandruff problems plus scalp inflammation, use this hair growth gel. It's cooling and soothing for the scalp plus assists in hair growth!
What you need
Directions
In a suitable container, mix up 4 tbsp of aloe vera gel, 1 tsp of JBCO and 8 drops of lavender essential oil.
To use, massage the gel onto your clean scalp. You can leave it on or wash it off after some time – your pick!
Hope you try out any of the above DIY Jamaican black castor oil hair growth recipes! Come share your results xoxo!