Here's the recipe for castor oil rosemary hair growth oil for thinning hair
Castor Oil and Rosemary for Thinning Hair
Thinning hair is when you begin to gradually lose hair over a time period until your once thick hair becomes thinner and thinner.
With thinning hair, you can have unsightly gaps on your scalp where the skin on your head shows through. Thinning hair can also happen in certain areas of the scalp only, such as the sides of your head. This is also known as selective balding and can be an embarrassing problem.
How Castor Oil Helps Thinning Hair
Castor oil is reputed to be a wonderful oil for hair growth around the world. Castor oil is extracted from the castor bean and is rich in proteins, vitamins and minerals that reverse thinning hair.
It has high antibacterial and antimicrobial properties. Its beauty benefits are all thanks to the high vitamin E content as well. Castor oil is super moisturizing thanks to the large presence of omega 3 and omega 6 fatty acids.
The best castor oil to use is Jamaican black castor oil.
How Rosemary Helps Thinning Hair
While you can use fresh or dry rosemary to make this oil, in this recipe we shall be using rosemary essential oil.
Rosemary oil is much more potent than the herb and is easier to use.
Rosemary oil is extracted by steam distillation of rosemary leaves and stems. The resulting oil is a powerful healer that has actually been studied and proven to stimulate hair growth. Rosemary oil is
also crucial in reversing balding and hair thinning.
What's more, rosemary oil treats other factors that contribute to hair thinning such as dandruff, scalp infections and free radical damage.
Castor Oil Rosemary Hair Growth Oil Recipe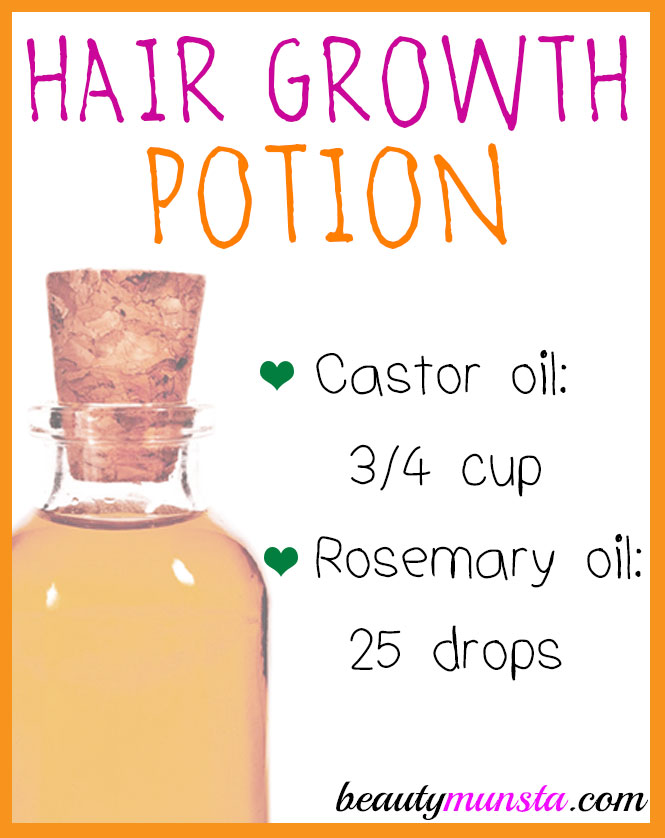 Ingredients:
Storage bottle (glass preferred)
¾ cup of castor oil
25 drops of rosemary oil
Directions:
To make your hair thinning oil, simply pour both the castor oil and rosemary oil into a clean, dry bottle. You should try to use a glass container, but in case you don't have one, a thick plastic bottle should do fine.
Now close the lid of your bottle securely and shake to mix up the contents.
Your hair oil is now ready for use!
How to Use Castor Oil Rosemary Hair Growth Oil
To treat hair thinning with rosemary hair growth oil, simply heat up the oil (slightly warm) and apply it onto your scalp. Use your finger tips to apply.
Now using a non-static comb (please don't use plastic combs – go for wood instead) brush your scalp several times.
This will help evenly distribute the oil. It also acts as a very good massage for the scalp. This action will help stimulate hair growth and helps the oil penetrate deep into the scalp.
You can apply this oil once a day, before you go to sleep.
You can also use this oil as a hot oil treatment to use just before you wash your hair