Create this DIY Aloe Vera Gel Hair Mask to soothe your scalp and promote healthy hair!
Aloe vera gel is popularly known as a natural remedy for sunburn. But did you know that you can use this lush gel to create a hair mask! Yes, that's right and there are several benefits of applying aloe vera gel to your hair!
Check them out below:
Benefits of an Aloe Vera Gel Hair Mask
Here are some great benefits of using an aloe vera gel hair mask on your scalp and hair:
Soothes the scalp
Reduces scalp inflammation
Cools down an overheated scalp
Fights dandruff
Balances an oily scalp
Stimulates hair growth
Seals moisture in hair
And more!
DIY Aloe Vera Gel Hair Mask
Strive to use pure high quality aloe vera gel with no additives. I suggest buying a good brand like Fruit of the Earth Aloe Vera Gel or Amara Organics Aloe Vera Gel. These are my two favorite aloe vera gels.
Okay, onto the recipe: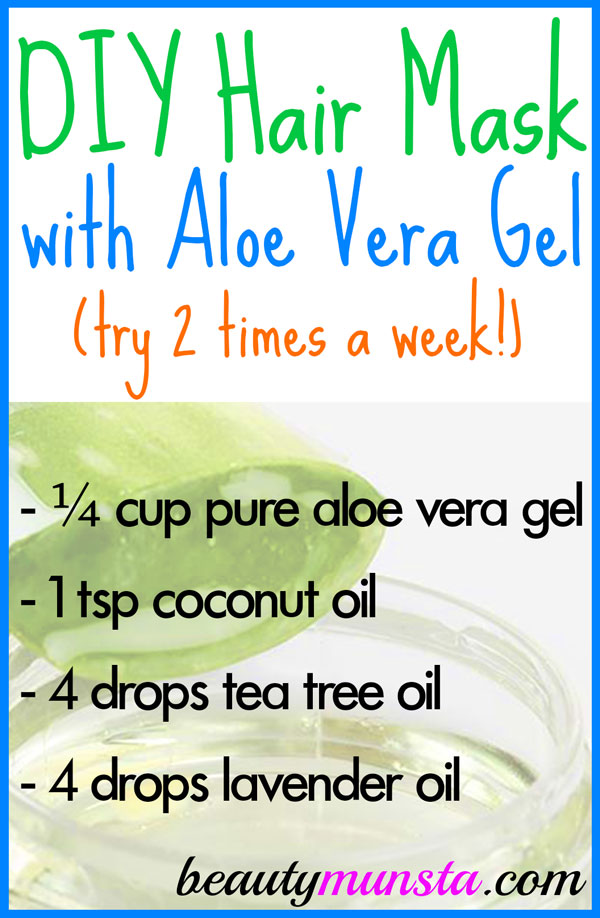 Ingredients:
¼ cup pure aloe vera gel
1 tsp coconut oil
4 drops tea tree oil
4 drops lavender oil
Medium-sized bowl & whisk
Directions:
In a medium sized bowl, add ¼ cup of pure aloe vera gel followed by 1 tsp of coconut oil.
Now carefully add 4 drops each of tea tree and lavender oils.
Mix everything together with a whisk to form a creamy mixture.
Apply this mixture on your scalp and hair strands, preferably after wetting them.
Once you've finished applying, wrap your hair up and throw on a shower cap.
Allow the DIY aloe vera gel mask to work its magic for 10 minutes.
Rinse off with cold water and wash your hair as usual.
Enjoy your beautiful hair!

You can use this hair mask two times a week!
Try this DIY aloe vera hair mask and come share your results!