Have you tried aloe vera and egg for hair growth?
Aloe vera gel and egg are both amazing ingredients for growing stronger, longer hair! In this post, we shall look at a powerful recipe that is said to make your hair grow non-stop!
Before we check out the recipe, let's first see the nutrients in these natural ingredients and what they do for hair!
Nutrients & Benefits of Aloe Vera Gel for Hair
Although aloe vera gel is made up of 99% water, the remaining one percent is made of powerful glucomannans, amino acids, lipids, sterols, vitamins and more! These compounds have healing properties, anti-inflammatory properties, antiseptic effects and moisturizing and anti-aging properties! Some of the benefits of aloe vera gel for hair include:
Seals moisture into the hair
Naturally conditions hair
Reduces scalp inflammation
Regulates sebum production on the scalp
Soothes scalp inflammatory conditions
Nourishes the hair follicles
Strengthens hair strands
Promotes thicker longer hair
For more beauty benefits, please see: 10 Beauty Benefits of Aloe Vera Gel
Nutrients & Benefits of Egg for Hair
Eggs are amazing hair growth boosters! They are rich in two key nutrients that are vital for hair growth: protein and sulfur. Our hair is made up of these elements so feeding it with them strengthens the hair follicles and prevents hair breakage.
Some of the benefits of egg for hair include:
Feeds the hair follicles with necessary nutrients
Strengthens the hair shaft and strands
Reduces hair breakage
Makes hair shiny
Encourages growth of new hairs
Recipe: Aloe Vera and Egg for Hair Growth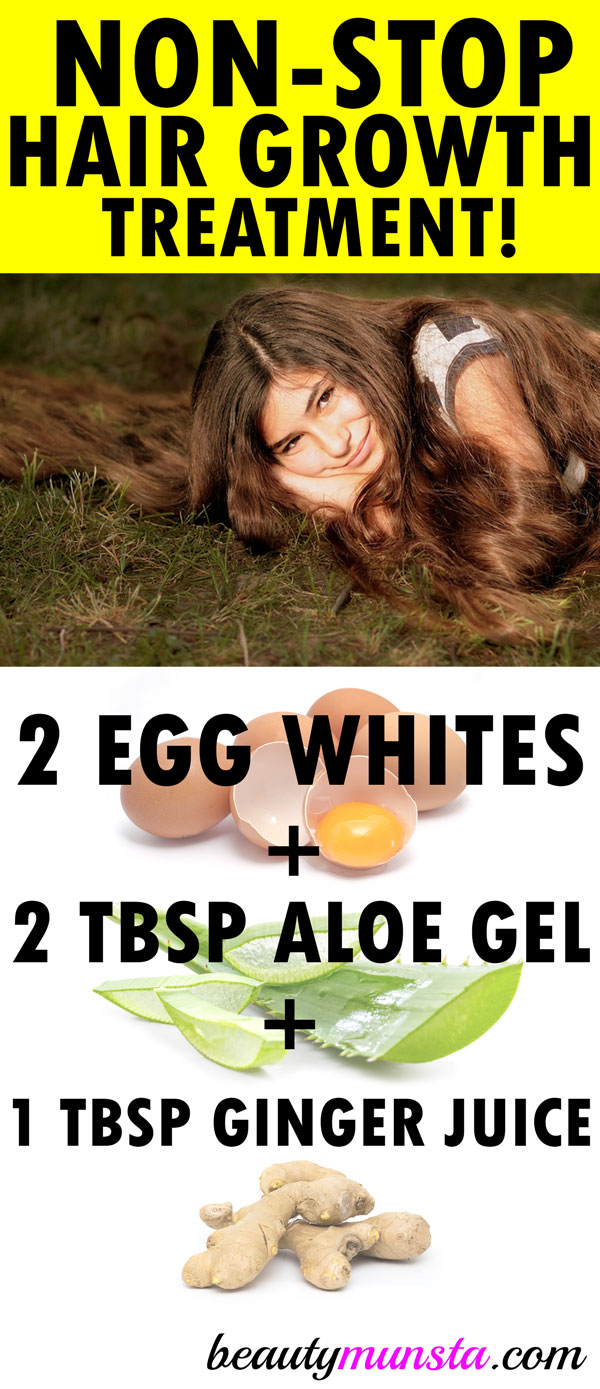 What you need:
2 tbsp pure aloe vera gel
2 egg whites
1 tbsp ginger juice
Medium sized bowl and spoon
Directions:
Crack an egg and separate the egg whites into a medium-sized bowl.
Now add 2 tbsp aloe vera gel and 1 tbsp ginger juice. Extract the ginger juice before hand by blending 1 inch of ginger with a little water then straining the juice into a bowl.
Mix together with a spoon to form a well blended mixture.
Your aloe vera and egg treatment for hair growth is ready!
Apply onto your dry scalp over a sink.
Tie your hair up and throw on a shower cap, plastic wrap (like sandwich wrap) or even a plastic bag.
Leave the mixture to do its magic for 30-60 minutes.
Wash your hair very well with a non-sulfate shampoo + conditioner.
Repeat 1-2 times a week!

Use aloe vera and egg for hair growth to see remarkable results!
You'll Also Love: