Aloe vera is a miracle remedy for hair growth that not many seem to appreciate. Select from 3 aloe vera hair growth recipes according to your hair concern.
What is Aloe Vera?
Aloe vera is belongs to the succulent family, with large spiky leaves that contain a special gel. This natural cooling gel is known as 'aloe vera gel'.
The health benefits of aloe vera gel are countless. Aloe vera gel and aloe juice have been used since ancient times for all sorts of ailments including curing constipation, disinfecting wounds, alleviating many skin conditions, treating dandruff and of course, for hair care.
How Does Aloe Vera Help with Hair Growth?
Aloe vera is rich in an amazing array of nutrients, enzymes and antioxidant compounds. Here are just a few of the constituents in aloe vera gel:
Vitamins A, C and E (potent antioxidants)
Vitamin B12
Folic acid
Choline
Amino acids (protein compounds)
And others
These rich compounds supply the hair follicles with much needed nutrients, which support hair growth. The healing compounds present in aloe vera gel also soothe the scalp and heal ailments such as scalp acne and dandruff, which hinder hair growth.
3 DIY Aloe Vera Hair Growth Recipes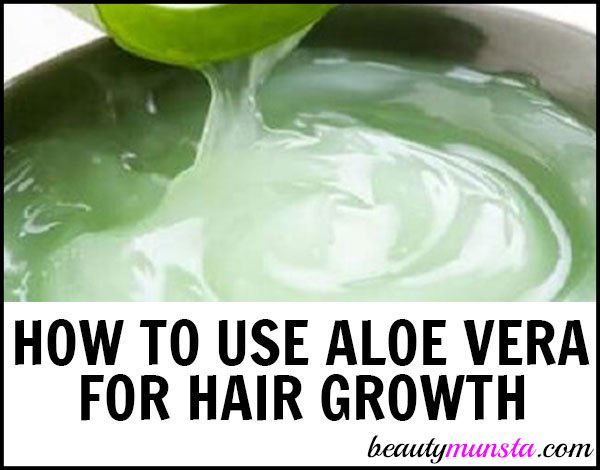 1. Keratin Boosting Aloe Vera Hair Growth Mask
Protein-boosting hair masks are a MUST for hair growth. Our hair is largely composed of keratin, a type of protein. This keratin-boosting contains a protein and sulfur-rich ingredient – eggs. This hair mask will strengthen your hair strands, thicken them and foster hair growth.
What you need:
Directions:
Mix all your ingredients in a glass bowl using an egg beater or whisk.
Mist your hair to make it slightly wet.
Use a hair brush to apply the egg mask onto your scalp and all over your hair until the very ends.
Wrap up your hair and place a towel or old shower cap over it.
Allow this mask to work on your hair for 15 – 30 minutes.
Do this egg mask treatment once a week for strong, healthy hair.
2. Aloe Vera Hair Growth Serum
Hair growth serums will leave your hair shiny, easy to manage and tangle-free. This hair serum will also stimulate hair shafts and foster hair growth.
What you need:
Directions:
Mix all the above ingredients thoroughly in a glass bowl.
Use a funnel and transfer the serum into a 6 oz glass bottle or any other recycled container.
Massage the serum into your scalp and apply it all over the hair strands.
3. DIY Aloe Vera Shampoo
If you're serious about hair growth, you need to toss out your shampoo! Conventional shampoos are full of synthetic chemicals and toxic ingredients which cause hair loss. Make your own homemade shampoo with cooling aloe vera and refreshing essential oils.
What you need:
Directions:
In a flip top bottle/old shampoo bottle/ any other recycled container, pour in all the ingredients.
Now securely place the cap and shake vigorously to mix the contents.
Apply this shampoo onto hair and use like any other normal shampoo.